ANDY FRASER BAND
'Andy Fraser Band/In Your Eyes'
(Gott GOTTCD006)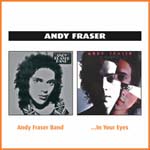 Andy Fraser of course produced the pumping bass lines for Free until that band split in 1971. Hearing the tracks on his debut solo album (released in 1975) you could be forgiven for thinking that the spirit of Paul Rodgers and indeed his old band was alive and haunting Ronnie Lane's mobile recording studio.
It may come as a surprise that the vocals are provided by Fraser himself and he is aided by Kim Turner (drums) and Nick Judd (ex-Sharks, keys). There's no Kossoff guitar wailing like a banshee and if there was this would definitely be Free Mk.III.
Remember that Fraser was responsible for co-writing much of Free's classic output. 'Ain't Gonna Worry' is like an outtake from the sessions for 1972's 'Free At Last'. Fraser uses his bass as a lead instrument whilst Judd's electric piano helps the urgency. "Keep On Loving You' is a soulful groove that bears comparison with that other Free spin-off Back Street Crawler.
Fraser's first band was short-lived, and when he convened for Album No.2 'In Your Eyes' (released November 1975), he had the might of the Muscle Shoals sessioners behind him, Barry Beckett, Roger Hawkins and Jimmy Johnson. This sounds like a record-company wheeze rather than a good idea. It's a tad mediocre, it has to be said, only lifted by 'Be Good To Yourself' which was covered by Frankie Miller with whom Fraser played in the hiatus after Free. 'Ain't No Substitute' raises the temperature slightly and 'Need Someone To Love' would be better suited on the first album.
As a whole, this is a more R&B tinged, soulful offering punctuated with brass and backing vocals. In places, it is reminiscent of his then contemporaries Kokomo whilst also evidencing some of the understated funk of Stone The Crows. The style is perhaps less recognisable as being Andy Fraser and whilst the debut album is all too familiar, 'In Your Eyes' lacks both familiarity and originality.
Nicely repackaged with informative sleeve notes, these two reissues are, though, pretty much an essential addition to the Free story.
***
Review by David Randall

Ain't Gonna Worry
© 2004 Gott Discs. All rights reserved.