ANDROMEDA Originals
Angel Air SJPCD187 (2005) (52:38)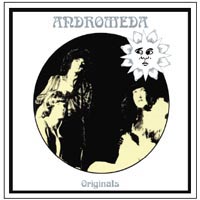 On the demise of 60s pop outfit The Attack, guitarist/vocalist John Du Cann formed Andromeda, with the intention of taking a heavier edge.
Here, for the first time on CD, are the 10 original mixes offered to the label, before two tracks were dropped and the rest remixed.
Presented in the usual top way by Angel Air, and remastered from the 1969 acetates, we get a strong mix of psych, pop, hard rock and prog, with Du Cannís guitar in fine form.
The music is suitably atmospheric and the hard rock edge makes the psych thankfully less whimsical than much of the era. Opener Lonely Streets is strong, and Return To Sanity kicks off with a classical feel Ė imagine if Mars was played in 4/4.
More than a curio, itís well worth checking out if youíre a fan of the era, or of Atomic Rooster, who Du Cann went on to.
***
Review by Joe Geesin


£12.99
The Reason
© 2005 Angel Air Records. All rights reserved.