AMERICAN HEARTBREAK 'You Will Not Be Getting Paid '
(Perris Records) (2004)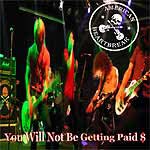 I know many people who believe that Rock N' Roll is dead. That doesn't seem to apply to San Francisco's "American Heartbreak" who are releasing their new CD "You Will Not Be Getting Paid" through Perris Records.
The band was formed in 1976 when Billy Rowe met Eric Lannon. The two teenagers brought their instruments together and played their favourite cover songs in Eric's garage. Towards High-school the two youngsters went their separate ways and Rowe formed a band called Jetboy. Jetboy was one of the main L.A Glam bands of the mid 80's and even had Guns N' Roses and Poison opening their shows!!! Unfortunately Jetboy were left behind for reasons no-one was ever able to understand, so Rowe started looking for people to share his musical vision. That's when Eric and Billy decided to re-unite, and with the addition of Michael Butler (once played for Exodus), Lance Boone and Adam X created the first American Heartbreak line up. The band's main influences are "Manic Street Preachers", and late 70's Punk bands like "The New York Dolls".
Back to the album: "You Will Not Be Getting Paid" is divided into three different parts. The first five songs of the album contain live recordings of some of the band's biggest hits like "I Wish You Were D.E.A.D.", "Brain Vacation" and "Angeline". The quality of the recordings is not the best possible but it manages to capture the band's raw energy on stage. After that we have the acoustic versions of "Another Wasted Day", "Come On, Come On", "Dead At 17", "Outfit" and "Postcards From Hell" which is one of my favourite songs of the album. The last part of this CD contains the 2003 remix version of the band's "What You Deserve" EP.
This is a "must have" album for all the "American Heartbreak" fans out there. Will this album manage to create new fans for the band? Let's put it this way: If the band manages to have the right TV/Radio promotion, they definitely will!
Label website
***
Review by John Stefanis