ALLMAN BROTHERS BAND
'Allman Brothers Brand: American University 12/13/70'
Sanctuary SANCD387 (2005) (60:24)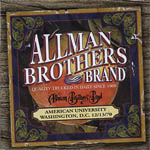 Yes, yet another live set from the original and classic southern rockers, but when itís this good itís a sure fire winner.
Back in their heyday, the band were constantly on the road, hence the plethora of live material.
Kicking off with the classic Statesboro Blues, we get plenty of hard rock tinged with more than a nod of blues and boogie. Duane Allmanís side guitar sticks out, and brother Greggís harmonica and piano mix in great too.
Donít Keep Me Wondering is a little muddy here, not sure if itís the recording quality or the production, but the bulk of the concert is tight, solid and well on form.
Closers You Donít Love Me and Whippiní Post feature the customary jams (something the band did so well), both tracks each running at over 15 minutes. Some bass reverberation a little annoying but doesnít detract from the excellent music.
There are already a plethora of live sets available, with so many good shows recorded. Well packaged, itís a must have for fans, but more casual listeners are probably still better off with the recently revamped Filmore East set as the ultimate Allman Brothers live package.
****
Review by Joe Geesin
Trouble No More
© 2005 Sanctuary Records Group. All rights reserved.