THE ALLMAN BROTHERS BAND
'One Way Out - Live At The Beacon Theatre'
(Sanctuary 06076-84682-2)(2004)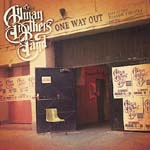 One of the original and best southern rock groups still going. And what a pleasure their music is. Lengthy blues rock workouts, slide guitar and banging keyboards. None of this AOR tripe Skynyrd are now playing.
This 2003 live set features many of their best known classics, including 'Statesboro Blues' and 'Whippin' Post', alongside more recent tracks. Like any ABB live set, it's a great listen. The only problem, and hence the low mark, is that the sound or arrangement on many of these tracks hasn't changed in 30 years, despite many personnel turnovers. If you only have one ABB album, the recently revamped and expanded 'Fillmore East' double CD is the ultimate, but this is still a damn good set.
***
Review by Joe Geesin


£13.99
Whipping Post
© 2004 Sanctuary Records. All rights reserved.