ALL HOURS 'InFlagranteDelicto' (2005)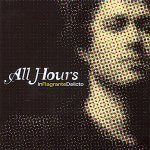 Occasionally you come across an album which doesn't grab you, unfortunately when I first put on All Hours 'InFlagranteDelicto' this was one of these occasions.
InFlagranteDelicto is an incredibly mellow album. Sounding like a hybrid of Aerosmith/Bon Jovi and Maroon five. Not that there's anything wrong with Aerosmith and Bon Jovi, but somehow it doesn't work. The band describe themselves as 'swaggering, sophisticated, melodic rock using aching piano ballads, sumptuous torch songs and rollicking guitar rave-ups.'
Even this sort of hype, failed to grab me after listening to the opening track 'Samantha.' The track itself has beautifully written music which is all in time. But the actual lyrics lack substance, making them sound like the cliché boy band trying to gain the number one spot at Christmas with the cliché ballad.
Each of the following tracks share this likeness, with the lyrics steadily declining throughout the album. The lyrics manage to take the attention away from the beautifully written music, instead of complimenting the music, they override it.
The combination of the two doesn't work, if 'All Hours' managed to rewrite the album with different lyrics, then InFlagranteDelicto would be a perfect classic rock album, unfortunately the band fail themselves and InFlagranteDelicto will only amount to one of those albums, your ashamed to have in your CD rack.
*
Review by Charlotte Antczak