ALICE IN CHAINS Essential (2006)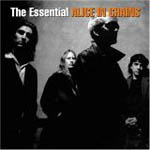 I never did buy the whole grunge thing. The Nirvana, Pearl Jam's and the rest of those bands did absolutely nothing for me.
Except for Alice In Chains, though I never really regarded them as grunge, they always seemed to be a little different to the rest of the Seattle scene. They always seemed to be one step ahead of the rest of the scene.
Maybe it was their dark brooding lyrics, the sweet combination of the two different voices of Layne Staley and guitarist, Jerry Cantrell, their harmonies almost defined the AIC sound.
The Essential Alice In Chains, is a collection of songs that spans the band's entire career and is a good representation of them overall.
Drawing from every AIC release, The Essential is a must for the people who remember the band, but for some reason or another, never bothered to pick up any of their albums.
For the fans that have everything, there really isn't anything new on offer here to tempt a purchase. But, it's a double disc collection that would satisfy even the most staunch AIC fan, a tidy collection to have together.
The most glaring omission from this collection, even my wife screamed at me when she saw the track listing, is 'Down In A Hole'. I supposed not everything could be included, but this song is just about the only glaring song that should be on here.
It's almost a sobering moment when I opened the booklet to see a picture of Layne Staley onstage. Hard to believe he has been gone 4 years already, a very sad loss, and a front man that won't be forgotten for a long time.
With AIC now playing live shows again, this release is a timely reminder just how good they were and what a severe waste Layne's death was. As the album title says, an essential release from now legendary band.
*****
Review by Graham Boyle