Shock rock's elder statesman in concert...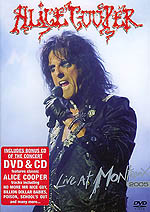 Alice Cooper changed my outlook on music when, as a teenager, I stumbled across Killer in 1971. I can still remember the needle hitting the vinyl - screaming guitars, pounding drums and that snarling vocal. It was unpolished, raw and unlike anything I'd heard before - I was hooked. It was start of a love affair with Alice that has lasted down the years.
I'll always regret not seeing the Killer show with its mock guillotining, snakes and bloodied dolls - but at least I caught the Welcome To My Nightmare tour at the Liverpool Empire several years later.
Back then, no one could anyone have suspected that three decades on the Coop would still be up there with the best of them - rock 'n' roll showman supreme. So it was a pleasure and a privilege to review this latest DVD offering from old panda eyes.
As it says on the tin, this is the full concert footage from the gig at the 39th Montreaux Jazz Festival on 12 July 2005. The full 27 tracks over 100 minutes. Now that's what I call value for money. And if that isn't VFM enough, the package comes with a single (abridged) 19 track CD.
As always Alice has put together a phenomenal band - ex Kiss dummer Eric Singer, two excellent guitarists - Ryan Roxie (ex Slash outfit Snakepit) and Damon Johnson, and Chuck Garric (Ronnie Dio, LA Guns) on bass. And just to keep it in the family, and keep an eye on dad, Alice's daughter Calico plays a number of theatrical roles.
You know you're in for a treat when you see the sheer volume of Marshall stacks across the back of the stage. The show opens with a darkened stage, the swirling strains of 'Phantom Of The Opera' and 'Hammer Horror' screams before exploding into 'Department Of Youth'. And from the moment he hits the stage, it's a non-stop rollercoaster of hit after hit after hit.
Barely pausing for breath, the set is performed at breakneck pace. Lesser mortals might falter, but not the showman supreme that is Alice Cooper - it's a powerhouse performance.
When you visualise an Alice Cooper a show, the first thing you think of is the theatrics. But, d'you know what, primarily this is a damn fine rock show.
The older numbers - Be My Lover, I'm 18, Is It My Body, Welcome To My Nightmare, Steven, Ballad Of Dwight Fry, Killer, I Love The Dead and School's Out are, frankly magnificent. Sure, you get plenty of stage props - swords, dollar bills, strait jackets and the infamous guillotine routine, but they're just the icing on the cake.
This isn't a man living on past glories, or going through the motions this is classic Cooper, classic rock. Shock-rock supreme from a living legend. And all in glorious DTS sound.
****½
Review by Pete Whalley