AL ATKINS 'Heavy Thoughts'
(Market Square MSMCD120)(2003)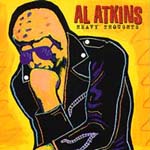 Al who? Well, in the dim and distant days of 1970, Al Atkins was the first vocalist with legendary heavy metallers Judas Priest. He then formed Lion with Budgie drummer Pete Boot but with the coming of punk there was little room for heavy rock and the band missed out on a major label deal. 20 odd years later he recorded 'Heavy Thoughts', his third solo offering, which is now reissued with the inimitable bonus tracks. Those expecting a Priest-like offering, may well be surprised. If you didn't know his past, you wouldn't pigeon-hole Atkins in the Priest more-metal-per-minute bracket. With a cracking good band, this is essentially eighties power rock given an updated twist but sounding quite AOR and American in places. Magnum watchers will note the presence of Paul Hodson on keyboards.
The title track and one or two others, yes, are Priest in spirit but 'Turn Around' has those superb reflective guitar chords, crying guitar and an atmospheric vocal that could belong to any number of crooners from Winger through to Night Ranger whilst 'The Deepest Blue' could almost be classic Doors. Guitarist Paul May provides some splendid riffing throughout this album not least on 'When Love Steals The Night'. The old Everly Brothers standard 'Price Of Love' comes out sounding like something from the Nazareth school of in your face rock 'n' roll, but without Manny Charlton's zapata. 'A Void To Avoid' brings to mind classic Saxon.
Atkins retains the rasping vocals so typical of this genre but the album is lifted by his excellent songwriting ability. Whilst there is nothing here to really astound, it is consistently good and hugely likeable. Priest fans will want to investigate to reassemble a little bit of band history and the inclusion of 'Caviar and Meths' makes this pretty much a must-have, especially as it appears in full eight-minute version. Apparently there is every respect in the Atkins camp for what Judas Priest later achieved and guitarist KK Downing was present (but didn't play) during these album sessions. This CD will be welcomed by lovers of well-constructed heavy rock and the NWOBHM genre.
Wall--eeeey!
***
Review by David Randall

A Void To Avoid
© 2003 Al Atkins/Market Square. All rights reserved.