AIDEN Nightmare Anatomy
Victory Records VR259CD (2005)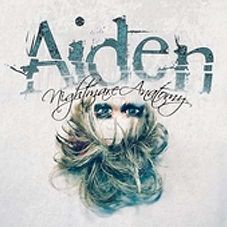 I suppose when you're 12 years old, or however insanely young Aiden are, you really do think that you're doing something new and exciting. It's part of what being young is all about. So I have no intention of slating them for thinking they're something different.
Which they're not. Take one part My Chemical Romance, one part Good Charlotte and one part AFI, and you're pretty much there. Apply lots of eyeliner for the metrosexual crowd, drop in some pop melodies, stand back and watch the disaffected youth pour in.
Of course, it's not as calculating as that. Well, for the record company it may be, but the band are trying to be the best they can, while barely out of nappies, and they have an earnest enthusiasm that is quite appealing.
Things start off well with the aggressive screamo madness of "Knife Blood Nightmare", a song that certainly gets you paying attention. "The Last Sunrise" is the single, perfectly understandable with a chorus that's instantly memorable and subject matter that will have every white lightning abuser tuning into. The mid section of the CD does have a fair bit of filler and it's only when you get to one of their older tunes, redone, "Goodbye We're Falling Fast" that things get back on track, which does the mellow-aggressive-mellow thang very well. The album finishes up with another gem, "See You In Hell", a veritable six minute epic which combines their various influences into something a little bit different.
The band are technically proficient, but are just lacking in that killer 'something special' that lifts the good into the pantheons of great. They're also going to take serious abuse for the My Chemical Romance comparisons, so hopefully they're hardy enough to handle it. Hopefully, they'll get the chance to mature into something better.
**
Review by Stuart A.Hamilton