For those about to rock...double DVD heaven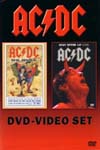 Like all good rockers AC/DC have aged gracefully with their audience. The sight of Angus Young duckwalking his short-trousered frame across stage seems right, somehow. And Brian Johnson looks as gnarly as he ever did. So what's new? Not a lot really. This sumptuous double DVD set brings together two full-length AC/DC gigs and will be manna from heaven for the converted. With age, the band have also honed and preened their monumental riffery which - given the benefit of the 5.1 sound - comes over with raw and intoxicating power.
AC/DC's legacy is a big one, as are their riffs, and in spite of an early-nineties hiatus they are now 'Back in Black' as it were. Across the two DVDs this is effectively a greatest hits with some duplication but not too much.
If you don't know AC/DC you will surely know the opening bars of tracks like 'For Those About To Rock', 'Hell Ain't A Bad Place To Be', 'Highway To Hell' and 'Whole Lotta Rosie' It may all sound deceptively simple, but the band combine a brash raw rock and roll edge with deft musicianship and memorable hooks. And with Young prancing around like a demon prefect they have a strong visual image too.
Both DVDs have been out before. 2001's Stiff Upper Lip Live features a German gig but only 10 minutes of bonus footage so some die-hards may feel short-changed. 'No Bull' was recorded live in Madrid in 1996 when their stage set was replete with cannons, inflatable doll and an extended walkway for Angus Young's strut. A bonus feature is the 'Hard As Rock' video and accompanying 'making of'.
With The Darkness showing that there is still a place for over-the-top rock 'n roll, the true masters of the art AC/DC demonstrate in this package they've long been there, done it, and got the sweaty T-Shirt. We salute YOU.
****
Review by David Randall