10cc Greatest Hits...And More
Universal 9844414 (2006)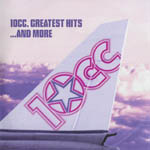 You could be forgiven for asking why another 10cc Greatest Hits package? And perhaps the answer lies in the second half of the 'Greatest Hits...And More' title, the small print going on to explain the historical context of the supplementary older and newer tracks which give the package its cache. Although not sanctioned by all the band, this new Universal retrospective is best viewed as a timely 70's retrospective as there are no 10cc contributions after 1978's 'Bloody Tourists'.
It might be argued that the project could have been topped and tailed a little more thoughtfully. Thus while the two CD package starts with the early hit, 'Donna' and duly delivers all the band's big hits and favourite songs, Graham Gouldman's reworked hits with the Mindbenders, Herman's Hermits, the Yardbirds and the Hollies are tagged on the end with his latest opus 'Beautiful Losers', with no sense of chronology.
Gouldman was, after all, a hit writer before 10cc and to this day continues to tour under the band's moniker so it might have made sense to have his early hits at the beginning.
Listening to the 10cc's mixture of joyous eclecticism, memorable hooks, and occasional dabbles in satire and pastiche you can't but help but wonder how the band managed to crack it big in the first place. Fellow satirists like Zappa after all proved to be far beyond the pale of the chart buying public.
The answer of course lies in a batch of excellent songs such as such as 'The Wall Street Shuffle' and 'Life is A Minestrone' and 'Art For Arts' Sake' which retain a timeless appeal, being full of clever, quirky musical arrangements, and occasional memorable riffs while their biggest songs such as 'I'm Not In Love' and 'I'm Mandy Fly Me' are touched with the presence of McCartney.
Above all, 10cc were never predictable and some of their more controversial songs (ie. some fans hated them) such as the pastiche rock anthem 'Feel the Benefit', sound at the very least fresh and interesting all these years later. The unlikely mixture of big rock production allied with strings, and Eric Stewart's plaintive vocal helps overcome some trite lyrics.
The song is neatly juxtaposed here with an early career Zappa style Doowoop 'Johnny Don't Do It' These two tracks alone show the wide ranging musical palate of a band whose two song writing teams somehow managed to coalesce until an inevitable split.
For the rest there are some extra curricular highlights including Gouldman and Andrew Gold's Wax who scored an international hit with 'Bridge To You Heart' and of course Godley and Creme who enjoyed post 10cc success.
Right at the end of the two CD set there is a pointer to the future, with the new song writing partnership of Gouldman and Godley delivering one of the album's very best efforts, 'Beautiful Loser.com'. Stylistically it may be a million miles away from '10cc Greatest Hits', but is nonetheless well worthy of inclusion on this wide ranging set.
****
Review by Pete Feenstra
Related >> Graham Gouldman interview
Related >> Kevin Godley review
---
---
| | |
| --- | --- |
| | Print this page in printer-friendly format |
| | Tell a friend about this page |