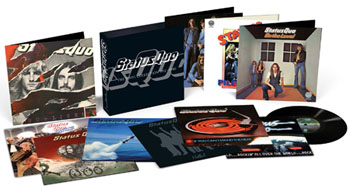 WIN STATUS QUO
THE VINYL COLLECTION 1972-1980

BOXED SET!
PLUS! BONUS BOOK FOR RUNNER-UP!
We're giving away a 10-disc boxed set of Quo albums to one lucky winner!
We'll also be giving away a very handsome softback authorised history of the band to the runner-up!
All material contained within 'The Vinyl Collection 1972-1980' is re-mastered from original tapes and presented on 180gm Vinyl with original covers, inserts and an exclusive poster in each record.

With ten complete albums, including the double 'Live' album from 1977, this is a phenomenal collection that will be cherished by Quo fans the world over.
Track listing: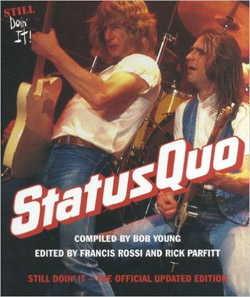 Our bonus prize is Status Quo - Still Doin' It the official updated version chronicling the band between 1966 and 2013 edited by Francis Rossi and Rick Parfitt and compiled by long-time collaborator Bob Young.
How to Enter
1. Just answer the following question and select the tick box below.
2. When you receive our on-screen acknowledgment remember to like our Facebook page and share the competition item at the top of our Facebook page. (Please note this is a condition of entry)
Closing date 4 October 2015. Winners will be notified by Sunday 11 October.
What was the first Quo album Andy Bown appeared on?
a) Hello!
b) On The Level
c) Rockin' All Over The World
Now complete the form below: