Top tribute to melodic hard rockers...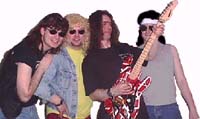 In June 2002 Inverness born vocalist Stevie A. Durrand (Cry Havoc / Irn MacMaiden) got together with talented guitarist Cammy King with a view to starting a tribute of a different kind.
The City of Glasgow had witnessed the success, over the last few years, of tribute acts such as Bons Balls (AC/DC), Fat Betty (Thin Lizzy) and the Durrand fronted Irn MacMaiden. So with a period of inactivity within the MacMaiden camp Durrand pulled together drummer Davie Gray (ex. P.H. Family / Suspicion of Rain / Peat Loaf) and bassist Paul Logue (Cry Havoc) and Van Hielan was born. For Durrand, a huge Sammy Hagar fan, this had been a long term ambition.
The band got together for the first time at Berkeley 2 Rehearsal Studios (Glasgow) armed with a list of 9 songs, and from the opening bars of "Panama" they knew they were onto something special, armed with the fact that they knew there was no other Van Halen tribute act in Scotland, and even active in the UK !
Obviously with Eddie Van Halen pioneering a whole style of Rock Guitar, Cammy King had the hardest job in hand. From studying Eddie's sound to every little lick and fill, King worked overtime to emulate this virtuoso talent. Durrand too had a REAL challenge on his hands.Bassist Logue and drummer Gray did was what natural, and carried along the rhythm section in the only bombastic way that they knew how to !
In August 2002 Keyboard player Paul Lindsay (Forgotten Sons) joined the ranks and the Van Hielan line up was complete. The additions of multi-million selling hit "Jump" and the hook laden key heavy Hagar era tracks such as "Dreams", "When It's Love" and "Why Can't This Be Love" saw the live set grow from strength to strength.
The band made their live debut at The Renfrew Ferry on 30/08/02 and already they have started building a healthy following on the strength of that display, culminating in a support slot with veterans UK AOR-sters Magnum at The Liquid Rooms in Edinburgh on Wednesday 11th December 2002.
In 2002 David Gray left due to commitments with another project, and the band parted company with guitarist Cammy King, who without doubt is a sensational guitarist but wasn't the full on Eddie that the band craved for.
Teenage sensation Gordon Campbell was the first new boy to step into the fray. This fresh faced youngster brought with him a bigger bag of tricks that would make many seasoned professionals blush.
When searching for Cammy King's replacement one name kept coming up - Dougie Graham, or as he was commonly referred to "that guy from Beith that looks like Eddie Van Halen".
The band's goals are simple - to promote the music of Van Halen and to entertain.