This is the feature where we revisit bands or albums that are worthy of attention but may well have been overlooked over the years…we also signpost the definitive CD versions and related albums worth investigating.
If you have your own neglected band/album send us a review!
Shadow King was Lou Gramm's first foray in a band format since his departure from Foreigner in April 1991. The charismatic vocalist had been working on songs with Bruce Turgon for a third solo album and these developed into a full band possibility. To make this a reality, Gramm and Turgon recruited Viv Campbell (Dio,Whitesnake) on guitar and Kevin Valentine (drums).
As Shadow King their debut album was much-trumpeted on US classic rock radio and the label had high hopes with an extensive European and US tour scheduled for 1992. Unfortunately this only got as far as their one live appearance at the London Astoria in December 1991. Here the band performed steaming versions of Foreigner hits as well as most of the album, and one of the encores included Free's 'Fire and Water'.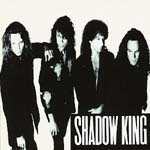 Shortly afterwards the band imploded, Viv Campbell went on to join Def Leppard. Valentine played gigs with Cinderella, Gramm eventually got back with Foreigner in 1993 taking Turgon with him.
Freed of the strictures of the AOR Monolith that Foreigner became in the late-eighties, Gramm's short-lived band really kicked ass with punchy, commercial songs and a hard rock sensibility punctuated by Turgon's deft keyboard fills and Campbell's understated guitar. Gramm's vocals were as distinctive as ever.
There could have been at least three singles from the album. 'What Would It Take' with it's hungry opening and impassioned lyrics recalls classic Van Halen, 'I Want You' a brash no-nonsense slice of semi-Whitesnake snarl and the more Foreigner-esque ballad 'Don't Even Know I'm Alive' are all standouts. Production values by Keith Olsen (better known for his work with Whitesnake and Ozzy Osbourne in the eighties) are high, and the thunderous intro to 'Boy' is well worth the entry-price alone and one of the best ways to test, and break, any newly-purchased hi-fi speakers.
Gramm has had his fair share of health problems in recent years although he released a new album in June 2009. However, temporarily freed from Foreigner's corporate rock shackles his work with Shadow King is exemplary and this is a blueprint for how well-crafted gutsy rock 'n' roll should sound.
One small gripe might be that the album is a touch weighted towards power rock rather than ballad, but this apparently is why Gramm got fed up with latter-day Foreigner.
Ironically it seems that Shadow King succumbed to record label politics as their continued success may have jeopardised the Monolith, whose post-Gramm album 'Unusual Heat' disappointed. More tantalising still is the knowledge that the band had recorded several tracks for a proposed second album which may never see the light of day.
Text © 2003 David Randall, revised June 2009

---
Don't miss:
Shadow King (Atlantic 7567-82324-1 LP;7 82324-2 CD)
Don't skip:
What Would It Take, I Want You, Boy
Worth investigating:
Original Soundtrack - Highlander II (second track credited to The Lou Gramm Band is in fact Shadow King) (Warner 9031-73657-2)
Further info:
Website
10 Questions (May 2009)
---
What Would It Take
© 1991 Atlantic/EMI Music Inc. All rights reserved.

---