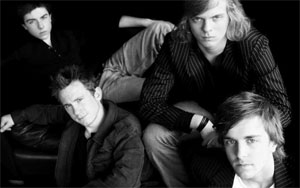 From Birmingham, the Tierney brothers formed UXL (formerly Elixir) over three years ago with friend Dan Clark and have evolved into an intriguing combination of energy and melody that draws on their varied musical influences.

UXL's was a familiar enough start. Three young brothers loved music and started playing together, rock classics usually Zeppelin, Hendrix all the greats. PJ the eldest started with classical guitar progressed to electric and luckily started to get a bit good.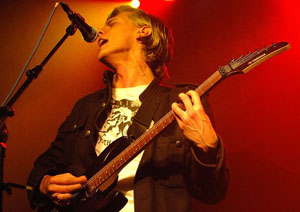 Photo: Lee Millward/GRTR!
John's earlier attempts at playing the bass never quite materialized. Instead he took up acoustic guitar, began to give the vocal chords an airing and armed with Beatles chords started putting pen to paper.
Fortunately the drums were always going to be the perfect instrument for Paul's personality and it was at this point that the brothers met up with Dan Clark from Wolverhampton. Bass player and drummer with several other bands before, Dan soon became UXL's bass player and arranger. Line up complete.

What followed next will be well known to bands everywhere. Lots of rehearsing, recording demos, sending off demos, getting gigs, playing to three people audiences (two mates and the manager), dealing with eccentric sound engineers and loading unreliable vans in the early hours.
Like most bands, UXL have also had their fair share of dodgy haircuts, mid-gig cock-ups, 10 minute sets due to over enthusiastic support acts, trawling dictionaries for new band names, spot outbreaks at photo time and general lurching from one crisis to the next.
But luckily their time together has also seen many great highs like playing at Sandwell Festival to over 20,000 people, meeting Metallica's sound engineer Mick Hughes, recording an acoustic set at the BBC studios, playing at Rockinbeerfest, the many positive reviews from the music press, the great support and also the invite to support Wishbone Ash.

After all the above, 2007 saw the launch of their long awaited debut album Can I Dream Again? recorded at M2 at Mad Hat Studios in Wolverhampton and released on the independent Mab Records label.
UXL supported legendary rockers Magnum on the UK leg of their European tour and are appeared at festivals around the UK including the Cambridge Rock Festival.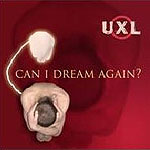 Described by one reviewer as both 'hard-hitting and heart-warming', UXL successfully manage to draw on all the best from their musical influences and fuse these elements with their own edgy, melodic and unique sound.


---
Interview with John Tierney, UXL, 3 December 2007 (13.25)


© 2007 David Randall/GRTR! All rights reserved.

An edited version of this interview was broadcast on ukcityradio.co.uk on 23 December 2007.

If you can't see the embedded player, you'll need Real Player. Follow the audio help link at the top of the page.
---