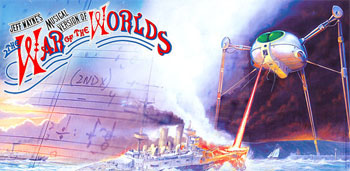 While it comes as no surprise to learn that Jeff Wayne's 1978 musical adaptation of the HG Wells book 'War of the Worlds' (aka 'WOW') has racked up over 15 million sales world-wide, it is certainly surprising to learn that his recent live musical adaptation has proved to be even more popular in the year 2007.

In truth, Wayne's adaptation never fell foul of the overblown ideals of the concept album being far more complex than that. Indeed, now only two months short of the 40th anniversary of its original release on vinyl, Wayne's adaptation is enjoying unprecedented success as a computer game, as well as in remixed super audio CD format and as a recently issued DVD of the 2006 Wembley Arena show. With a further commission for a computer animated film (CGI), the possibilities of transposing Wayne's brilliant musical vision seem endless.

Currently Jeff is in the middle of his third world-wide tour of 'WOW' as a live stage show, complete with a great band - the ten piece Black Smoke band and great singers that include Justin Hayward from The Moody Blues to Chris Thompson from the SAS Band and Manfred Mann's Earth Band.
Throw in a 40 string orchestra and you start to get an idea of the size of the project. But there's more, the dazzling technology not only offers the ultimate audio visual spectacle, but also makes makes it possible to transpose the figure and voice of the late narrator Richard Burton on to the same stage as the live performers. Given the incredible technological and musical spectacle that is 2007's 'WOW', the obvious starting point of our conversation was how Jeff managed to adapt the 1898 penned Sci-Fi novella into music.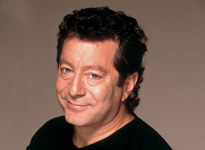 Going back to your initial idea of adapting the book to an album, how do you set about transposing the narrative to a musical?

I read the book three or four times and discussed it with my dad. And right from the start it was apparent to me that we needed to find the character for the narrator and journalist, and that Richard Burton was perfect for the part.
But before we got that far, I took the book to musicians via a script writer, Doreen Wayne. So she adapted it to the songs, and I set about organising a cast of characters. And in mechanical terms we organised some demo recordings that required performances.
In terms of approaching the text I took the book as it was written by H G Wells, that is on a chapter by chapter basis. Don't forget HG Wells didn't write 'WOW' as a book, but rather as a weekly epsidodic adventure for the radio with cliff hanger endings to each chapter. So I paid attention to that.
The next thing was to concentrate on the character voices. It was very important for me to pay attention to the way the characters are being portrayed as it's crucial that they must be convincing and believable. And then the next thing was to decide which character to go for first, and we were unanimous in picking Richard Burton for the part of the narrator.
Then I turned my attention to the guests while finding all the other things was a longer process. I initially started in the studio with a band and singers who would work on the demo's that would be presented to the artists. Then you find the artists concerned. But all these processes pretty much happened as we went along. So I then recorded the full score with the band and added the different elements. The strings came later.

Am I talking to Jeff Wayne the composer, arranger, producer or musical director?

Well there are different elements to my role in 'WOW', but I was pretty much involved in all three roles, and all of them had different challenges. I obviously wrote and composed the music, and arranged it, which is really the interpretation of the script. And I produced it, which is really tied in with having an overall view of the thing.

Do you conduct the orchestra at all?

Yes I have been conducting 'WOW' on the last three tours including this one. And conducting is really the work out part of it all!

Has taking 'WOW' on the road changed the music at all? Do you sometimes hear a performance and think it could be improved or changed at all?

There are a few changes but mainly because you are working to a score and a particular production, the thing is really set in stone. with a structured theme. There are different moods and feels some times but really it doesn't change much.

Have advances in technology changed what is possible with the show?

Technology has brought a huge change. Right now you can dream something up and you pretty much have the technology to create what your imagination can come up with. Certainly there are huge parts of the show that I probably couldn't even have conceived of in the late 70's, simply because the technology wasn't there.
Don't forget we didn't have fax, the internet, or even mobile phones when we first made the album. Now we have a live stage show with huge three ton Martian fighting machines, holograms of Richard Burton, and CG1 animated films.
Quite simply the new technology allows you to put your ideas and imagination into physical form, whereas originally what we produced was to accommodate a black vinyl double album format. So the album gave you the major moments of the story along with the paintings as part of a 16 page booklet. Now we have the technology to bring it all to life.
Looking at the 'WOW' historically it seems to have spawned a new idea every few years in terms of its presentation. Was it the case that you recorded an album and then as its popularity increased other ideas took shape?

Well of course if your original recording is commercially successful you can start to think about moving on another step and perhaps look to a natural extension of what you have done. So maybe there was an idea of a West End stage production with the physical representation of the live performance. But back in the late 70's my thoughts probably didn't go much beyond thinking about a basic stage production. But now the technology really does allow you to do things we probably never even thought about back then.

Did you always have a bigger goal than just the original album?

In terms of having a goal, for me it was always to be challenged by music. As a musician I started by simply trying to play in bands and then turned my hand to song writing. But I never stayed still. I always loved moving around, and so never really specialised in anything. I was just looking to have a long and fulfilling career in music and 'WOW' has allowed me to do that.

How have the musicians adapted to technological change and a changing environment within the new show?

They all did adapt quite quickly. After all they are all highly skilled musicians and have the experience of playing in different shows of all shapes and sizes. But I think even they were taken a back a little by what was happening around them on stage. They took time to adjust but they were very professional and it's all worked out very well.

On the initial production you worked with Chris Thompson, Herbie Flowers and Chris Spedding. Did they all want to be involved again in the new show and were they willing to tour?

Very much so, there was real enthusiasm on their part. I enjoyed working with Justin Hayward before and he was enthusiastic about the new project and he's still with me on the third tour now. It was the same with Chris Spedding and Chris Thompson.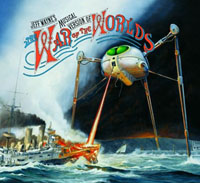 How did you decide on some of the rock musicians for the characters in the original production, Phil Lynott for example?

Well Phil came through the need for a particular character in the script. His role was that of the parson and his wife (Judy Covington). And in the story you would have imagined that being a man of the cloth he would offer spiritual comfort during the time of the Martian invasion. But in fact he goes bonkers, and tries to exorcise them. This part alone was a twelve minute sequence. In the script the wife tries to bring him back to reality. It's a kind of madness versus sanity, and good versus evil piece that I felt needed someone in the rock world.
As it happens, I was a Thin Lizzy fan and I'd just heard a song called 'Fools Gold'. The track starts off with Phil speaking before he goes into the song itself. So having heard that I thought he'd be an amazing person to play that role. I think he looked at it as a challenge for him and threw himself into the role. That was one of the great things about 'WOW' in that it has brought people from very different backgrounds together, to fill the roles of some of HG Wells's eclectic characters.

You've said before that Richard Burton was one of the first people you thought of for the original musical, and of course he's still a giant presence now in the form of a hologram?

Yes his part as the narrator and journalist was the crucial one to fill. Both myself and my father thought of the cast of characters at the beginning and his voice immediately came to mind. But having an idea of Richard Burton playing the part and actually bringing that about are two different things. In fact we had to locate him first before we could even try and attract him to the part. But we got to him through one of those dumb strokes of luck that does happen sometimes.
We sat down and thought about it, and realised that contacting his agent wouldn't be any good as they wouldn't give us the time of day. But we knew he was in a theatre in New York doing 'Equus' at the time. So we decided to write him a letter from a character, production and script point of view. We sent a little parcel to the stage door of the theatre where he was appearing in the hope that it would be passed on by the concierge. Two or three days later the agent called us to say he was interested.
The other thing you have to remember is that this was the late 1970's and Richard had a reputation for being a hell raiser. At that point he had to go from New York to California to make a film. So when the time came to recording his piece we sat in the studio and wondered who would come in through the door, whether he would be standing or falling. And in fact the person that came through the door was a charming man and as professional a person as you could ever hope to meet. Our contract with him asked for 5 full studio days with up to 10/12 hours a day. But he did twice that amount again with us in one album!
We stayed in touch after that and I was commissioned to write the score for a Dylan Thomas project which he was working on, when he sadly passed away. We have incorporated the hologram of him because he is such an integral part of 'WOW'.

You were recently awarded the 'Classic Rock Magazine' 'Showman Award' in London. Did that come as a surprise?

Yes it was a surprise and I was really honoured by that, particularly because as a composer and musician it was great to find myself in a room full of rock legends. Also it was great as my presence at the awards ceremony was a reflection of the achievements of the show.

It's been said that you brought the standards of the classical world to the rock world, was that a difficult bridge to cross?

Well it was a natural thing for me in a way as I've been trained from the age of 5 in a classical background. And I'd always been taught that you should love the music you play and look to be challenged by it. But I also have a journalist degree in my background and that also gives you discipline and a good grounding, so I hope I don't drive people bonkers (laughs). But I suppose that kind of background does give you bigger targets, or a bigger picture to aim for perhaps, and certainly I do concentrate on the nth degree of detail. I haven't found working in the rock field to be a problem; certainly most participants in 'WOW' appear to have enjoyed the challenge.

Did you consider yourself a synthesizer pioneer back in the 70's as those new sounds were an important part of 'WOW'?

I've always enjoyed exploring new sounds. But as regards synths in particular you have to go back to 1968 and Robert Moog's invention of the synthesizer to find the true pioneer. And while I have always loved experimenting with sound, it wasn't in a weird way, but rather creating sounds that blend in with traditional bands and symphonic string writing.
For me there's an essential difference between strings and synths. So while there were some string synths on 'WOW' it wasn't the main part. Ken Freeman was a keyboard player who was working with us on 'WOW' and he really was the inventor of the string synthesizer. We used to call him 'The Proff' as he was inventing these things from the String Symphonizer to the string synthesizer. So whenever we needed some electronic parts we called him. But for me the key is not to replicate sound but to add to it and perhaps to create another soundcape. I still think strings are wonderful in their own right.

The original album of 'WOW' didn't do very well in the US due to poor marketing. Do you see 'WOW' as more of a European phenomenon?

Well it's true that the marketing of the album in the 70's in America had its own problems to solve. But statistically we didn't do that badly, after all its was some 7 months on the album charts and went one and half times platinum.
But in the US sales were dwarfed by other territories, in comparison with say 11 times platinum sales in the UK and 15 in New Zealand etc. But I it's been a world wide thing with New Zealand an Australia being particularly strong. But in terms of the US we also had some bad luck as the single 'Forever Autumn' was apparently a big hit on the Billboard charts but was erroneously registered as a Moody Blues single, probably because Justin sang on it. So I guess the public never made the connection between that single and the 'WOW' album.

And why do you think the follow up 'Spartacus' album didn't quite capture the public's imagination like 'WOW'?

When 'Spartacus' came out in 1992 we had high hopes as we had a great cast. But I think with 'WOW' we had a bit of luck as its success was partly due to the explosion of science fiction as a genre just as we were launching the album.
There was 'Star Wars', 'Close Encounters', and 'ET' at the time, all part of a genre that was being re-explored by the public. The same genre context bypassed 'Spartacus'. In 1992 there were no historical subject genre movies like 'Gladiator', '300' or 'Braveheart'. And so 'Spartacus' was perceived by the public as having little relevance at the time. Years later there are a lot of people on our forums asking us to do it as a live piece, so perhaps it was just the wrong time. It probably did better than people thought but not at the same level as 'WOW'.

How do you feel about the different ways 'WOW' music has been interpreted over the years, especially the remixes?

I think it's very interesting and creative. There have been something like 300 legal club mixes since 1978 that I know about. Technology has brought about radical change and has directly affected things like the beats per minute, which have become faster. And since the tempo of society has changed so the beats get faster and the mixes reflect that. My son is a DJ who plays hip-hop and r&b, and he tells me he's hearing new mixes all time. In fact he has done remixes of 'WOW' on the play out music at the end of the show. The audience probably don't realise that the 'off the wall' mix is a configuration of what they've heard earlier that night.

Finally, given the exponential growth of 'WOW' in recent years do you have any time for other potential projects?

I always have plans in my head for other projects and I do have other offers at the moment. I've got one idea in particular which is based on a story called 'Call of the Wild' by Jack London. It's a big story with big themes, but that's for the future as I'm still in the middle of touring 'WOW' at the moment.

Interview © 2007 Pete Feenstra
The War of the Worlds 2007 stage show begins on 2 December in Belfast

---