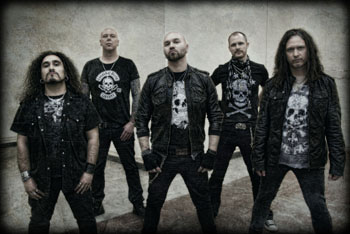 Multinational melodic metallers Eden's Curse are set to release their third album 'Trinity' on March 21st 2011.

Produced once again by Dennis Ward (Krokus, Angra, Allen & Lande, Pink Cream 69), 'Trinity' picks up where 2008 album 'The Second Coming' left off.
Packed with all their traditional trademarks, and featuring the recording debut of keyboard player Alessandro Del Vecchio (Glenn Hughes / Ian Paice / Edge Of Forever /Moonstone Project), 'Trinity' is arguably the most powerful sounding Eden's Curse record to date.
From Thorsten Koehne's wall of razor sharp guitars, to Messrs Logue and Newdeck's pounding rhythm section, Ward's sublime production has allowed these new songs to explode from the speakers in a sonic assault wrapped around the instantly recognisable sound of Michael Eden, who once again gives a consummate performance, rich, powerful and yet crystalline.

With a contemporary approach to the keyboards that hints at such bands as Kamelot and huge orchestral passages that build wonderful texture, 'Trinity' is sure to be an album that defines this line up, but it's not just the songs that give this album such depth.
As has become customary with each release, Eden's Curse have once again sought out varied and outstanding guest vocalists to collaborate with; and this time they've truly outdone themselves by attracting the likes of not only Helloween singer Andi Deris to the cause (on the track 'Black Widow', one of the band's heaviest ditties to date…), but also the immense talent of one James LaBrie, respected vocalist with possibly the world's most professional Prog Metal band, Dream Theater. Dueting with Eden on the epic anthem 'No Holy Man' and also contributing backing vocals to the whole album, LaBrie can be heard throughout giving a storming performance and his praise for the 'Curse themselves was boundless
.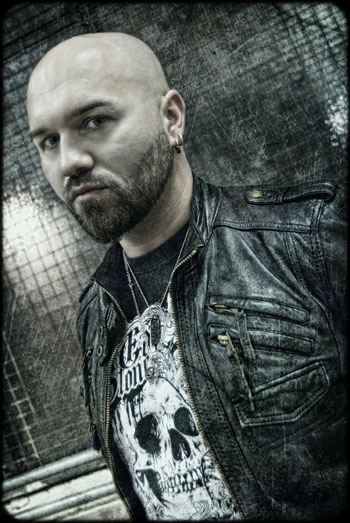 Vocalist Marco Sandron joined the band in 2012.
"In 2010 I was fortunate to discover Eden's Curse,' says LaBrie of the new record.
"I absolutely love this band. Great players and people, they deserve nothing but huge success! They belong with the best of today's music. Trust me, you're going to love this album from beginning to end ".

And that's not all! Other notable tracks such as the album's hook laden opener and title track, the contemporary 'Saints Of Tomorrow'; the tear jerking stadium ballad 'Guardian Angel', and the melodic rock gem 'Rivers Of Destiny', which blends beautifully with the bruising 'Jerusalem Sleeps', are sure once again to bring this album praise from many quarters, but there's one last moment which illustrates just why Eden's Curse are destined for that ultimate success.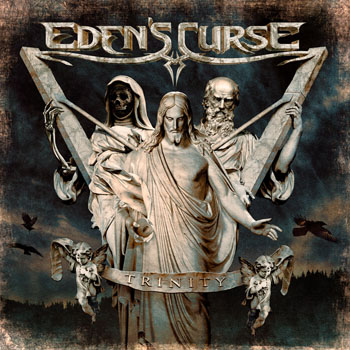 The band closes the album with a recorded tribute to one of their idols, the late Ronnie James Dio, and their fabulous rendition of 'Rock 'N' Roll Children' is as consummate a version as you could ask for.

'Trinity' is truly a classy affair that will see Eden's Curse once again take major steps forward and cement their place alongside many of their contemporaries in today's European melodic metal scene.
After two successful and extremely well received albums (debut 'Eden's Curse' from 2007 and the sophomore 'The Second Coming', released in 2008), 'Trinity' proves once and for all that this band do have the key ingredients to push on to even greater heights.

'There is no sanctuary; this is their destiny!'
---
---