David Sinclair is a journalist, songwriter and bandleader from West London. He writes for 'The Times', 'The Independent' and 'The Word'.
As a singer and guitarist he fronts a trio featuring George Andrew (bass/vocals) and Drew Farmer (drums).
His first album, 'Hey', is released on Critical Discs/Proper on February 12.
Here he talks with Simon Littlefield, the TV/radio comedy scriptwriter and bass player with rock'n'roll hellraisers, The Sky Pirates.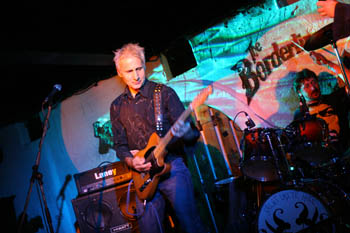 Simon Littlefield: I've been listening to 'Hey' all day and I've got to say, congratulations. I'm already humming snatches of it. There's a post-punk/Stones feel to it, but then I can also hear some Kinks/Paul Weller in the lyrical style, and some early-Beatles George Harrison picking, some Peter Buck-ish riffing... But it all hangs together in a unique way. I think thatís when you know youíre on to something worth listening to. But I couldn't believe this is your debut album. What took you so long?
David Sinclair: "I got sidetracked. My muse was all beaten up. And my equipment too. So I was just waiting for the right moment, I guess. I was as surprised as anyone to discover that late-onset rock'n'roll can hit you at any time...."
SL: Tell me about it. I've been playing guitar for the wrong side of 25 years, but it was only last year I joined a band, for fun. Then the fun got serious. How long have you been playing with Drew and George? You guys are pretty tight.
DS: "It's getting on for two years since I first played with Drew - which was New Year's Eve 2004/5. I played with George in bands back in the 1980s - notably a blues band called Laughing Sam's Dice - but only hooked up with him again in Summer 2005. I hadn't seen him for maybe 15 years. But I found he was exactly the same - except he'd got rid of all that troublesome hair he used to have."
SL: So far I haven't managed to snag my luxurious barnet in my bass strings. Yet. So what was the impetus to go into the studio? The Sky Pirates monthly rehearsals soon turned into a much more focussed plan to gig and record when we realised we had something going for us as a band. Was it the same with you?
DS: "I started writing songs while I was helping my son to learn the drums. I wrote this song called 'Dusted & Rusted', and I just wondered how it would sound recorded properly in a studio. I started to make a few enquiries and everything fell into place. It was like magic.
Got some downtime in a studio called The Stone Room right around the corner from where I live in Shepherds Bush. Met up with Drew and Elizabeth - my original bass player - and hooked up with a great engineer called Gareth Parton who's worked with The Go! Team, Steve Albini and many others. Recorded the song and it just worked so great. Everybody told me you gotta do some more. So I did.
Everything felt so right and sounded so good! After that it became an obsession to keep writing and recording. Elizabeth dropped out after a while, which was when I got hold of George. And Drew disappeared for a bit so I got my son in to play on three of the tracks. How cool is that?"
SL Yeah, that's pretty cool. What I like about being in a band - apart from the sheer joy of playing live - is the organic way in which things seem to evolve. Our original bass player dropped out in April so I swapped from lead guitar to bass until we replaced her, but the first time we played as a trio we just clicked and so now I'm the permanent Macca.
DS: "Hey - the curse of the disappearing bass queen! We've both lived to tell the tale!"
SL: 'Dusted & Rusted' is my favourite track on 'Hey'. Killer riff. Was that one of the first songs you wrote?! I take my hat off to you.
DS: "Thank you. Yes it was. That was the seed from which the whole group grew. It was written about the amp I dragged down from the attic to start rehearsing with my son, Jack. He looked at it and said 'Wow that old thing looks pretty dusted and rusted....' It seemed like a pretty good metaphor for my muse, which was in a similar state."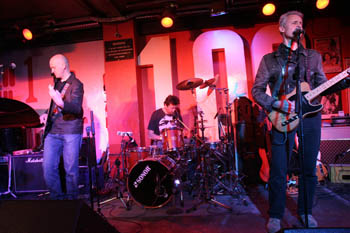 SL: How did you find the studio experience differs from rehearsing and playing live?
DS: "I so love recording. For me it is the core activity. Rehearsing is preparation. Gigs are consummation. But nothing beats the thrill of nailing a song in the studio. That for me is when the song finally exists. It's like giving birth. But the key thing for me is the fact of making music with my friends and family. I could never go out on my own with an acoustic guitar. Wouldn't even want to record that way. The feeling of working towards a shared goal is the thing whether studio, live or rehearsal. Which is odd considering we never came up with a name for the group. How does it work for you?"
SL: We went into the studio in October to record five tracks for an EP, and that was great. But for me the gig is where it all comes together. We have plenty of magical moments in rehearsal, but nothing so far has beaten the buzz of playing live and loud in front of a packed gig. I think we quickly found out what works and what doesn't work.
DS: "A lot of musicians say that. And I know what you mean. But I dunno. You can certainly get a righteous high from playing live but things can also fuck up at a gig. And when it's done, that's it. It's a nice memory. But when you've done a great recording you've got something to show for it."
SL: When you write a song do you just follow it where it goes or are you thinking at the back of your mind, will this work as a song for the band? Are you a lyrics-first writer, or start with a riff?
DS "I'm a title-first writer. Seriously! Most of my songs start with the title - 'Bouquet of Weeds', 'Life's Too Serious', 'Down With Whatever', 'Time is the Simplest Thing'. Then I hook the idea up to a riff or chord sequence or some kind of tune. Then last of all comes the actual lyric. My writing has changed to match the band's strengths, so yes it's always in my mind what they'll make of it. Having a band is also an incredible incentive to keep writing, so that there will be something new for the next rehearsal. We've got loads of new songs lying around and our live set is already about half new stuff that isn't on the album. I really want to start recording again soon, but I'll have to sell some copies of 'Hey' first!"
SL: Yeah, you can certainly get away with more at a gig. Those fuck-ups that would stand out in a studio sometimes get lost in the roar of the crowd. Or was that the Beatles? Making a Sky Pirates' song seems to be a pretty intuitive process. We seem to know when it works and when it doesn't. I just noticed you don't solo much. Is that a conscious decision? I really like your guitar playing, but you seem to stick to rhythm and picking. You never get the urge to cut loose and get some feedback going?
DS: "Not good enough is the simple truth."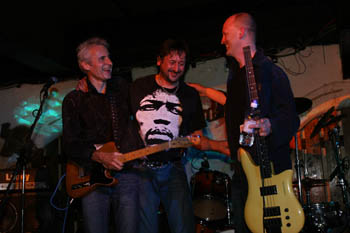 (left to right) David Sinclair, Drew Farmer, George Andrew
SL: Well, i suspect that's not true. there are loads of fabulous things you throw in to the mix on 'Hey'. In particular there's a great bit of picking at the end of the first verse of 'Jammed' that conjures up angry car horns... I tried but couldn't figure out how to play it...
DS: "I think that is some car horns isn't it? George came in with a load of traffic-noise samples on a disc and voila! our own instant 'horn section'."
SL: So whatís next for you and the band? Do you find you enjoy the "business" side of the music biz? The promotion?
DS: "Well it's fun being on the other side of the interviewing process. People don't realize that it's the interviewer who has to do all the hard work. I can't believe how stars complain about having to talk about themselves and their music all the time. I mean, it's a subject I feel pretty well briefed about!
SL: And youíre supporting the great Wilko Johnson in February. How did that come about?
DS: "Yes we've got a gig with Wilko at The 100 Club on February 9 which is the week the album comes out via Proper distribution. Really looking forward to that, and then we're playing the Boom Boom Club in Sutton on Feb 10 with Nine Below Zero. But what I'm really looking forward to is that double bill with the Sky Pirates. Look out!"
'Hey' by David Sinclair is released on Critical Discs/Proper, February 12
Dusted And Rusted
© 2006 David Sinclair/Critical Discs. All rights reserved.
To hear/download tracks go to www.indiestore.com/davidsinclair
Meet the Sky Pirates at www.myspace.com/skypirates
---
| | |
| --- | --- |
| | Print this page in printer-friendly format |
| | Tell a friend about this page |