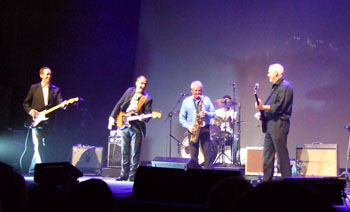 Remember that night? Too bloody right!

It's been another great year to be a Floyd fan. Roger Waters has been touring far and wide, the tribute concert for Syd Barrett earlier this year was full of wonderful surprises and a worthy tribute to the great man.
We've had brilliant books from the likes of Storm Thorgerson, Ian Russell and Glen Povey, and - my personal favourite - Guy Pratt's My Bass and other animals, and we've just been treated to a luxurious re-release of Piper at the gates of dawn.
So when it was announced that David Gilmour was holding a premiere for his DVD at the Odeon Leicester Square - and he would be appearing in person to play one song! - tickets sold out almost immediately. Fans were on a high and they wanted more.
Early birds were treated to an excerpt from what looked like the 'Breaking bread, drinking wine' documentary on the DVD. This looks to be a real treat for fans, as the camera followed David and the band between shows, relaxing, rehearsing and generally having a really good time. You can see why Gilmour has described this as one of his most enjoyable tours ever.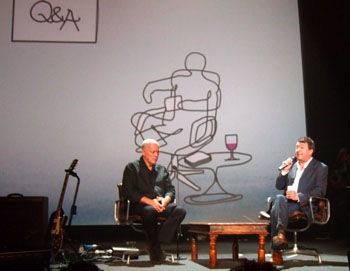 Then on to the main event, which was introduced by the ever-reliable Stuart Maconie who explained that tonight's event was being beamed live all over Europe. He kept the preamble very brief and as he left the stage, a familiar black Strat, amps and PA system rose from the front section and on strode the man himself. Shrouded in smoke and white light, he played to the familiar thrumming of Castellorizon, which - in a stroke of genius, segued seamlessly to the film itself as he walked off to huge applause.
What to say about the DVD? Anyone who went to these gigs will know just how fantastic these shows were and, needless to say, the performances, picture quality and sound are outstanding. But the DVD gets you closer and it's these little details that make it so special - Crosby and Nash watching and enjoying the show from the sidelines. Guy Pratt and Steve Di Stanislao's 'I can't believe it!' smiles as David Bowie launches into Arnold Layne. Richard Wright casually tapping a few buttons on his keyboard before finally hitting the key that goes 'ping!', thus heralding Echoes.
And this is where the screening came into its own. It seems the light show we were treated to at the beginning of the evening was just a taster. As Echoes thundered on, dry ice poured over the stage and lighting designer Marc Brickman treated us to a pretty mind-blowing 'Echo' of what we were seeing on the screen. Truly amazing stuff.
Stuart Maconie was then joined on stage by David Gilmour for an enjoyable Q&A. A combination of on-screen questions from Gilmour's loyal bloggers and members of the audience, it threw up some interesting nuggets - not least that one of David's favourite recent songs was Gnarls Barclay's Crazy, which the band would regularly play during their soundcheck! For more on the Q&A, check out the listen again feature on the Radio 2 Website!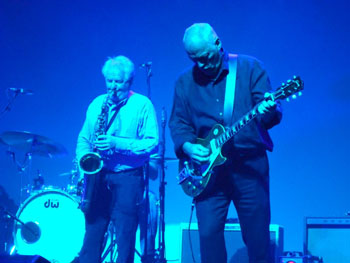 Surely that would have been an excellent conclusion to a satisfying evening? But no. Eagle-eyed fans would have noticed that the black Strat had been replaced by a Gibson - Were we going to be treated to another song?
Sure enough, Gilmour picked up the guitar and announced that he fancied a jam with a few friends. And - as a drumkit was wheeled on from one side, and a keyboard on the other - he invited on to the stage his band from the tour!
Steve Di Stanislao, Guy Pratt, Phil Manzanera, Jon Carin, Dick Parry and, last but definitely not least, Richard Wright stepped up one by one and joined in a superb rendition of Island Jam to ecstatic fans who were left howling for more.

Now that, ladies and gentlemen, is how you premiere a DVD.
Review and photos © 2007 Mark Stay & GRTR!
Related>> Remember The Night DVD review
Related>> Guy Pratt book review