Chavis Records was founded in January of 2002 out of a passion for the melodic rock and heavy metal scene.

Founder and CEO, Bill Chavis, actually began with Metalvault.com in 1996. Developed solely to provide media and marketing coverage to a very limited genre in the music industry, it quickly grew and saw over 600,000 hits to the site in the first year. In 1998, Metalvault Radio was born and by the year 2000 obtained almost 2,000,000 hits.
The purpose of Chavis Records is to bring great music back to the forefront and keeping traditional Melodic Rock alive. Chavis Records does what they like and believe in and unearthing great music with attitude, style, and decadence. A label that believes in providing fairness, honesty, and integrity to the artist.
"The purpose of Chavis Records is to bring great music back to the forefront and keeping traditional Melodic Rock alive"
Featured artists are Wycked Synn and Legacy: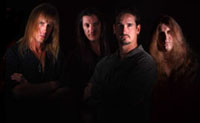 Wycked Synn is a true breath of fresh metal air, right on track, and soon to be gaining steam.
July 1 2003 is the scheduled release date of 'The Vision' and Wycked Synn are dead set on reviving the best music ever created....Hard driving Melodic Metal! You can be sure that every song you hear from them will be filled with awesome hooks, powerful melodies, sonic guitars, fiery footwork and righteous vocals. Real Metal is a way of life for these guys and you can count on these perfectionists producing the finest quality of it. With the average experience of each member being 15-20 years they know how to get the job done.
This is just the beginning. Wycked Synn has everything it takes to bring the music people want to hear to those that want to hear it.
Legacy, a band out of Southern California, founded by Bass player/songwriter Marten Andersson. Marten is a highly respected musician in and around the Los Angeles area. Some of his credits include, extensive touring/recording with Recording Artist Lizzy Borden. Lizzy Borden has headlined shows/tours Worldwide, playing/touring with some of the biggest acts on the market such as: Deep Purple, Dio, Motorhead, Wasp, Kings X, Alice Cooper, Yngwie Malmsteen & Firehouse etc. Sellout tours across the U.S. Canada, Europe the U.K. and Japan.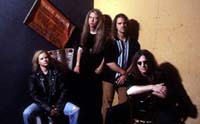 Legacy's album was recorded and mixed at Mastergroove Studio's in Granada Hills, California (just outside Los Angeles) within a few short weeks. Mastergroove Studio's is owned by Dave Morse, who has worked with such bands as Aerosmith, Guns 'N Roses, Van Halen and Warrant to name a few. Legacy's CD was mixed and produced by Marten Anderson and Jonas Hansson.
Check out our website