Gerry Kelly was involved in the legendary Soundhouse - the birthplace some say of the NWOBHM. They hold an annual reunion.

What is your involvement in the music business?
Living in North West London about two minutes away from the best known Rock club at the time, The Bandwagon (The Heavy Metal Soundhouse) it turned a 16 year old boy into a big Hard Rock fan. It also afforded me the chance to meet some of the major stars at the time; Priest, Motorhead, Sammy Hagar, Rainbow, Ted Nugent who all came to the club for Pa's. Also the place bore witness to the birth of Iron Maiden so it was a bit like your drinking pals making good. I had friends within the business so got to lig backstage at places like Hammersmith Odeon, Reading and Donnigton etc - I suppose that's where I got the industry bug.
I spent the next ten years though doing a 'proper job' with the most exciting part of the week was getting Sounds on a Thursday, and spending most of my nights at the Marquee and various other rock clubs. Then I got my break in music and spent seven years working for a major record label (Warner Music) in sales and marketing.
In 1997 I joined a large independant - Koch International - now known as RSK Entertainment after a lengthy management buy out. I'm the UK Label and product Manager for the new company and look after our third party labels and releases, labels which include SPV, MTM, and Century Media; all great classic/melodic and contemporary metal labels, a bit of 'home from home' for me really. Although my labor of love at the moment is dragging (in)famous metal dj Neal Kay out of retirement every year and organising our Soundhouse Reunions.
Which bands/artists do you enjoy listening to most?
Depends on the mood - for nostalgia moods (and after drinking a lot) it's got to be UFO (been a major fan since first seeing them live in 1976) - Van Halen, Thin Lizzy, Purple, Zep, Journey etc - basically bands that despite the passing of years still sound great. Also still listen to loads of Black Sabbath, who imo invented that over used term 'Heavy Metal'. For prog moments - It Bites and Spock's Beard and quieter moments - the wonderful Steely Dan.
Any newer bands out there worth a listen in your opinion?
Definitely! despite what people think there's quality out there if you look around. Bands like Feeder, RHCP, Puddle Of Mud, Audioslave etc are keeping the hard rock flag flying. We've put out great albums recently from the likes of Lacuna Coil, All Systems Go, Magnum and Motorhead.
Although I do tend to, like most end up playing older stuff.
What do you think of the current state of the live rock music scene in the UK?
Very healthy, I get to go to a lot of shows and see it for myself. Classic rock shows this year from the likes of Dio and the legends of Rock events have been brilliant, but also newer acts like The Datsuns and The Darkness are ripping up a storm on the live scene. Although not quite the "grey pound" theory, it certainly seems like more and more 30 and 40 year olds are coming out to shows yearning for a bit of nostalgia.
You are heavily involved in the Soundhouse reunion. How did last year's Reunion go? Plans for this year?
Last years reunion was a tremendous success, we sold out about 3 weeks before the event and had to turn loads of people away, we got a load of coverage in Classic Rock magazine which helped enormously. We now have a great website which not only covers the yearly events, but also gives a comprehensive history in story form of the original club that went to make up, what we consider to be a big influence on the uk metal scene.
This years event was another great success with over 400 hundred people attending. What we are trying to do is not just put on a night of Classic Rock and Metal, but also bring people together who attended all those great London based clubs around the late 70's and 80's with a state of the art sound and light system and a profesional Rock dj in Neal Kay.
What were the highlights of the Soundhouse days and the birth of the NWOBHM?
There were many, but it's a bit like that phrase "if you remembered it, you weren't really there!" it certainly had it exesses! Although we were at it's centre, it's only now that you come to appreciate it. The best bit's of course were seeing the rise of Iron Maiden from supporting the likes of Angel Witch and Samson playing to crowds of about 75 people, to seeing them in a relatively short period of time playing arenas and stadiums around the world to thousands of people. We were also responsible - when we did the Soundhouse shows at The Music Machine in Camden - for giving first London headline dates for the likes of Def Leppard and Diamond Head. Also it was great having the press coverage that promoted the club as a mecca for rock fans at the time, because what we did as a collective, and especially Neal Kay was to give a platform for newer bands to play their demos and debut recordings we were the first do really do this IE to create the UK's first pro-active Rock club and venue.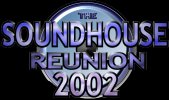 Who are your musical heroes and why?
Led Zeppelin, The Stones and then, further down the evolutionary scale, while growing up Thin Lizzy, Cheap Trick, and UFO. Of course, they're like the struggling third division football team who let you down most Saturdays but demonstrate blinding form once in a blue moon... marvellous, jumpers for goalposts, etc. Though I do think it's time for Schenker to retire and open a sports shop or pub or something. Maybe not a pub.
Any ambitions to fufill (music related or otherwise)?
Yes of course. It's my aim firstly to help RSK Entertainment establish themselves as a major force in the Industry and as a record company that promotes good classic, and contemporary rock and metal. Also to make our Soundhouse reunions bigger and better each year. We are already making plans for the 2003 reunion which we have some great ideas to make it more spectacular and in some cases funnier! there are always going to be people that take the metal scene far too seriously, I certainly don't and am fully aware that with some of the great stuff that's been done down the years, there has also been some absurd Spinal Tap style moments that we've all had to endure.
Website
Interview © 2003 Jason Ritchie