DALE LANGHAM and SIMON HALL are the 'D' and 'S' in DS PROMOTIONS Ltd, the Nuneaton-based artiste management and tour agency who in 2005 were involved in putting bands such as Frank Marino and Mahogany Rush, Blackfoot, Waysted etc on at the prestigious Rock And Blues Custom Show in Derbyshire, and at various venues throughout the UK and Europe.
They recently joined forces with Mark Shaw of 1% Entertainments Ltd which will lead to DS Promotions handling the bookings and backstage management for the RBCS.


How did each of you first become involved in the music business?
Dale : From a very early age I have had a deep passion for 'LIVE' Music. Combine this with Project Management, People Management and Web Design skills, and Music Promotion and Venue Management was the only way forward. With close friends such as Mike Estes (Lynyrd Skynyrd), Greg T. Walker (Blackfoot), Frank Marino (Mahogany Rush), Dave Hlubek (Molly Hatchet), Pete Way (UFO) and Ted Nugent my future was destined to be in the music industry, but the realisation of this did not happen until a chance meeting with Simon Hall.
It soon became apparent on that night while talking, that there were too many similarities in our love for music and a blood-brother friendship was born.
Simon : For my part I've always been involved with music to some degree. Whether it be playing the tambourine in the school panto, seeing my first ever rock concert at the age of twelve (Black Sabbath with Van Halen at the Coventry Theatre), or starting my own band in the mid-80s. I guess when you get bitten by the bug you just get hooked!
Dale and I met at one of the shows I put on with my own cover band (I don't think he was too impressed - but I think he's converted now). It became apparent we both had a feel for music as we sat there talking nostalgic nonsense for hours - probably over far too many drinks. DS Promotions was born and the rest is history.

Tell us about the alliance between DS Promotions Ltd and 1% Entertainments Ltd. How did it come about, and what will it involve as regards the 2006 RBCS Festival and beyond?
Dale : It all started when we were thrown in at the deep end booking dates for Blackfoot and Frank Marino & Mahogany Rush, 1% Entertainments Ltd took the bookings for the 2005 Rock & Blues Custom Show. They liked what we stood for and our honesty so much that they also asked us to manage the backstage area, which I believe we did OK. We will be working very closly with 1% Entertainments Ltd in the future, not only with the Rock & Blues but other projects also - watch this space!!!
Simon : Both Dale and myself set our stall out early doors, in that we're both honest to the industry and have respect for musicians and entertainers. So when we came to providing bands such as Blackfoot, Frank Marino and Waysted to the Rock and Blues, we were delighted to find an organisation such as 1% Entertainments which was like minded in its approach. So I guess from that point on we felt that working alongside these guys would be beneficial to both - not only that, but it has to be the friendliest festival around and has the feel of the oldschool Donington (not the corporate nightmare you get today).
With regards the future, all we have set out to do at present is provide the best available bands in order to make the show stronger than ever. 2006 is gonna be a hell of a show and although it's in the early planning stages we've got some great bands lined up (and no I'm not gonna tell you who!) As to the future, I can only see the festival getting bigger and stronger from year to year.
The UK rock scene has changed over the years, with many established bands finding it harder to get bookings than in the rock-glory-days of the 70s and 80s. The fans don't always realise, but it is the promoters who have to lay the money out up-front, so within the industry it's the promoters who are getting the blame (from the bands) for not taking risks. What are your thoughts on this? And what's the solution?
Simon : For my part I have to say I was one of those who initially put the blame solely on promoters. My personal experiences in the past with my own band were of promoters looking to make a quick buck off the back of the bands, and frankly not giving a shit about the bands, or the fans that spend good money to see the shows. Its a spiral effect - the bands get a raw deal over a period of period of time - the fun factor diminishes and the bands lose heart - the fans lose interest - the promoter turns his back on the artist.
But it's not all to do with money. In management terms it's about believing in a product and selling it. There are ways promoters can get around having to put their hands in their pockets all the time, but yes I agree that in order to promote the shows to the best, you've got to shell out to a degree. The solution? I guess it's down to promoters/agents believing in their bands and not sitting back and wondering why the show didn't work.
I also think that we in the UK have been spoilt in years gone by with the quality of bands we could get to see, and how frequently we could see them. But I guess everything works in circles and I can see things improving... but this isn't going to happen while venues continue to take the easy option of putting on an endless array of Tribute Bands, that dull the senses to what is the real deal. I'm not talking about the top end of the tribute market, but please... some of these cover bands are pure drivel and are contributing nothing to the welfare of music!
Dale : Yes, I agree it is the promoters who take the risk and do get blamed, but some of them do nothing to help their own cause, they just won't promote the shows, they think it will just sell to the public without having to do anything, it just doesn't work that way anymore. Promoters need to get on top of this right at the beginning.
Tell us about some of the best rocknroll moments you've experienced, with various bands. Any embarrassing moments? Any Spinal Tap moments? And what have been your proudest moments?
Simon : Oh man! Where to start! Personally, falling of a stage was pretty funny - it wouldn't have been so bad but the stage was set on an articulated lorry in the middle of a field and it bloody hurt. I've also put my foot through a stage and it took about five minutes to get the bugger out. And I've jammed my foot on the smoke-machine pedal, causing it to empty the canister and fill the entire room, choking everyone!
And in the short time I've known Pete Way there have been a number of occasions when I've had to leave the room for fear of wetting myself. That guy's so damn funny, but the fact he doesn't know he's doing it half the time makes it even funnier.
Dave Hlubeck of Molly Hatchet is another one that has me every time. For those who don't know Dave, he's a big guy, and food is like his holy grail. On the final night of a recent tour he began to complain about being hungry throughout the show, and insisting someone got him some chicken.
As it was the final night we did the honourable thing, and stuck a bag of Walker's crisps to his mic stand and placed a finger-lickin-chicken hat on his head mid way through his solo in "Bloody Reunion". Needless to say, he didn't know what the hell he'd got on his head, but when the cardboard chicken started flapping around, the audience (and the band) cracked up. It may lose a bit in translation, but at the time it was truly hilarious.
Dale : One rocknroll moment that will always stick in my mind was the day that I was on Frank Marino's tourbus travelling to his hotel. It was the Rock & Blues Show the next day and Frank turned to me and asked "What do you think I should play in the set tomorrow?" He was serious and it just left me open-mouthed and worried as he didn't have a set list!!! that's improvisation for you.
Personally my proudest moment was watching Blackfoot at the Sweden Rock Festival in 2005. It was their first time in Europe since their drummer Jakson Spires passed away suddenly just a few months prior to the show. I don't know how they did it, the emotions were running so high and everyone had tears in their eyes.
I haven't really had any embarrassing moments to date but I am sure they will come!!!
What other projects do you each have going on at the moment?
Simon : We're developing a platform for all manner of up and coming bands (signed and unsigned) where they can showcase themselves in order to see how far they can go. In the past few months I've seen some incredible talent come through some of our venues and many of them make me feel so bloody old it's ridiculous! But without sounding too cheesy - they are the future. The nice thing is we've managed to survive the hideous keyboard techno bullshit of the 80s and 90s and now so many bands are going back to good old guitar based rock - that's great!
Dale : Yes, we have some big things taking shape for the future. I can't say too much at the moment but all will become apparent soon!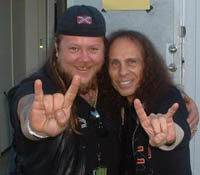 What part does the Internet play in making your job easier, and in helping promotion for the bands themselves? Are there any disadvantages, and if so, what are they?
Simon : I'll let Dale answer this, cos I'm a bit of a techno-phobe and am still kicking and screaming my way into the twentieth century. (21st century, ackkkksherly)
Dale : The Internet is a vast advertising machine and people do not use its capabilities to the maximum - show me somewhere else where you can advertise and be in contact with millions of people for next to nothing.... there isn't anywhere! The capabilities of the Internet are endless and if just a fraction of this was embraced by promoters for advertising their job would be easier. I don't think about disadvantages, just advantages.
Who are your own musical heroes, and why? And which have been the best bands you have seen play live, and why?
Dale : Without doubt Ted Nugent and Frank Marino are musical geniuses (genii?) to me. Their technical approach to music is second to none and their abilities are endless.
Performance wise, UFO and Lynyrd Skynyrd are the best bands I have ever seen live, Phil Mogg's voice just gets better with age and Skynyrd are just Skynyrd, period.
Simon : I've always had a soft spot for the REAL front men. Ozzy's Sabbath will always be the real originators for me with their ability to take Iommi's crunching riffs and complement them with the most genuine front man that's ever graced the stage. As a teenager I used to idolise the band, and if I'm honest, I probabley still do. Guys like Dave Lee Roth, James Hetfield, Ronnie James Dio and Phil Anselmo always provided an intense performance, whilst still managing to retain enjoyment in what they were doing.
Being a typical frustrated guitarist, I've spent too many years air-guitaring to the greats like Eddie Van Halen, Randy Rhoads, Dave Gilmour and Dimebag Darrel. To lose stars such as Randy and Dime at such an early age is heartbreaking.
Are there any up'n'coming bands that you've got your eye on for the future?
Simon : American Dog have some very good things going for them. The first is that they don't have any label standing over them trying to force them to make something "commercially acceptable" and secondly they kick out oldschool Rock and Roll, but with a fresh poke in the eye. We first met the guys when they came over to support Skinny Molly on a one-off show in the UK. Quite honestly they were absolutely awesome. The response from the crowd, to material unknown, was a breath of fresh air. This band represent Beer Drinking', Hell Raisin' and encompass all that is Rock and Roll! Just go check em out - they kick ass.
Dale : American Dog are going to be big over here, there are just fantastic - they are the only band I have ever seen get a standing ovation at a soundcheck. What does that tell you!
What have been the highlights in this business for each of you so far? And what ambitions would you each like to achieve?
Simon : Alongside meeting an array of like-minded people in the industry, we've managed to stay true to what we believe in - "Keeping Music Live". With regards to ambitions, all I could hope for is that in time DS Promotions will be regarded on an equal playing field to some of the big-gun agencies and continue to provide the best in live music entertainment.
Dale : Simon could not have put it better!
Any hints/tips for people keen to start out in tour/event management and promotions?
Simon : Be in it for the right reasons and be prepared for the knockbacks - simple !
Dale : Yes, do what you believe in. The industry needs new blood - it's become stagnant. Be careful of pitfalls and of people wanting to fleece you - there are lots of them out there who would take your last penny.
Interview © 2006 Baaatty