Barrie Kirtley, who along with Khalil Turk formed UK label Escape Music home of many fine meldoic rock albums. Plus he worked on AOR Basement, a must read for AOR fans a few years back.
Of their new releases, I would say get a hold of Pain & Passion (classic 70's rock with modern sound), Laudamus (it features Ken Tamplin so has to be good!), FM & Departure (definite purchase for all you Journey fans!). More at www.escape-music.com

How did you first become involved in the music business?
I fell in love with this sort of music in 1978; my older brother was into American rock in a big way. He loved bands liked Kiss, Rush and Cheap Trick.
He regularly bought imports and one day I was walking past his room and heard this marvellous sound; it was "The Grand Illusion" by Styx. I was hooked! To this day that very album remains my favourite of all time. It all stemmed from there, my passion grew and it was then I realised that there was a whole world of pomp rock out there. My collection began to grow, by then I was in touch with people like Derek Oliver, Kelv Hellrazer, John Watson and of course, Khalil Turk. Khalil and I had the same passion for this type of music and we regularly spoke of new findings and obscurities.
It seemed inevitable that one day we would be in business together.
Who has been the biggest influence on you?
The biggest influence? Band wise that has to be Styx, to me they are the greatest band of all time. The Crystal Ball, Grand Illusion, Pieces of Eight era is just unbelievable music. As far as influence from people is concerned, I learnt a lot from a guy called John Watson, who had a collection and knowledge that was far superior to my own. It was lovely to meet him again recently; he is still the biggest Legs Diamond fan I have ever known! Khalil of course has kept my enthusiasm alive for many years, without him the business would never have started, though I guess he could say the same about me!
Also, I should mention influences in writing the fanzines; Ian Macintosh of AOR basement and Fraser Meldrum and Scott Middlemiss of AOR Classics. Boy did we have fun writing those!
How did you start up Escape Music and how have you seen the label evolve over the years?
Escape started because Khalil and myself suddenly realised that we were doing so much for the melodic rock music scene we could actually make a business venture out of it. In the early nineties Khalil was involved with German based Long Island records. He was the A&R representative for them and pulled in some of their best sellers like Paul Laine and Message. Also, the Classic Tour De Force release was another that was mainly down to me, as I knew Chali Cayte, the lead vocalist. I was writing AOR Classics with Fraser and Scott at the time, it had such following that we were actually finding most of the obscurities and record companies like Long Island were going on to release the album. Khalil and I just got together and Escape was born. At first it was a partnership, but wanted Limited Company status as it carries a bit more weight to the name. We became a limited company in 1996.
Which artist(s) were you really pleased to sign to Escape and which eleases have been the most successful so far? (Either sales wise or fan/review sites)
In the early days we were please to sign Paul Laine, and, of course, Heartland. The Aviator re-issue was a highlight and more recently we have names like Graham Bonnet and Ronni LeTekro. Sugarcreek was important to me as I had heavy involvements with the band anyway! Most successful titles include some of the earlier titles, which still move to this day - like Alliance and Aviator. At the moment the FM triple CD is doing very well. It all helps towards establishing the label and making it the best!
What do you think of the current state of the rock scene and would OR/melodic rock ever enjoy chart success like the late 80's again?
The current rock scene is certainly more encouraging that it was a few years ago. The music industry in general is in turmoil, but I think the melodic rock scene has never been far away. Bands like Bryan Adams, Bon Jovi and Aerosmith have all had chart success, and to be honest a lot of these nu metal bands have quite a bit of melody to them. But, why don't you go and listen to chart high flyers "Evanescence" - if they are not AOR then I don't know what is. I do believe the album has reached number one!! This is the excitement about this sort of music; just one song off any of the Escape albums could make it to the top. The potential is there; it's just getting it heard!
Any good rock 'n' roll tales to tell?
I have no rock and roll tales to tell really, though I have been to some cracking concerts in my lifetime, Styx has to be a favourite and Saga too. I love both these bands. However, the most dramatic concert I ever went to was years ago in the Newcastle City Hall. Black Sabbath were playing, with Ozzy, and the encore saw a huge surge forward from the crowd and almost the entire front row of the balcony fell over the top and landed on us below...Sigh, those were the days.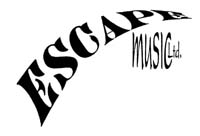 What advice would you give to a band just starting out and/or trying to get signed to a label?
To give some advice to any band, they should always be prepared when they are looking for a deal. If they have recorded some demos then it is wise to make sure they are of good quality. It really does not cost a lot to get some decent demos laid down in today's technology. Presentation should be neat and they should never send a demo out "cold", they should contact the label beforehand, it makes it more personal. They also should choose the right label, a one that cares and limits its releases to one, perhaps two a month. A label that only releases quality recordings, hey, that sounds like us!! And we are distributed by Sony in Germany and BMG in the UK. These are not small unknown companies!!
How do Escape go about marketing a new release and do you think there are too many/not enough albums out there now?
To market a release it is best to make use of specialists in the promotional field, ideally someone who is also in love with this type of music. Escape Music uses the services of such people, and it is best to have someone in each country of distribution as they have the best first hand knowledge of the market in that particular country. Of course Escape Music also uses the Internet as a promotional tool, it is so easy these days to bulk e-mail companies and distributors with advance information. About the market, it is very crowded at present and there is much to choose from. Too much, to be honest. There is too much of these "lost recordings" and "basement demos", they were lost for a reason... it seems that everything is signed up and released. At Escape we concentrate on one quality release a month, sometimes two, and channel our efforts into that.
Will AOR Basement ever see the light of day again? What was the highlight of running the fanzine/website and the downside?
Ian MacIntosh resurrected AOR basement on the Internet, I honestly don't know if it's still going, but it was one of the first fanzines of this sort of music ever. In it's original photocopied and stapled form it gained cult status - influencing bigger magazines like Rock Report in Belgium. We certainly had a huge following! When I started AOR Classics with Scott and Fraser that also had a huge following.expect copies to exchange for ££££ on EBAY!!! The highlights were writing, being noticed and having fun, the downsides were deadlines and long nights with no sleep..
Albums to look out for coming soon/just out on Escape?
Escape has an exciting roster ahead. The Zon double reissue of the first two albums is imminent. It is so hard to believe they were recorded 25 years ago. Just wait to you see the packaging!. Also, we have the brand new "Newman" album shortly, this guy is just amazing!. "Shadowman" is soon to be released with Steve Overland and Steve Morris, not forgetting the new incarnation of "FM", namely "The Ladder".
We also have Canadians "milesABOVE", plus reissues of "Orphan" and new recordings by 80's favourites "Body Electric". There is so much going on here - a wide range of musical styles, but all rock based. We, at Escape, are not stuck in a groove, but we like to release a broad range of rock music - as you have witnessed with the very heavy "Pain and Passion". We have just released our first christian rock album - Laudamus, to much acclaim. It seems to be a firm favourite with everyone. I could mention so many more of our artists, but it would be easier for me to draw your attention to our web site, which is updated regularly, and don't forget you can order direct through "The Music Shop". There is a great 3 for 2 offer on at the moment!!
Website
Interview © 2003 Jason Ritchie