Talon have released one album of melodic hard rock so far, with another new album due later this year. They also play the Gods festival in the UK at the end of May. Over to guitarist John Parker... (Thanks to Katy for passing the questions on)
1. What are you currently up to? (e.g. touring/studio,etc.)
Talon is currently rehearsing for our slot at this years GODS Festival in England. We will be performing a Talon set and also have been asked to be the backing band for Emmy-Winning Artist Stan Bush. Should be an awesome weekend !
We are also in the demo stage for tracks for our 2nd CD release on Now and Then/Frontiers Records.
2. Who were your influences?
Randy Rhoads ! The man simply played guitar like no one else ! He was a major influence because of the fact he added so much emotion to a song - be as tender as a classical guitarist, then rip your face off with a solo that is loaded with intensity. Other influences were/are Tommy Aldridge ( freakin' animal ), Gary Moore, Michael Schenker, Cozy Powell.
3. Brief history of your work to date and the style of music you play.
Talon plays straight-ahead 80's Hard Rock with a touch of Metal here and there - but always melodic and great harmonies ! History started as the band Voxen, which released a CD in 1997 with Statue Records and then changing singers and re-grouping with a sound as Talon. After negotiations, we signed on with Now and Then/Frontiers for a 2 album deal and released our self-titled debut CD in May, 2002.
4. What has been the highlight(s) and lowpoint(s) of your career to date?
Highlights include - our music used in WB Picture "Outbreak" and 2 NBC Mini-Series, Working with Mikey Davis, and also the awesome response to our debut CD - making numerous Top-10 Lists of the year ! Lowlights - The mess that was Statue Records ( can you say 'Bark like a Dog' ), Tour Cancellations, and having to release our 1st Singer.
5. The self-titled debut CD came out last year. How has it been recieved so far? What are your personal highlights on the album and why?
The response has been phenomenal ! Lot's of Top-10 Lists ! We seem to fill a niche where it's not too soft ( AOR ) and not too hard ( Metal ). My personal highlights are the more Dio-Priest type songs - "Talon In my Heart", "Fire in your Soul" , along with the single "Wrecking Ball" and also "Mother Mary May I". We wanted to make a CD that moved well throughout, and I think we at least came close !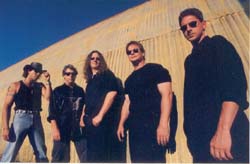 6. You're playing the GODS in May. What sort of set are you planning? You're also backing Stan Bush - how did that come about?
Our set will be a "mover" ! No ballads, just straight Hard Rock including the songs I mentioned above, plus a crowd favorite from the Voxen days - "Paradise" which we are re-doing for the upcoming 2nd Talon CD. Also, we are debuting 3 new tracks from the upcoming release - "Euphoria", "Hole in My Head" and "Evil" !! It will Rock !!
For backing Stan Bush, Mark Ashton ( Label President at Now and Then ) asked if we could do the set with Stan - and we said it would be an honor ! He is a great guy and rehearsals have been awesome. We might even do some LA shows with him also !
7. How have Talon gone about promoting themselves and getting exposure for their music?
Flying Dolphin in Gemany has been an outstanding Promotion company for us and we achieved great Radio airplay and Interviews all over Europe. I have also done tons of Phone Interviews and Web Site Interviews to keep the Talon vibe alive and growing ! It never ends - you have to keep on it to suceed and get the message out. Also, playing out as much as possible.
8. Who have you toured with and would like to tour with in the future?
We have done mini-tours with Quiet Riot, LA Guns, Warrant among others.
We would love to tour Europe with other established artists such as Ten, Talisman, TNT, Mitch Malloy, etc.
9. If you could create a fantasy band - what would be the line-up and why?
Mmmmm.....I would start with "The Man" - Ronnie James Dio, of course a 2-Guitar attack of Randy Rhoads and Michael Schenker, rotate Bass duties with Geezer Butler and Bob Daisley and behind the Kit - Tommy Aldridge !! As you might have noticed - No Keyboards !! All masters of their craft and my personal favorite musicians.
10. What state do you think rock music is in at the moment? Are the more melodic & hard rock bands gaining more exposure and popularity at all ?
I see the state right now as pretty disturbing. Very Angry, no real songs - just aggression and pain. Nobody listens to music just to be taken somewhere anymore ? I miss the fun times and simpleness of the early 80's - before the hair bands destroyed the vibe and Nirvana knocked down the door. I don't think it will come back - melodic bands are having a tough time and it seems to slowly get tougher each year. We will still continue to fight for it though !!! Just from the response from our CD tells me so !
11. What CD's do you currently have available and where can they be purchased from?
The debut Talon CD is available from most European outlets and also from Frontiers at the Frontiers Web Site. Web Sites include www.nehrecords.com and www.hottracks.com
In the USA, both the Talon CD and the Voxen "Sacrifice" CD can be purchased at the official Talon Web Site at www.talonrocks.com
12. Message to your fans?
A huge Thank You to all our fans all over the world for supporting us and enjoying our music. We love creating the music we play and having others enjoy it also makes it all worth it ! We look forward to seeing a lot of you at the Gods and if not there - we will see you on Tour ! Keep Rockin and thanks for your support ! Thanks to you also Jason !