JAK PARIS
Jak Paris released his debut CD 'Electric Revolution' in 2006, an album chock full of quality melodic rock and a five-star review from GRTR!
He formed his first band at age 16 with life long friend Jeremy Popoff, who would go on to form the band Lit. Collaborating with Jeremy on writing, they quickly developed the band 'Dreams' and soon found a following on the West Coast and as far as Texas.
Music fans were responding enthusiastically to their aggressive sound and energetic performances. Their popularity earned them highlights early in the bands career opening for national acts and playing to sold out shows.
After six years out of the public eye, and some much needed soul searching, Jak began actively looking for a studio to record his songs acoustically. After three months of recording it was clear he had found his sound.
He spoke to long time friend and producer, Bob Ferrari, and they began working together on the album. Jak Paris formed his own label, NEV Records Inc., to release the album, appropriately called, Electric Revolution. Two of the singles (Not Back Down and Lead The Way) are already getting rave reviews.
1. What are you currently up to?
As of 7/15/06 when I am doing this interview, we are scheduled to begin recording a rock version of a song called "Losing Faith" that is on the pressing of the first 5000 Electric Revolution" CD's.
As we get ready to release Electric Revolution through brick and mortar retailers in late Sept. we are going to swap the song out for a Modern Rock version, so the first 5000 CD's will have a very special song(version) on them.
We are also beginning to line up our touring schedule which already includes a date with Black Crowes Oct. 7th and Lit and Buckcherry Oct. 8th, of 2006
2. What sort of reaction have you been getting to your current album 'Electric Revolution'?
Well I tell ya, we spent over a year in the recording studio making this record. We wanted to record a great listening CD full of passion, and hooks, and it seems we delivered it.
The response from magazines and music fanatics is just that. We have also been told by several industry insiders that our version of "THE CHAIN" will go down in history as the best remake ever of a Fleetwood Mac song!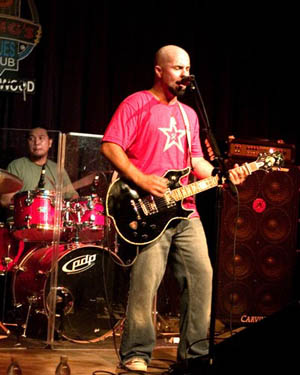 3. What are your aims and objectives with the album. A big label deal? How tough is it fighting for attention even when you've got a five star album?
It's extremely tough fighting for attention no matter how good your record is.
There are always those in the industry that want it as much or more than you, so my constant efforts to be heard can be exhausting. But hey, if it were easy everyone would be doing it. I believe that's what separates us from many.
I will not give up till this record is heard. I believe that this record can go a minimum of gold and we have the potential to go platinum. We have a minimum of 4 solid singles on this record and I plan to exploit every possible angle on this record to be heard.
That is why we formed our own label NEV Records Inc. to deliver this product to the listener. You can't just throw something out there and hope it sticks. You need to be in this for the long haul and throw everything you have at it.
The problem with a major label deal is just that. If you don't get a base hit immediately you are cut. I think that is unfair to music fanatics because there are so many great artists who get buried for political reasons(at the major label level) and are never heard who deserve it.
4. Tell us how long it took to get the songs together for the album?
It was a process that overall took almost 18 months from start to finish. It'll take us the next 2 years from here to get it out there. Overall, this will be a 3 ˝ year first record. Which is fine by me, anything that comes quickly, goes faster.
5. How did you approach the songwriting process. What inspires you?
I think what inspires me most in life are battles of the heart and self help style motivation. That being said if you listen to the entire record you will hear a start to finish story of a man's life.
6. Can you tell us what are your own particular favorites on the album and why?
That is such a tough question for me to answer. That would be like asking a parent to tell someone who their favorite child is. I can't do it. Overrated will be one of our biggest singles I think though. It's a story that's been heard a million times, but the reality is we have all been that person!
7. you consider yourself a vocalist, songwriter or guitarist first and foremost, or all three in equal measure?
I consider myself all 3 in equal measure.
At the end of the day I also want to be recognized for starting my own label and competing with major labels and doing it successfully.
8. What are your own favorite artists and influences and why?
Well I can honestly say that some of my past influences in song writing would include The Who, Led Zeppelin, 3rd Eye Blind, Lifehouse and LIT.
But I can tell you that today the most influential people in my entire music career and life, are my Guitarist Jason Juadines, Drummer Henry Soriano, Bassist Brian Swett, Producer Bobby Ferrari, and our Co-Manager/Publicist/Band MOM and instigator of everything, Rhonda Boudreaux.
9. What are your longer term plans and what do you hope to achieve in the next twelve months?
In the next 12 months our goals are to get picked up on a decent tour with a major act and see 2 of our singles in the top 20. We hope that film and licensing will become a big part of this album as we start working that angle this week.
10. Message for your fans?
Be yourself. It's never to late to do what you want with your life. Be thankful on the road to where you want to be. The ride is the most exciting part - lastly, 'Wake up happy, it doesn't cost a thing!!'
---
Album review
Artist website
Interview © 2006 David Randall. All rights reserved.