WT FEASTER BAND Juggling Dynamite Mystic MYSCD209 (2012)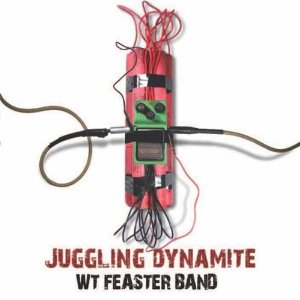 Mid west soulful rockers the WT Feaster Band follow up their impressive 'Wish You Well' debut CD with 'Juggling Dynamite', an album with a similar understated feel, full of tasteful playing and deeply honed grooves.
'Juggling Dynamite' is full of well crafted, smouldering tracks that don't so much explode into life as smother you into submission with a svelte touch and a soulful feel.
As with the last album it's the Travis Feaster/Erick (Doug) Sims song writing team that lies at the core of the set, while producer Scott Velazcow adds his Nashville know-how to polish ten songs that sharply define the Feaster world of rock, funk, soul and blues.
There's a nicely linked feel to each track as the band explores and subtly stretches the songs to create a slow building dynamic that is given impetus by the peerless rhythm section of Austin Shearer and Clive Taylor, before WT adds his own gently sculptured solos.
And it is this unhurried, organic feel that makes 'Juggling Dynamite' an album of real substance, full of understated drive and a soulful epicentre.
And rather than go for the lowest common denominators of crashing chords and maximum volume as befits many a power trio, the WT Feaster Band is a refreshing step into a song driven world in which the Travis's phrasing is as expressive as his intricate guitar solos.
The opening 'The Road Is Mine' sets the standard for a relaxed musical journey as it explores the first of several grooves and benefits from some clever shuffle drum work by Chris Taylor. The title track is worthy of its name, being a mix of sensual sleaze and sophisticated cool that evokes both Taj Mahal and Snooks Eaglin.
Travis's subtle use of phrasing is exemplified by 'Nickel Soul'. He puts his all into the second verse and a catchy hook as the band cranks things up, while 'Love With A Lie' is another highlight and distils WT's essential magic on a soulful shuffle full of a lilting bass line and a soaring solo.
Each track feels like its part of a slow ascending dynamic with the reworking of Bob Marley's 'Is This Love' benefiting from an effective and original arrangement. Travis is also joined by Sarah Pheobe Hetherington for a duet on the muscular funk of 'Make It Alright', on which his solo suddenly gives the number an uplifting feel before he adds a few cool perfunctory notes on the outro.
The WT Feaster Band hails from Indianapolis in Indiana - 'The Crossroads of America' - and 'Juggling Dynamite' subtly defines its own musical and geographical parameters.
WT Feaster Band's music is not as brash as Detroit and certainly not as urban or outright bluesy as say Chicago, but this is a band that forges its own rock-blues, funky and soulful path to find a classy musical environment all of its own.
****
Review and interview by Pete Feenstra
---