Just witnessed your best live gig?.. send us a review!
THEORY OF A DEADMAN
Koko, Camden, 28 February 2012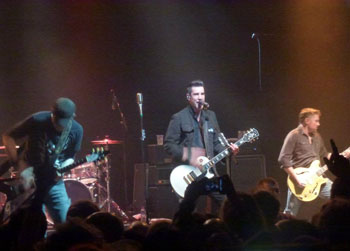 Zoom (Click large image to cancel)
Often derided as clones of their mentors and fellow Canadians Nickelback, Theory of a Deadman have carved out a niche of their own, and though much bigger across the pond than over here, have graduated with regular touring to mid sized venues like this. And anyway, who wants to sit in an arena with once-a-year gig goers who only know a band through a sofa advert?
TOAD, as they are rather unflatteringly known, are a simple pleasure, taking Nickelback's grunge lite a stage further and sugar coating it with catchy pop rock hooks. Up tempo songs such as 'So Happy', 'The Bitch Came Back', with a rolling beat inspired by The Doors 'People Are Strange', and the rather autobiographical 'Lowlife', which leads off their current 'The Truth Is' album, had the whole of a predominantly younger crowd singing along.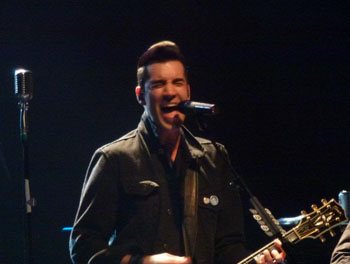 Taking their cue from Nickelback's stadium-friendly presentation, just two songs in, 'Got it Made' was broken up by lead singer - and Robin Van Persie lookalike! - Tyler Connolly stopping the show to divide one side of the hall from another in a singing contest, ensuring the atmosphere was pumped up.
Initially his singing sounded rough and even tuneless in places, but as it settled I convinced myself it was merely a microphone problem, while his rather faceless band beefed out the sound with rather harsher sounding backing vocals.
Their previous - and best - album 'Scars and Souvenirs' featured heavily and the break up ballads 'All or Nothing' and 'Not Meant to Be' are the types of melancholic anthems that doubtless feature heavily across the pond as the soundtrack to TV sports montages, whereas we have to suffer a diet of Coldplay or Snow Patrol.
There is a pleasing classic feel to TOAD with Tyler and fellow guitarist Dave Brenner both having an old school guitar tone with barely a downtuned riff in sight. Influences from the seventies when pop and rock were not mutually incompatible also crept in - opener 'Gentleman' was propelled by a stomping glam rock like beat, the verses of 'The Truth Is' reminded me of T.Rex and new single 'Out of My Head' had a Cheap Trick feel to it.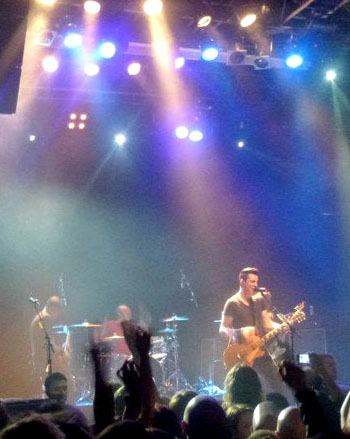 Their first two albums are now almost ignored completely, and on the basis of a rather dreary ballad 'Santa Monica' and the overblown 'Nothing Can Come Between Us' that may be no bad thing, although 'Better Off' was one of the heavier and most convincing songs of the night.
Tyler is a likeable frontman and compere, and his Jack-the-lad ordinariness made me give him the benefit of the doubt that he does not practice what he preaches, with rather tasteless references to hookers, cocaine and a 19 year old girl at the front being too old for him.
After a snatch of 'Paradise City', 'Bad Girlfriend', with its classic riff borrowed from the Cult's 'Fire Woman', ended the main set and had pockets of people pogoing, while after a few lines of 'Cocaine' - the JJ Cale song that is! - they encored with 'Hate My Life' to finish a short-ish hour and 20 minute set. The sentiment may have been Nirvana-esque but the delivery seemed positively joyous.
Don't underestimate Theory Of A Deadman - they are one of the standard bearers of modern melodic rock for our age.
Review by Andy Nathan
Photos by Alayne Taylor
And David Wilson attended the band's "secret session" in Glasgow at the start of their tour on 23 February...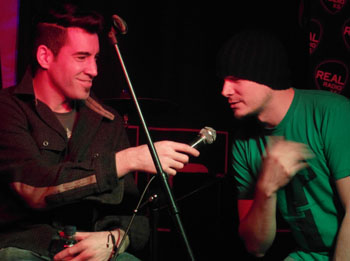 Theory Of A Deadman are a busy bunch. This is their fourth visit to Glasgow in a couple of years, the last being in tow with Black Stone Cherry and Alterbridge at the tail end of 2011. The band are back in Glasgow as part of their latest headline tour, but before the main show in the Queen Margaret Union, they were playing a short acoustic set for competition winners at the latest Real XS Secret Session.

The Box venue is just that and it can be best described as an 'intimate' venue. The host for the evening's festivities was once again the man that has been keeping rock alive in Glasgow for the last 30 years, Tom Russell. After a quick intro, the band, who as it turned out were sitting at a table next to me having a drink, took to the stage with little fuss.

They were playing as a three piece for this pared back set and they opened with possibly their most well know song 'Lowlife'.
Frontman Tyler ConnOlly was in tremendous voice and the guys were clearly enjoying themselves on stage. Next up was 'The Bitch Came Back' which worked well with the acoustic treatment. This was played at the request of Tom Russell as he gets into trouble for playing it on air, reason enough in my book.
Lastly they played their last single 'Out Of My Head' which was excellent and contained some great slide guitar work from Dave Brenner, this rounded off the musical part of the evening.

A short question and answer session followed, which was chaotic and amusing in equal parts. It featured questions on Canadian coffee, kilts and the subject of the song 'The Bitch Came Back', the band though were far too gentlemanly to answer the last one!

This was a great session which no doubt earned the band another few followers from the assembled competition winners and the guys looked like they enjoyed it just as much.
---