Just witnessed your best live gig?.. send us a review!
THE SELECTER, Oran Mor, Glasgow
11 March 2012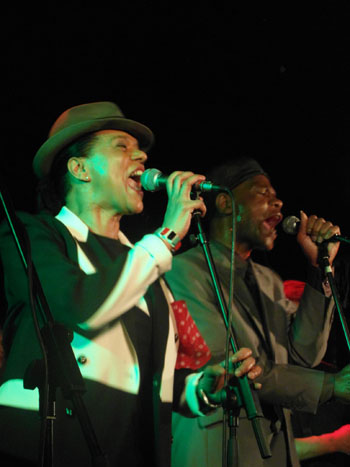 This gig was a bit of an unknown quantity for me on two fronts, I hadn't been to the Oran Mor venue before, which turned out to be a great venue in the basement of a converted church, and more importantly this would be my first Ska gig. Although I do like a bit of Ska and Two-Tone I wasn't entirely sure what to expect or what size of following the music has 30 odd years on.

As it turns out, much like classic rock, Ska has a faithful support and on arrival the rude boys and girls were dancing for all they were worth to Glasgow band Esperanza.
The eight piece were in excellent form and had the crowd bouncing for all they were worth during the half hour set. This was a set of text book Ska and reggae, upbeat and with a killer brass section. Singer and guitarist Jake kept between- song chat to a minimum and the band made the most of their allotted slot. As an introduction to the live Ska experience I don't think it could have got much better.

The main event for the evening though are most definitely the real deal. The Selecter were born out of the political unrest and inner-city tensions of the late 70's and early 80's and their weapon of choice was first degree Ska.
Over the years the band have undergone various changes, turmoil and disputes, but the ideals and vision have remained intact. This incarnation of the band have been touring for a number of years now and are fronted by Arthur 'Gaps' Hendrickson and the ever present Pauline Black.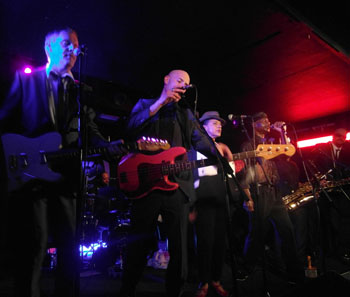 The band took to the stage to rapturous applause from the faithful and launched into 'The Selecter' which set the crowd alight. This then ran into the upbeat 'Out On The Streets Again' which sparked more good natured mayhem with middle aged men and women, who really ought to know better, skanking for all they were worth.
The focal point of The Selecter is the on-stage interaction between Pauline Black and 'Gaps' Hendrickson who are both seasoned professionals and give their all. The band are a very tight unit and they were all clearly loving their work.

Classic after classic rolled by, but the band aren't all about nostalgia having released a new album entitled 'Made In England' last year. Several tracks were aired from the album including the excellent 'My England'. It was the older classics though that the crowd wanted to hear and by the time we boarded 'The Train To Skaville' The Selecter express was in full flight. They finished the set in fine style with 'James Bond', 'Carry Go, Bring Come' and 'On My Radio' which had the masses bouncing for all they were worth.

This was a very enjoyable show which you couldn't help but get caught up in. The band are consummate professionals and provided a top night's entertainment. As Pauline Black said at one point 'not much has changed in the last thirty years' and judging by the reaction tonight, that is just the way the faithful like it.

One of the songs that was played mid set summed up the evening perfectly, 'F**k Art, Lets Dance' !


Review and photos by David Wilson
---