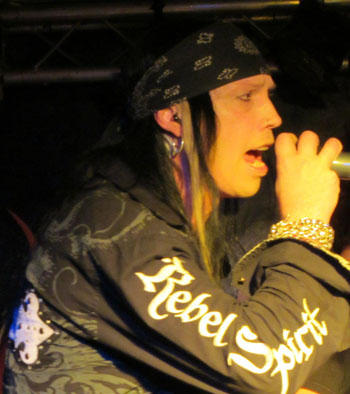 Outside of established festivals, the touring climate is an unfavourable one for melodic rock bands, and it is small wonder that most of the new releases in the genre are purely studio products.
So maximum credit must go for a trio of old and new bands to head round the country on a tour bus for a series of live dates. With no dates in the south and thanks to the hospitality of like minded friends, I headed up on an away gig of my own to catch them at the Yardbirds club in Grimsby, which for a small venue off the beaten track is attracting an impressive roster of name acts.
Australians White Widdow opened with an all too short 35 minute set, equally balanced between their 2010 debut which was my album of that year and the follow up Serenade.
'Reckless Nights' got the set off to a typically rousing start, showcasing their infectious blend of up tempo AOR straight out of 1985.
Enzo Almanzi's guitar and the keyboards of Xavier Millas complement each other perfectly on songs like One More Day. 'We've Got the Wings to Fly' reminded me of early Danger Danger, which may be an apt comparison as singer Jules Millas shares Ted Poley's preference for placing stage moves and enthusiasm above the requirement for vocal perfection.
'Broken Hearts Won't Last Forever', with the best live 'who-oah' chorus this side of Tyketto's Wings, left me and others wanting more.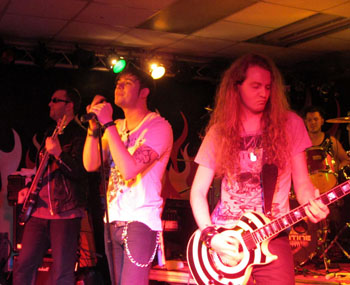 Zoom (Click large image to cancel)
Relative youngsters Serpentine get better every time I see them and it is also heartening to see them seemingly reduce their reliance on samples.
Despite a rather out of place boy band haircut, the helium voiced Matt Black is an engaging frontman, and Chris Gould may have a Zakk Wylde patented guitar, but his solos are slick melodic bliss.
Opening with 'Deep Down' from their second release 'Living and Dying in High Definition', they too mixed new material with that from the 'Touch of Heaven' debut, with the super smooth 'Lonely Nights', 'Let Love Rain Down' and the title track all impressing.
'Philadelphia', from the follow up, is swiftly establishing itself in my mind as one of the classic AOR songs of the modern era, while 'Dreamer' takes the band in a slightly harder direction.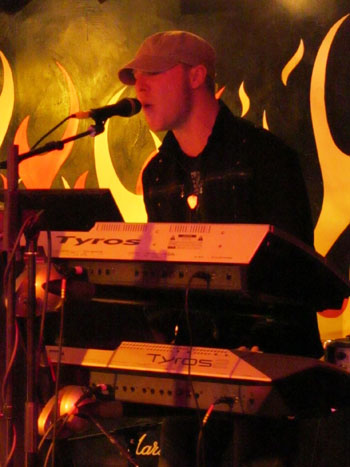 My only reservation is that many of the songs end up sounding very similar. Finishing up with their first single 'Whatever Heartache', Serpentine are shaping up very nicely and I would love to see them get the opportunities to showcase their talents to the modern day rock audience.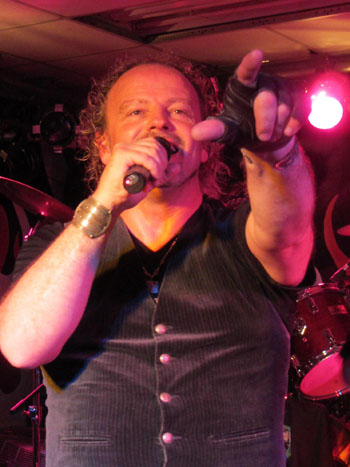 In contrast, Ten were the great white hopes back in the late nineties, when almost singlehandedly their grandiose sounds flew the flag for a very underground melodic rock scene, emerging blinking from the wilderness years.
Sadly, despite headlining virtually every Gods festival, they never matched their success in Japan at home, and singer and prolific songwriter Gary Hughes gradually seemed to lose interest with touring extremely rare and albums sneaking out with little publicity.
However on the back of a partial return to form in new album Stormwarning, Gary is on the road again with trademark curls restored and with long-time lieutenants rhythm guitarist John Halliwell and bassist Steve McKenna, plus three new members, who the cramped Yardbirds stage could barely accommodate.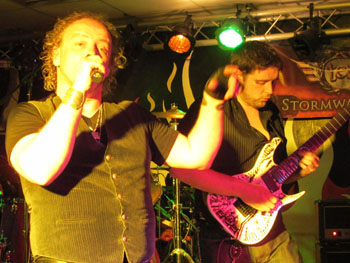 Zoom (Click large image to cancel)
His baritone voice has always been an acquired taste, but perfectly suited the opener Endless Symphony, which did what it says on the tin. It was great to hear old favourites such as Spellbound, with its Still of the Night inspired riffing, the bombastic epic ten Fathoms Deep, and After the Love Has Gone, which used to fill the dance floor at Maximes melodic rock night in Wigan back in the day.
However, it was the new material that actually now sounded better live including the super smooth Hourglass and the Landslide and Book of Secrets, which rocked with a strong hook.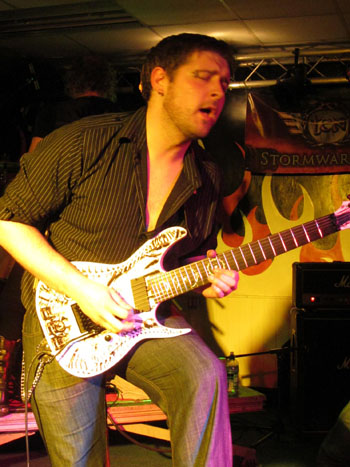 After an acapella intro from Gary, the Lizzy-inspired celtic feel of Red saw the band hitting their heaviest groove, before closing with the epic title track from their second, and probably definitive album, from 1996, Name of the Rose. The rapid fire two handed guitar tapping of ungainly looking new guitarist Dan Mitchell is not to my personal style, but his speed and technique on the solo was a thing to behold.
I would have appreciated a set a little longer than an hour and five minutes, but it was great to see one of my former favourite bands back in the saddle and by the time they play Firefest in the autumn, this roadwork round the UK will pay dividends.

Review and photos by Andy Nathan
---