Just witnessed your best live gig?.. send us a review!
SHINEDOWN/Halestorm
Roundhouse, London, 8 February 2012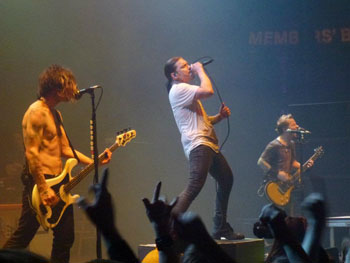 Zoom (Click large image to cancel)
Shinedown are one of the standard bearers for a musical movement which takes the down-tuned sound and angsty lyrics of grunge, but marries it to a commercial sensibility with huge radio friendly hooks.
Bands of this ilk pack arenas and are mainstays of the festival circuit the other side of the Atlantic but, Nickelback excepted, have not enjoyed the same level of success in the UK.
However three years after I last saw them at the Islington Academy, these Florida rockers played before a packed house at the historic Roundhouse in Chalk Farm, suggesting that they are building a big following here.
For just £16, a three band bill provided excellent value, although opening act Liberty Lies made little impact on me. The Black Country rockers have decent stage craft and were not out of place on the bill, but lacked memorable songs.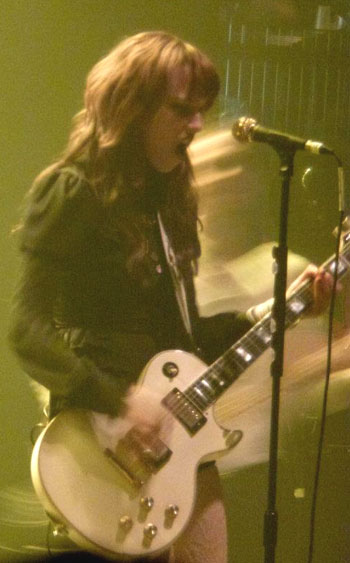 Halestorm however hit their audience right between the eyes, chiefly with the remarkable powerhouse voice of singer Lzzy (sic) Hale, who is also a decent lead guitarist taking on a large portion of the solos.
Moreover her hot pants and thigh high boots doubtless had many a young (and some not so young) fans down the front thinking they were living through a dream.
Live the likes of 'Its Not You', 'Dirty Work' and 'Familiar Taste of Poison' are much rougher and heavier than on their polished debut album, with drummer (and Lzzy's brother) Arejay a complete loon.
We were also treated to a trio from their forthcoming sophomore release: 'American Boys' had a riff with a classic seventies feel, but in contrast the angry-sounding 'Freak Like Me' had almost industrial beats.
With only 40 minutes to impress, the set was rather broken up by some solo vocal gymnastics from Lzzy, a drum solo with all the band members joining in, and a faithful but unnecessary cover of 'Slave to the Grind', but debut album favourite 'I Get Off' ended an eye catching set that had me and others wanting more.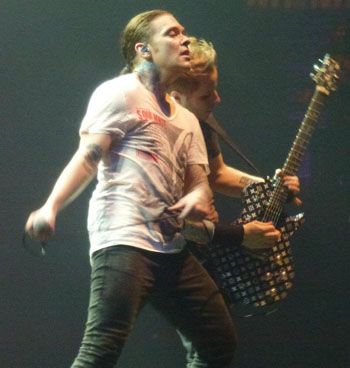 Shinedown were blessed by a crystal clear sound from my vantage point high up in the rafters and a well-constructed stage set with a series of raised platforms for band members to take the spotlight.
The set began in frantic fashion, with two of the heavier numbers from their last – and classic- album 'The Sound of Madness', the title track and 'Devour', having a packed moshpit jumping up and down, sandwiched by a new song, 'Enemies'. On the evidence of that and another new song, 'Adrenalin', it appears the forthcoming album 'Amaryllis' will mark a return to a darker, more uncompromising sound.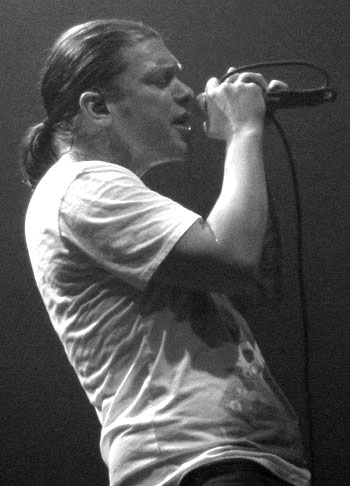 Charismatic singer Brent Smith remains very much the focal point, even if with his white t-shirt and hair tied back his image had been drastically de-glammed from when I last saw the band.
His live act has also in the past been controversial, with some saying he could not hit the higher notes live, and others finding his effusive monologues too close to preaching. Just as with Harry Redknapp on the same day of the show, the verdict was not guilty on either count.
His voice held up superbly, a powerful roar but with a clearer diction than many singers in this musical style. And yes, he does break up the show a lot to thank the audience and get them involved, but even to our more cynical English ears this seems genuine, and one such monologue directly led to a mass pogo at the start of 'Cyanide Sweet Tooth Suicide' which presented quite a sight.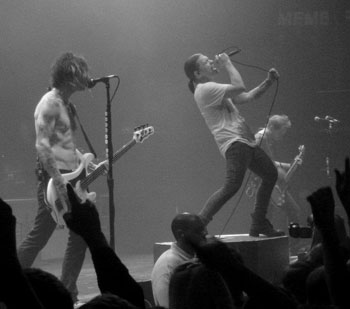 Musically the rest of the band tread no new ground, but bassist Eric Bass (!) and drummer Eric Kerch provide a solid backbone while guitarist Zach Myers kept things simple but his crisp riffing and melodic solos had a perfect tone to them, especially on 'Save Me', one of the relatively rare cuts from their first two albums.
I will freely admit it was the more commercial songs from their last album that belatedly converted me to Shinedown, and, of them, 'If You Only Knew' was excellent, but eclipsed by 'The Crow and the Butterfly' which had a massive, widescreen sound that you could imagine whole stadiums swaying to. Rather surprisingly though, the grungey '45' from their debut album, which encouraged a few crowd surfers, ended with the band leaving the stage after only 55 minutes.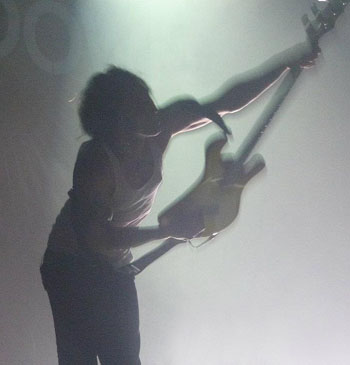 Fortunately they didn't skimp on the encores, beginning with new single 'Bully'. Brent then stressed that as a band that listened to their fans, they were duty bound to reinstate 'Simple Man' which was omitted from some previous tours.
Their stripped down, acoustic version of the Lynyrd Skynyrd classic both embraces the spirit of the original and does something different with it, as well as showing off Brent's singing capabilities.
Their big US hit 'Second Chance', a song which proves that modern bands can still write power ballads to rank with the old eighties classics, had the whole place singing along, and in contrast old favourite, the Alter Bridge-esque 'Fly From The Inside', finished the set on a rocking note.
This was an excellent show which marked a quantum leap forward from my last live experience of them three years ago.
If, like me, you have been tempted to dismiss Shinedown in the past as another bunch of faceless American post-grungers, give them a 'second chance' as on this evidence there are few better bands around at the moment with more than enough appeal to more classic rock tastes.

Review by Andy Nathan
Photos by Alayne Taylor
---