Just witnessed your best live gig?.. send us a review!
SAD CAFE
Floral Pavilion, New Brighton 15 November 2012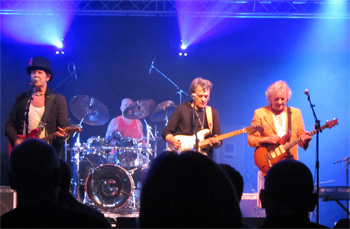 Zoom (Click large image to cancel)
It must be over 30 years since I last caught up with Sad Café - a superb late 1970s band that somehow never quite made major rock league status. A shame really, because in their magnificent debut album Fanx Ta-Ra (1977) they signalled a major talent and left an enduring legacy. They were a marvellous live act, and Fanx Ta-Ra an overlooked 'classic album'. The follow up Misplaced Ideals (1978) has also stood the passage of time rather well and I'd strongly recommend searching out the single CD pairing of the two.
Ironically, the pressures began to tell not long after the eponymous fourth album and a clutch of singles (Every Day Hurts, Strange Little Girl and My Oh My) tickled the charts of 79/80.
It was as if the band weren't quite sure what direction to travel. Original members John Stimpson (bass) and Vic Emerson (keys) left and vocalist Paul Young began a very successful 'secondary' career with Mike & The Mechanics before sadly passing away in 1990. Sad Café never recovered.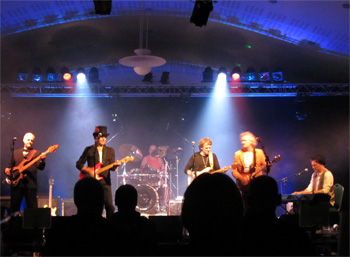 For better or for worse, founder members - Ian Wilson (rhythm guitars) and Ashley Mulford (lead guitar) along with drummer Dave Irving (who was also pretty much there from the outset) and Des Tong (bass) who joined in 1980 have resurrected the band for their first tour in 25 year bringing in Steve Whalley (vocals, guitar), Sue Quin (keyboards, vocals), and Simon Waggott (keyboards).
There's plenty of 1970s acts still on the road with fewer original members, so there's no reason to think this line up couldn't pull it off, but it's a fine line between tribute act and a real echo of past glories, and while it was wonderful to hear the Sad Café canon of work once more, there were frailties on display that suggest there's work to do if this band is to have a long term future.
One of Sad Café's signatures was always great songs. A great song needs a great singer and while it was never going to be possible to replace Paul Young on a like-for-like basis, or wise to attempt it, on the night the vocals largely fell short of the mark.
Ian Wilson's sounded hoarse (the strain of being back on the road, perhaps?) but most disappointing were those of Steve Whalley. I somehow expected more from someone who once stepped into Noddy Holder's shoes than a crooner from the Steve Overland (FM) school of vocalists with a few tired glam moves.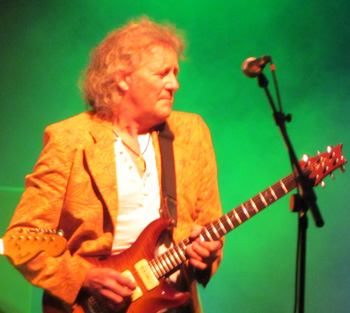 That said, the rhythm section was rock solid throughout and Ashley Mulford stood out as a clear star of the show pulling some classic guitar lines out of the bag and looking like he was having a real blast. His Santana-like performance on 'Emptiness' was one of the highlights of the evening.
But all too often the lacklustre vocals detracted from the overall performance - for example, the classic pairing of 'Hungry Eyes' and 'Black Rose' should have brought the house down, but somehow neither got the volcanic rendition they deserved.
There was, however a clear highpoint and that was when Sue Quin stepped to the front of the stage to give a magnificent, spine tingling, Clare Torry-like performance of 'Fanx Ta Ra'. It was inspirational and the impetus drove the band onto a collectively raucous version of 'On With The Show', before closing out with 'Everyday Hurts'.
So while there were shortcomings - perhaps to be expected after such a long layoff - to my mind the answer's obvious - bring Quin permanently to the front of the stage. It could be a real 'match winner' and something I'd pay to see time and time again.
Set list: I'm In Love Again / Love's Enough / Strange Little Girl / Restless / Misunderstanding / Losing You / Hungry Eyes / Black Rose / What Am I Gonna Do About You / Trying To Reach You / Emptiness / Love Will Survive / Fanx Ta Ra / On With The Show / Everyday Hurts. Encores: My Oh My / Rat Race

Review by Pete Whalley
---