Just witnessed your best live gig?.. send us a review!
ROMEO'S DAUGHTER/Four Wheel Drive
Bush Hall, London 28 September 2012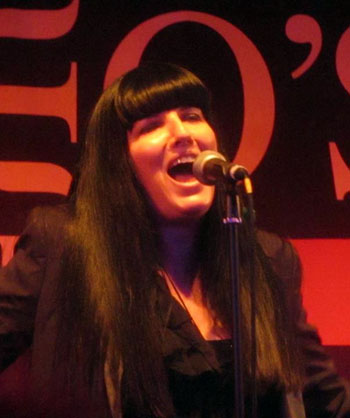 After their triumphant reunion performance at Firefest in 2009, Romeo's Daughter were slow to capitalise on the revival of interest in them, but 2012 has seen them increase their profile, with a universally well received comeback album 'Rapture', and now their first headline London show since reforming, which attracted a better than expected three quarters full crowd at Bush Hall.
In an odd pairing they were supported by youngsters Four Wheel Drive from my home town of Twickenham, whose high octane, rough and ready rock n roll could not have been more removed from the headliner's tasteful, studied sounds.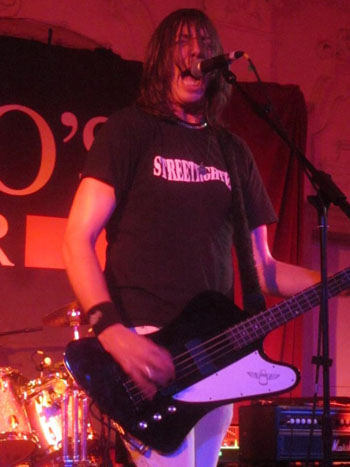 The sound was so loud I thought the chandeliers in this most opulent of venues were going to smash, but they are developing nicely, heavier than I previously remembered especially on songs like 'Ride it Like You Stole It', and comparisons others made to the likes of Airbourne and Jett Black were not misplaced.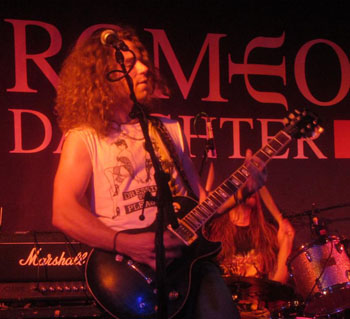 Guitarists Paddy Achtelik and Ben Austwick are a mass of flailing hair and down and dirty riffs while Will Richards pounded the hell out of his borrowed drum kit.
Beanpole singer and bassist Jamie Lailey's voice has developed a harsher edge and on Mr 50-50, even had a touch of the whisky soaked tones of Nazareth's Dan McCafferty.
'Big Fat and Ugly' had an impressive heavy funk groove with an air of seventies Aerosmith, while their set list was shaken up with some newer songs including the frantic 'Hammered Again' which brought a promising, if ear splitting, set to an end.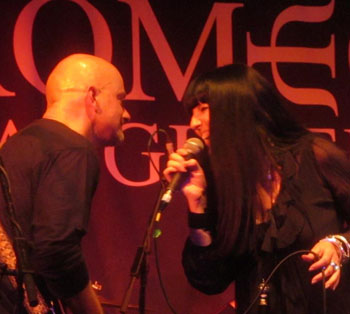 Even by melodic rock standards, Romeo's Daughter are a more polished proposition with the focus as ever on long-legged, elegant and well-spoken singer Leigh Matty, dressed all in black with a raven haired fringe.
Broadly speaking this was a set of two halves, with the Rapture numbers concentrated at the start, opening with 'Trippin Out' and broken only by 'Velvet Tongue' and 'Attracted to the Animal', the latter the sole song all night from their second album 'Delectable'. While that 1993 effort attempted to rock harder, with Rapture they seem to have reverted to a lighter style that they seem more naturally comfortable with.
Among a series of gems from the album, the tuneful 'Bittersweet' stood out with guitarist Craig Joiner and bassist Ed Poole backing up Leigh with vocal harmonies, with the more uptempo 'Lightning and Alive' and the laid back 'Cannot Be The One' and 'Talking Love' not far behind. There was no great secret or originality behind them, other than well written songs, pleasantly presented yet tightly delivered.
As the set wore on it was favourites from their 1988 debut that took pride of place, from crisp pop rockers like 'Inside Out' and 'Don't Break my Heart', to the insidious, almost seductive sounds of 'Stay With Me Tonight' and 'Colour You A Smile'.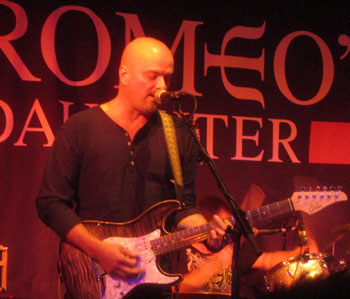 They saved the best to last with 'Cry Myself To Sleep at Night' featuring a tasteful solo from Craig whose understated guitar work was exemplary all night, and 'Heaven in the Backseat', dedicated to Classic Rock's Dave Ling who had bemoaned its omission from their last set, bearing all the hallmarks of its co-writer Mutt Lange. Both songs had me wondering how they failed to dent the singles chart back in the day.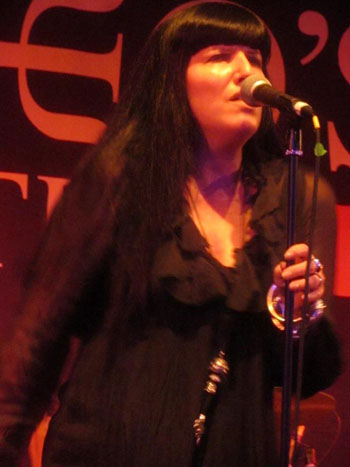 For the encore, Craig emerged with an acoustic guitar for new song 'Will Be', before an excellent near 90 minute set ended with the rocking 'Wild Child', made more famous by Heart, but as Leigh reminded us, originally written by Romeo's.
This was a delightful show with the band at the top of their game that exceeded my expectations, and with such a strong mix of old and new material I hope they use it as a springboard for more sustained live activity.

Review and photos by Andy Nathan
---