ROBERT CRAY Nothin But Love Provogue (2012)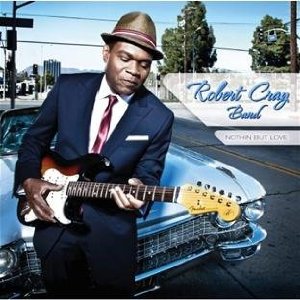 Once you get beyond the hype and bluster of the fast changing rock/blues scene, there's still the ever present Grammy Award winning Robert Cray.
A master songsmith and intricate guitarist, Cray helped kick start the rebirth of the blues in the mid 80's alongside The Fab T Birds and SRV. The intervening years provided him with a significant crossover appeal making him as palatable to the Cartier wearing yuppies as to the post grunge era, denim wearing rock fans seeking sanctuary in the blues.
Reunited with bass player and sometime co-writer Richard Cousins - partly responsible for such classics as 'Phone Booth', 'False Accusations' and 'Smoking Gun' - and with keyboard player Jimmy Hughes, 'Nothin But Love' is his 16th album and comes with high expectations of a return to his early career form.
Overseen by in demand producer Kevin Shirley there's a bright sonic quality to match Cray's deft guitar playing and timeless lyrical themes of love gone bad, with the opening 'Won't Be Coming Home' being an exquisite example of his song writing craft.
His relationship songs and personal sentiments remain as steadfast as the soulful way in which he delivers them. There's an eloquent tranquillity to his music and his phrasing owes more to Sam Cook than the earlier crossover blues style.
Cray's art lies simply in the first person narratives, the voice of an engaging story teller whose emotive input is the equal of the sinewy guitar lines that drive songs such as the call and response of 'Worry' and the repossession blues of 'Great Big House' to their slow building conclusion.
And while the big band arrangement of 'I'll Always Remember You' and the staccato feel of 'Blues Get Off My Shoulder' are successful attempts to inject some welcome spark, it's not so much the arrangements, but Cray's precise and emotive phrasing that in both instances carries the song.
But his strengths are sometimes his weakness as he too frequently conveys the substance of his songs through some MOR soulful grooves that don't always shake off a pervasive languor. Perhaps he's best understood as an artist who has lived his blues and digs deep for the soulful expression of his personal changes.
Unsurprisingly, when he does cut loose on the flighty 'Side Dish' it's his cutting edge vocals that carry the song forward as he weaves in and out of Jimmy Pugh's piano fills, before a belated crisp and concise 'in and out' solo. But having offered us a portal into his rockier abilities, he quickly returns to laid back mode on the radio friendly 'A Memo', on a song saved only by an extra subtle push by a lovely guitar flourish. But that's Robert Cray for you, a craftsman who quietly circumvents the outright commercial with a slow building pay off.
The soulful feel of 'Fix This' evokes Al Green, while the ambitious string arrangement on 'I'm Done Crying' brings a dramatic tension to a smouldering blues. On any other album this song would have been provided a pivotal moment, but in the context of the understated flow it has to work hard for its resolution.
Perhaps only Cray's peerless phrasing, poignant lyrics and de facto presence could have transformed it into an anthem for contemporary times 'They took the house when I lost my job, left us out in the street, yes they did, why d'ya pick us to rob?'. His heartfelt performance and delicately realised outro still puts him on a pedestal above his peers.
'Nothin But Love' is the work of mature blues artist who plays to his strengths, as evidenced by a startling vocal on the closing 'Sadder Days'. But in truth it's a slow burning album that takes repeated listens to embrace its deep seated grooves, intricate guitar work and real feel.
In that respect Kevin Shirley job is only half done, as having got some top line performances from Robert Cray, he now he needs to help him recapture his earlier spark.
****
Review by Pete Feenstra
---