Just witnessed your best live gig?.. send us a review!
RICHIE SAMBORA, Shepherds Bush Empire, London
16 October 2012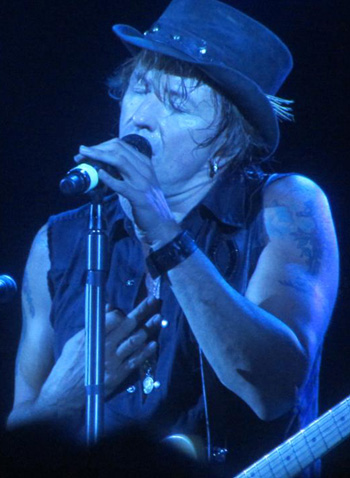 Having just released his first solo album in 14 years, Aftermath of the Lowdown, Bon Jovi guitarist Richie Sambora embarked on an equally rare European tour, with a solitary London date at the same venue he played in 1998.
Some of my friends baulked at the high ticket prices but this was a rare chance to see a man step out of the shadows of his parent band where his guitar prowess has to be tempered by the commercial discipline of most of their material, and in which some suggest he is the more naturally talented singer.
However the 2000 tickets were eagerly snapped up by a crowd where the gender ratio was noticeably more even than at a Bon Jovi gig and by the end of the evening there was no doubting what the correct decision was.
Backed by a group of highly respected but hardly big name players with the session musicians skill of playing tightly but staying in the background, Richie made the most of being centre stage and after his much publicised celebrity divorce and substance misuse struggles, it was a delight to see him weathered but genuinely happy.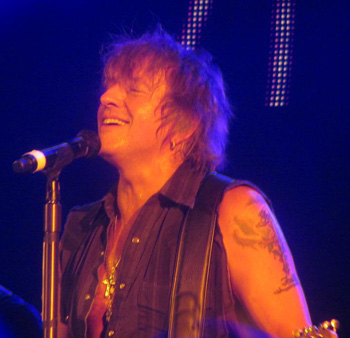 From the outset it was clear that he has learned the lessons of stage craft from JBJ and to an extent Bruce Springsteen, getting people to clap along during the opener 'Burn this Candle Down', with some unexpectedly heavy Hendrix inspired distorted riffing, and join in a singalong along to 'Every Road Leads Back To You', a great song despite the rather off-putting Coldplay or Keane-style piano.
Other than the title track from 1991's solo debut 'Stranger In This Town', giving him the space to show off his love of the blues, the first half of the set was nearly all a varied selection of cuts from the new album.
From up tempo rockers like 'Nowadays' and 'Sugar Daddy' with its Glitter Band-type beat to the more soulful 'Taking A Chance On The Wind' and 'Weather The Storm'. But on 'Learning How To Fly With Broken Wings', the band really rocked out with Richie launching an ever faster solo drenched in feedback.
A snatch of 'Hungry Heart' was followed by 'I'll Be There For You', Richie joking that he had no 'Richie' to give him a vocal break, as he regularly does while singing this song at Bon Jovi gigs.
There was a great atmosphere with hands swaying and the sound of people chanting 'who-oh-oh' could even be heard above Richie's long winding solo, and long after the song finished.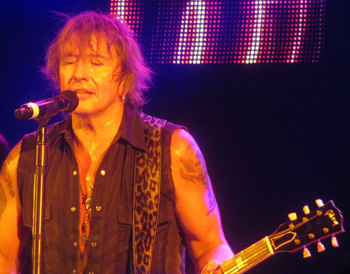 'Hard Times Come Easy' was a rare dip into the Mellencamp-esque heartland rock sounds of his 1998 'Undiscovered Soul' album, Hammond organ drifting soulfully above the melodies, but a cover of 'Don't Look Back In Anger' was a rare false move.
Great song it undoubtedly is, but looking around and seeing few people singing along was a reminder that even 15 years on from Britpop's heyday, classic rock crowds struggle to accept Oasis.
When Richie finally strapped on his iconic doubleneck, many of us were expecting 'Wanted Dead Or Alive' which is indelibly associated with it, but instead it was 'You Can Only Get So High'.
In many ways the most BJ sounding of his new songs, it grew on me mightily, hearing him put his heart and soul into a very personal lyrical message.
The band then jammed out, perhaps at excessive length, to the gospel influenced 'Fallen From Graceland' and 'Who Says You Can't Go Home', another BJ song perfectly suited to a singalong, with a snatch of Van Morrison's 'Wild Night'.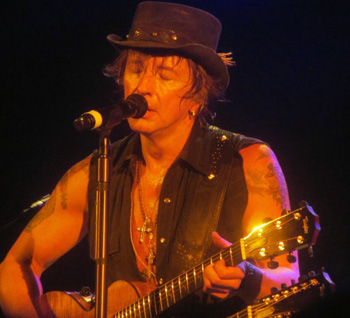 Returning wearing a hat and with his 12 string, he teased us one more time by playing a snatch of Bad Company before launching into 'Wanted...', which after all drew heavily on that song for influence, and the crowd was a sea of waving hands, lighters and camera phones.
My own smartphone was soon put to use hastily finding out what he was covering, which was a suite of Beatles songs from Abbey Road, showcasing the band's tight playing.
By the time they unexpectedly returned for one of Bon Jovi's underappreciated classics in 'These Days', people were singing along and even the balconies were standing up and swaying and there was quite simply an outpouring of joy and love in the house.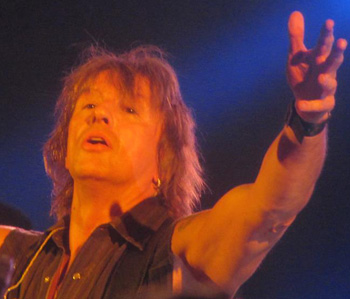 Surely with the 11pm curfew that was it, but Richie returned alone and - to delight people who had been requesting it together with other debut album favourites - performed an acoustic version of 'The Answer', reminding me in places of a superior version of Clapton's 'Tears in Heaven' and taking the set length to 2 hours and 25 minutes.
Borrowing from a Bon Jovi lyric, he said the show had been 'as much fun as you can have with your clothes on' and repeatedly thanked the crowd for a night he would never forget. Common sentiments, but on this occasion, it was possible to believe him.
I have no idea what they put in the water on the Hudson River, but with Springsteen, Bon Jovi, increasingly the Gaslight Anthem and now Richie, New Jersey stars know how to put on a warm hearted and passionate live show.
What might have just been an interesting diversion and a hors d'oeuvre for Bon Jovi's expected UK tour next year turned out to be one of the gigs of 2012.

Review and photos by Andy Nathan
---