Just witnessed your best live gig?.. send us a review!
NIGHT RANGER/Dante Fox
Islington O2 Academy, London 4 June 2012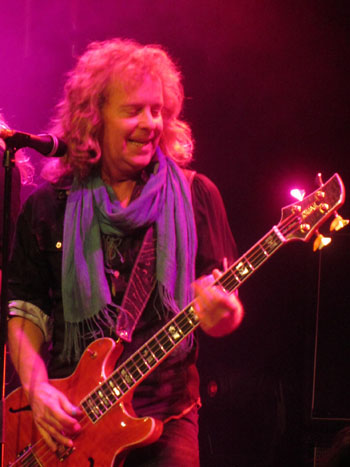 Many people's most memorable gig of last year was Night Ranger's first UK show in 26 years at Islington Academy, where against the odds, with bassist and singer Jack Blades in pain and a delay at customs, they delivered a sensationally energetic performance. Check back to GRTR!'s gigs of 2011 and there it is at No 2 in our poll.
Amazingly, a year later they were good to their promise to return, although melodic rock fans based further north must have been cursing a solitary UK date in London on Jubilee weekend. Still another packed house was present and there was an audible buzz in the atmosphere, rather than blasť fans going through the motions.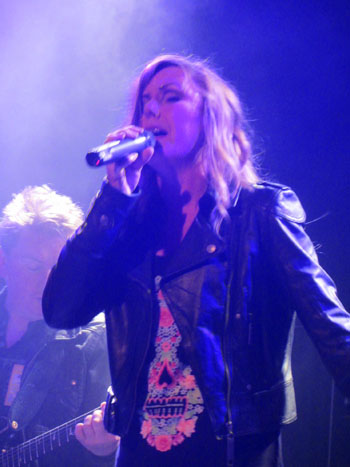 Dante Fox have now been going for over 15 years on and off and warmed things up nicely with a solid performance: Sue Willetts has never seemed the most comfortable frontwoman, but on old favourites like 'Under the City Lights', 'Lost' and 'Lonely Heart' and 'Firing My Heart' she sounded better than ever and there was even a touch of the Ann Wilsons to her soaring tones.
Guitarist Tim Manford always gives his all although he did seem shrouded in smoke most of the gig. 'Walking the Line' had a chorus with a massive hook, while they finished with a note perfect cover of Stevie Lange's 'Remember', bringing back memories of a now largely forgotten song that used to fill the dance floors at rock clubs. Roll on their Firefest appearance in the autumn.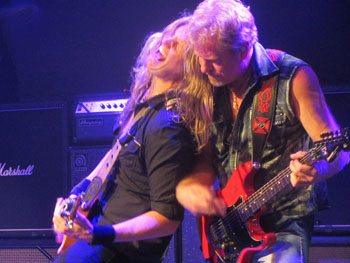 Zoom (Click large image to cancel)
Coming on stage at 9:15 to the strains of AC/DC (is it an unwritten rule that all gigs must start this way?) Night Ranger opened in surprise fashion with the relatively heavy riffing of new song 'Lay it On Me', followed by 'Sing Me Away' from their debut with drummer Kelly Keagy singing and some twin guitar duels.
This was a reminder that, despite being spoken of in hushed tones in AOR circles and known in the USA for their hit ballads, NR have always been a hard rocking band and it was noticeable Eric Levy's keyboards on songs like 'Rumours in the Air' and 'Seven Wishes' were buried much lower in the mix than the studio originals.
Moreover guitarist Brad Gillis once had the unenviable task of succeeding the late Randy Rhoads in Ozzy Osbourne's band and showed his rapid fire paces on a cover of 'Crazy Train'.
Indeed, having witnessed Lynyrd Skynyrd do a very predictable set 24 hours earlier, one of the most pleasing aspects of this show was that the set list was substantially shaken up from last year's show.
One highlight was hearing not one but two songs from Jack's Damn Yankees days in a 'Coming of Age' rawer than on record, and the mega ballad 'High Enough', on which the band's harmony vocals ensured that Tommy Shaw's high pitched tones that are so integral to the original were hardly missed.
But what makes a Night Ranger show so special is the almost childlike delight they show on stage. Brad is a master of pulling faces as he burns up and down the fretboard, and he and his equally able guitar partner Joel Hoekstra regularly cavorted across the stage as they swapped twin leads and solos, most notably on Eddie's 'Coming Out Tonight'.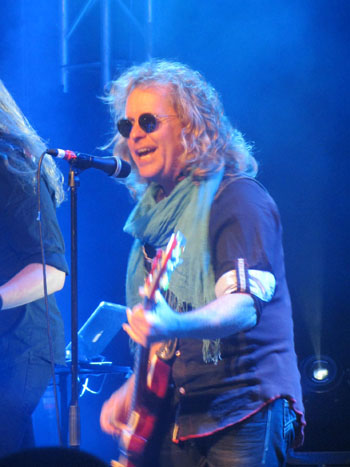 The diminutive Jack is constantly wisecracking, and was gently ribbing Kelly as he came to front of stage to sing the ballads 'Let Him Run' and 'Goodbye', until the latter burst into full power ballad mode with crashing cymbals and power chords.
For many bands this bonhomie is merely a facade, but they genuinely seem to be having a great time and that rubs off on the crowd, who were gleefully joining in the 'na-na's' on their old 'Secret of My Success' movie soundtrack.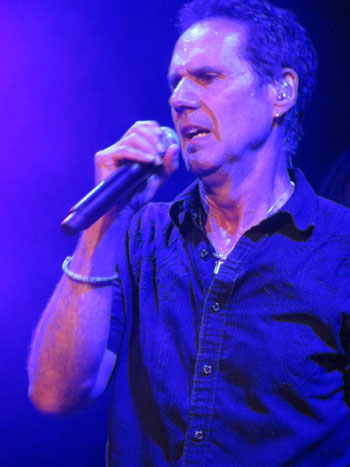 'Growing Up in California' was one of only two songs from last year's 'Somewhere in California' album, but is vintage NR which fitted perfectly into the set, which reached ever higher peaks with 'Touch of Madness', Brad acting out the title with his frenzied soloing and face pulling, the super catchy 'Four in the Morning' and a joyous 'When You Close Your Eyes' which brought back loads of memories of discovering them and other American acts in the eighties for me, and I am sure many others in a predominantly 40 plus crowd.
The crowning glory was their debut classic 'Don't Tell Me You Love Me', with its irresistible chorus and - after a snatch of 'Highway Star' - its frenzied guitar climax.
No surprises for the encores, with Kelly introducing the band before singing their big US hit 'Sister Christian', given the full blown power ballad treatment, followed by the other side of their repertoire in the anthemic 'You Can Still Rock in America', as the set weighed in at a generous hour and three quarters.
They say it can never be as good as the first time, but post gig consensus seemed to be that with this performance, Night Ranger may even have eclipsed last year's show. Hopefully, the response will encourage them to come to these shores more often - tell your friends they are not to be missed.

Review and photos by Andy Nathan
---