Just witnessed your best live gig?.. send us a review!
NICKELBACK Manchester MEN, 4 October 2012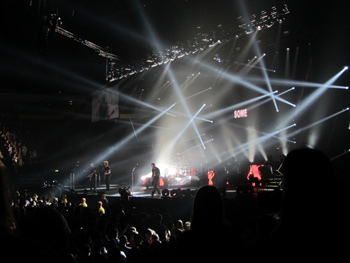 Photo by David Randall
In a recent interview Noel Gallagher suggested that you will never get anything different from stadium rockers like U2, Foo Fighters and Muse, all locked in to writing for the large-scale. Nickelback should also be included in that stellar company. The Barry Manilow of the Post-Grunge Generation, Chad Kroeger knows exactly what his adoring fans want.
Two gigs in to the UK leg of their European tour, Manchester was decreed the best European crowd to date, a crowd clearly enchanted by a slick if predictable show. But scrape beneath the slick and blow-dried surface and the flaws were also present.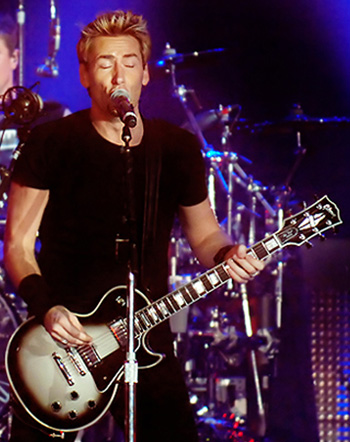 Setting aside an evident predictability in the band's songs, there was an emphasis on their recent singles and inevitably perhaps the mid-tempo/ballads. And apart from the opening salvo, a dearth of their raunchier stuff.
Chad Kroeger's between-song banter which seemed to revolve around his love of beer began to pall too. There was also an ongoing in-joke about "Robbie" the apparent replacement for "Timmy", the guitar tech who left the band prior to the Here And Now tour.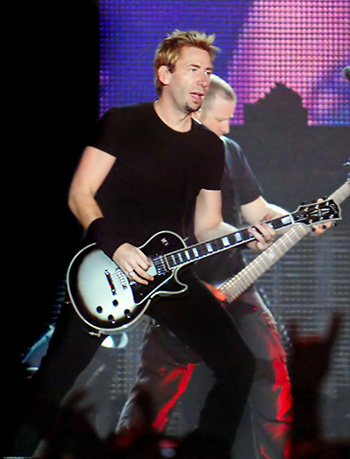 Other than that, you couldn't really fault a two-hour set which offered such confections as 'Photograph', 'Trying Not To Love You' and 'Lullaby' the latter two songs from the current album and sounding (and greeted) like old favourites.
But it was only in the dying moments of this gig when it became apparent (if it hadn't at least half way through)that these shows - like the albums - are far too contrived.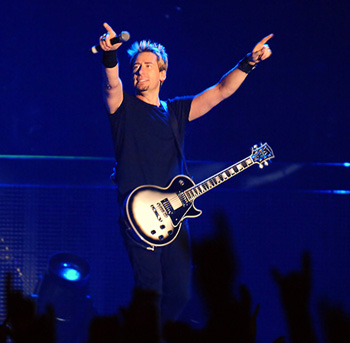 After the final encore, Kroeger told the crowd "this is how the band says goodbye" and proceeded to jam an all-too brief riff of Pantera proportions before leaving the stage. In those brief moments the band actually stepped outside of the hit machine and sounded all the better for it.
For many, though, the band will remain a guilty pleasure, the aural equivalent of a Big Mac.
Earlier the American Idol finalist's band Daughtry plied their sub-Nickelback brand of emotive rock, an excellent support but not really offering anything really different in a genre crowded out by bands like Seether and Shinedown.
Nickelback setlist
1. This Means War 2. Something in Your Mouth 3. Bottoms Up 4. Photograph 5. Far Away 6. Too Bad 7. Animals 8. Trying Not to Love You 9. Rockstar (with Chris Daughtry) 10. Someday 11. Lullaby 12. This Afternoon 13. When We Stand Together 14. Figured You Out 15. How You Remind Me Encore: 16. Gotta Be Somebody 17. Burn It to the Ground


Review by David Randall
Photos by Steve Goudie
Photo Gallery
You can use the direction keys on your keyboard to navigate easily through the photo gallery
---