Just witnessed your best live gig?.. send us a review!
MICHAEL SCHENKER
Glasgow ABC, 11 May 2012
Reviews by Tony Charles, Joe Geesin, David Wilson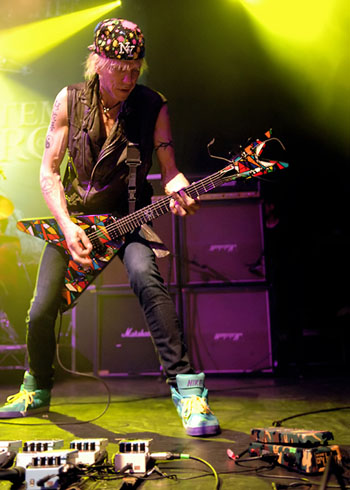 It is easy to forget how influential Michael Schenker has been in the realms of rock music over the years. He has had a hand in some of the biggest bands in rock and has written, or has contributed to, many rock classics over the course of his career.
The premise of this latest tour is to get together with various musicians he has worked with over the years, with a different line up for different continents across the globe and to play said classics. When you look at the talents that have answered his call for this tour, it is evident that he still commands a lot of respect from his peers and rightly so.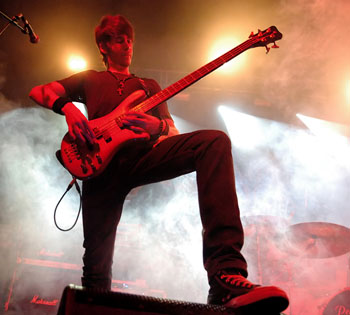 Before the latest incarnation of the band took to the stage though, the night was kicked off by Lancashire rockers Exit State. I wasn't familiar with the name, but with a little help from Google I found out that the band have been together in various forms for 7 years and that they have produced two albums in that time with a third being written at the moment, ahh, the power of the internet.
The band only had an allotted half hour set, but they managed to impress none the less. They play melodic hard rock with some excellent melodies and hooky choruses.
Singer and guitarist Roy Bright constantly tried to whip up some enthusiasm in the crowd, which after a couple of numbers started to have an effect and slowly but surely the band won over the crowd. The songs that really caught my attention were 'Bad Days' and 'Death Of A Rockstar' which were excellent.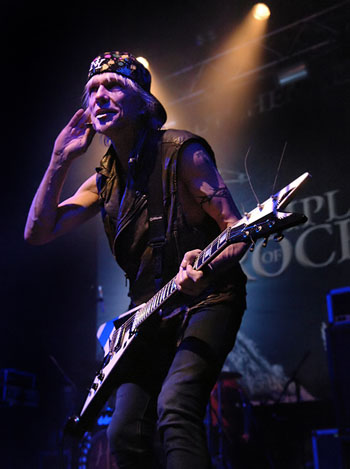 A good warm up then for tonight's main event and after an atmospheric intro tape, Michael Schenker and friends bounced on stage, kicking off with 'Into The Arena'. The band on this leg of the tour are probably the best of the bunch featuring Michael, Dougie White on vocals, Herman Rarebell on drums, Francis Buchholz on bass and Wayne Findlay on guitar and keyboards, an impressive line-up with talent to spare.
'Armed and Ready' was up next and the near capacity crowd were loving every minute of it. Dougie White was in fine voice and took great pleasure in announcing that this was his first large scale hometown gig in 25 years of touring, including his stints with Rainbow and Yngwie Malmsteen.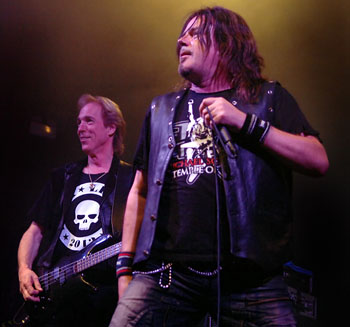 He also pointed out the barrier at the front of the stage which he said was there for our safety as they had three Scorpions on stage, pun fully intended, which lead us nicely into 'Lovedrive' the first of many great Scorpions numbers to be aired. The set was culled from all points of Schenker's career and ran like the track listing of a 'Greatest Hard Rock Ever!' CD.
Michael was in stunning form, any doubts about his abilities or current state of mind were very quickly banished, he is definitely back at his rocking best which was a joy to see. Francis Buchholz and Herman Rarebell were also in fine form and looked ecstatic to be back on stage and playing Scorpions numbers once more.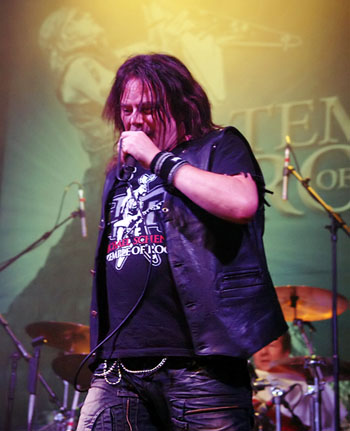 The biggest smile of the night though belonged to Dougie White who looked like he had won the lottery. At one point he got the crowd to sing a rousing version of 'Flower Of Scotland' which I suspect was the fulfilment of a long held dream, he was a very happy man.
Highlights and classics just kept coming, 'Cry For The Nation',' Coast To Coast', Assault Attack', 'Shoot Shoot', UFO, MSG, Scorps - all were treated as old friends and the crowd sang along with gusto.
Several tracks though stood out above the rest, namely 'Lights Out', 'Rock You Like A Hurricane' and main set closer 'Rock Bottom' which featured an elongated solo from Michael which showcased his talents and proved beyond doubt that he is back at his best.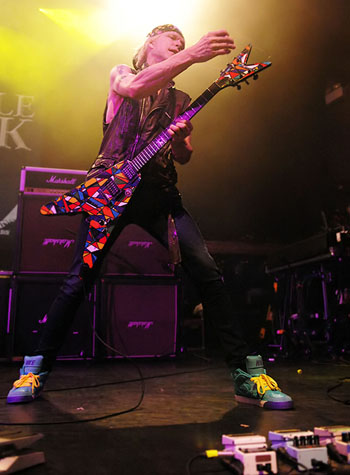 The encores that followed were straight from the classic rock top drawer. 'Holiday' was up first, complete with a mass sing-along, a rocking 'Blackout' followed by (and only one song could round off the night) 'Doctor,Doctor', which got the whole crowd bouncing as one.
This was an amazing gig which was enjoyed equally by both band and crowd. As I said earlier, it is a joy to see Schenker back at his best and on tonight's evidence there are still plenty of punters willing to come and worship at this particular Temple Of Rock. Long may it last and, Dougie, make sure it's not another 25 years before you play in Glasgow again, cheers !

Review by David Wilson
Photos by Steve Goudie
You can use the direction keys on your keyboard to navigate easily through the photo gallery
Joe Geesin writes (London, Shepherd's Bush Empire, 12 May

A busy night in London and, it has to be said, a very ordinary support band, who mixed Sabbath with alternative and grunge.

A rousing start with MSG and the 'Into The Arena' intro kicked off a retro evening. 'Armed And Ready' saw the band in storming form, vocalist Dougie White being energetic and showing his wide range. The sound quality, however, started off poor and the mix took a couple of songs to sort out.
With ex Scorps Herman Rarebill (drums) and Francis Buchholz (bass) on board, there were several Scorpions tracks aired, 'Lovedrive' the first of many.
Schenker himself was on form, the guitar work spot on, riffs and shreds alike, he made plenty of eye contact with the crowd, but the spotlight was on the band – solid and tight, and that's what made the evening.
A musical highlight was the melodic rock of 'Cry For The Nations', which sounded polished, and 'Let Sleeping Dogs Lie' epitomised the classic rock that had filled the venue.
'Assault Attack' was another period classic, but the omission of 'Attack Of The Mad Axeman' was surprising. 'Before The Devil' was the only number from the new album, but the Temple Of Rock continued in blistering fashion with 'Lights Out' and 'Shoot Shoot' taking in some classic UFO, and Wayne Findlay's keyboards sounding good leading into 'On And On'.
'Rock You Like A Hurricane' took the show into singalong mood, White proving one of the best frontmen around. The extended songs sounded better than a plethora of solos, making for one of the better Schenker performances I've seen.
'Rock Bottom' rounded off the main set well, and with 'Holiday', 'Black Out' and the classic 'Doctor Doctor' in the encore, it was a storming evening. That said, a little too much emphasis on Scorpions and UFO, when you consider the strength of the MSG catalogue.


Setlist
Into The Arena/ Armed And Ready/ Lovedrive/ Another Piece Of Meat/ Cry For The Nations/ Let Sleeping Dogs Lie
Coast To Coast/ Assault Attack/ Before The Devil Knows Your Dead/ Lights Out/ On And On/ Let It Roll/ Shoot Shoot/ Rock You Like A Hurricane/ Rock Bottom/ Holiday/ Blackout/ Doctor Doctor

GRTR! Radio presenter Tony Charles writes (Manchester, The Ritz, 10 May)
The last time I saw Michael Schenker was a few years ago with UFO and at that time the gig was somewhat disastrous. However, this was totally different! He was on top form, in fact his performance on a number of Flying Vs was outstanding.
Over the course of the 1 hour 45 minute set he dug deep into his extensive back repertoire backed by a very good set of musicians, ranging from UFO, The Michael Shanker Group and course the Scorpions.
Great gig and a welcome return of the old master!
---