Just witnessed your best live gig?.. send us a review!
LYNYRD SKYNYRD
HMV Hammersmith Apollo, London 3 June 2012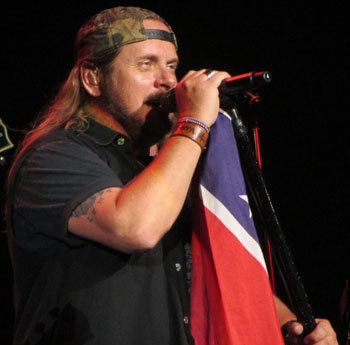 On the Queen's Diamond Jubilee weekend, in a small corner of West London it was confederate flags rather than union flags that were the order of the day, as Southern rock legends Lynyrd Skynyrd paid their third visit to these shores in four years.
In fact, in a neat piece of symmetry, not only were the Red White and Blues supporting, but Red White and Blue is a Skynyrd anthem, though sadly unplayed tonight.
Red White and Blues, who reunite Skin guitarist Myke Gray with his former Jagged Edge singer and now bassist Matti Alfonzetti, were given just over half an hour in the latest of a series of high profile support slots.
Their good time, bluesy hard rock make them perfect support fodder and the set got better as it went on with the elegant ballad 'Counts For Nothing' contrasting with a rockier trio of closing tracks in 'Red White and Blues', with plenty of slide guitar, 'Long Way From Home' and the straight ahead anthem 'Stand Up For Rock n Roll'. But playing with a muddy sound on a stage near surrounded in darkness, I felt it will take a headline show to showcase them at their best.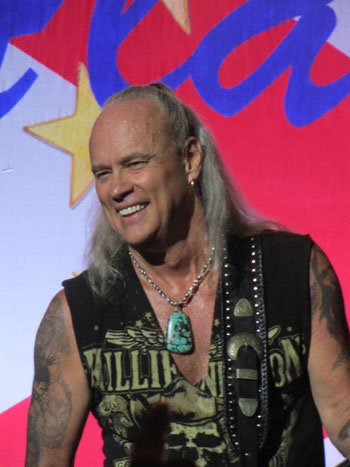 Cynical folk point out that from the original pre-plane crash Lynyrd Skynyrd, there is now virtually no-one left, but there is not much that can be done about the Grim Reaper's march, and this line up has now been treading the boards for over 20 years, albeit with more casualties along the way.
That shows in a polished, professional show with the music slickly drilled yet pretty faithful to the intricacies of the original. The show is perfectly choreographed and paced to perfection, with Johnny Van Zant the diminutive frontman winning over the crowd with his southern charm.
From the openers 'Workin For MCA' and 'I Ain't The One', it is clear that the triple guitar attack that is Skynyrd's trademark is in good form.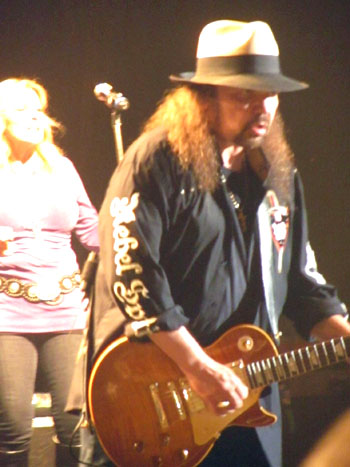 Original member Gary Rossington, whose Gibson guitar has a wonderfully slow, almost mournful, feel to it, is rather rooted to his spot but that is more than compensated for by the movements of Ricky Medlocke, whose hair is now in a silvery top knot, but whose guitar playing is easily the fieriest of the trio and gives the sound a sharper edge, and Mark Matejka, now firmly established as a big part of the triple guitar sound, even though I still cannot get the Robbie Savage comparisons out of my head.
However for me they sell themselves short with a very predictable set list which has barely varied for years. The reformation line up has made several albums - both 2003 'Vicious Cycle' and 2009's 'Gods And Guns' were excellent, despite the latter's hokey lyrics, and a new album is planned this year - and yet you would hardly know it from a set rooted entirely in the seventies, other than the self-referencing 'Skynyrd Nation' three songs in. If Skynyrd fans are really the best in the world as Johnny claimed, it might be nice to treat us with a few obscurities or unexpected cuts.
But with a back catalogue that surely would have made them all-time greats had fate not intervened, it would be churlish to complain too much, with highlights including the guitar attack of 'That Smell', 'I Know A Little' with honky tonk piano from Peter Keys (sic) and the sinister sounds of 'Saturday Night Special'.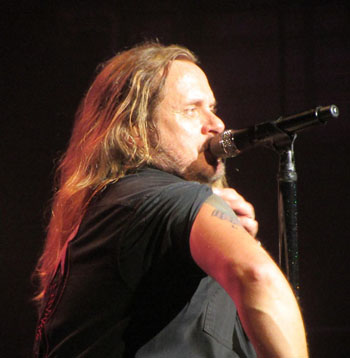 Claiming that they were playing some extra songs just for the London audience, Johnny then introduced a medley, although to be fair they sounded to me like near full length versions of 'Gimme Back My Bullets', 'Whiskey Rock n Roller', 'Needle and the Spoon' - with some superbly aggressive soloing from Ricky - and 'Tuesday's Gone' with some marvellous guitar work from Gary.
From then on in, as at every Skynyrd show since time immemorial, the tried and tested boogie of 'Gimme Three Steps', 'Call Me The Breeze' and 'Sweet Home Alabama' progressively got a near sell out crowd rocking out and singing along to every word, Johnny further currying favour by brandishing a union flag.
As they returned to a backdrop of a giant American eagle, it was inevitable that Johnny would invoke the words of late brother Ronnie and ask 'what song is it that you wanna hear'?
No matter how overplayed it is, 'Freebird' is still a thing of wonder, especially in the live environment as Gary's slow slide guitar passages give way to an explosion of aggressive soling from Ricky, and a frenzied jam between him and Mark, and a great moment when the lights dim and then come back on again to reveal them still trading solos.
At an hour and 35 minutes it was very much a lowest common denominator of a greatest hits set. But to see one of the classic rock back catalogues delivered with such quality and showmanship by these gentleman southerners is always a privilege.


Review and photos by Andy Nathan
You can use the direction keys on your keyboard to navigate easily through the photo gallery
---