Just witnessed your best live gig?.. send us a review!
JOE BONAMASSA, Liverpool Echo Arena
28 March 2012
You can use the direction keys on your keyboard to navigate easily through the photo gallery
---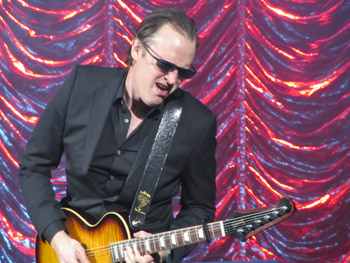 Zoom (Click large image to cancel)
When the great Joe Bonamassa deigned to speak to the assembled multitude tonight he playfully referred to previous gigs at the Pacific Road venue, across the Mersey. The juxtaposition of different venues only a few years - and a few miles - apart was significant, with the Echo Arena attracting 10 times the previous audience.
For those who have followed Bonamassa's career since 2000 and admired his evident anglophilia, the 'Arena' tour is a triumphal homecoming if not quite topping 2009's Royal Albert Hall gig when he jammed with his hero Eric Clapton. But since then, of course, Joe has played High Voltage and launched and toured separately with Black Country Communion, whilst still finding time to release solo albums the latest of which will appear in May.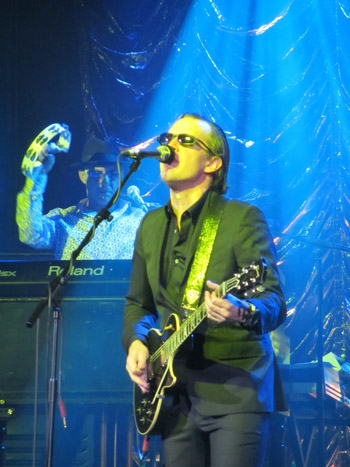 If the setlist tonight was somewhat predictable it would have almost certainly satisfied the hardened blues-rock aficionados, opening as he did with two originals 'Slow Train' and 'Last Kiss' and doffing his Les Paul to the late great Gary Moore on 'Midnight Blues'.
But a look at that setlist provides some insight with a very high proportion of covers, again satiating those who look back to the smoky clubs of the sixties for their blues inspiration. Bonamassa has always openly paid his dues to his Brit-blues heroes but for me this set merely underlined that – like his albums – the true standout originals are thin on the ground. As if to reinforce that, and in a rare exchange with the audience, he joked that it is unlikely there'll be a 'hit single' on his latest album as he proceeded to play the title track 'Driving Toward The Daylight'.
Whilst we maybe wouldn't want Joe to sell out his ideals, it perhaps wouldn't be a bad idea to have some true classic single-length songs in his repertoire just as Clapton had his 'Layla' (even though it was the shortened version).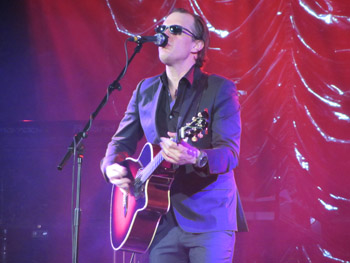 Zoom (Click large image to cancel)
Bonamassa's guitar dexterity is unquestionable but I have to say I found this set somewhat unmoving and it was only the second encore that could have been truly described as 'incendiary'. Elsewhere 'Dust Bowl' - the highlight title track of his latest solo album – was a bit of a damp squib and lacked the urgency of the recorded version whilst 'Sloe Gin' is a glorious set-piece but loses some spontaneity in the stage translation. And I have to say even 'The Ballad Of John Henry' sounded a little lame without its stirring orchestration.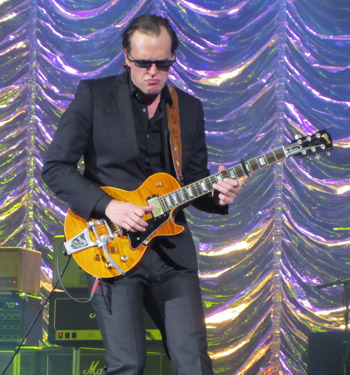 The concomitant of bigger venues means bigger prices. It is a shame then that the bulk of the audience tonight were 'of a certain age' and that the £30 plus tariff may preclude younger fans witnessing a modern day hero live.
Perhaps this also underlines a feeling that Bonamassa is increasingly playing for an older generation although still inspiring a new generation of blues rock musicians. We don't expect Joe to crank up the dancebeats anytime soon (and admittedly Gary Moore's dabble in that direction was something of a disaster) but a little more risk-taking and diversity may provide some welcome refreshment from this now seasoned performer.


Setlist: 1. Slow Train 2. Last Kiss 3. Midnight Blues (Gary Moore cover) 4. Dust Bowl 5. Sloe Gin (Tim Curry cover) 6. The Ballad of John Henry 7. Lonesome Road Blues 8. Song of Yesterday (Black Country Communion song) 9. Steal Your Heart Away (Bobby Parker cover)10. Blues Deluxe (Jeff Beck cover) 11. Young Man Blues (The Who cover) 12. Woke Up Dreaming 13. India/Django 14. Mountain Time
Encore: 15. Driving Toward The Daylight 16. Just Got Paid (ZZ Top cover)


Review and photos by David Randall
Photo Gallery by Steve Goudie
---