JOE BONAMASSA Driving Towards The Daylight Provogue (2012)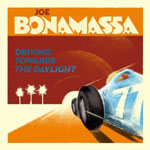 Working on the principal that flooding a niche market with your product is going to give you an enduring impact, JB's 13th album achieves more than merely ratching up the statistics, as it confirms his standing as a fine interpretive singer, a guitarist par excellence and an essential blues rocker.
And if 'Driving Towards The Daylight' doesn't quite have the coherence of 'Sloe Gin' or the consistency of 'Dust Bowl', it's an album that makes the most of its 3 excellent self penned tracks and one near miss, plus a judicious choice of covers. The Bernie Marsden and Tom Waits covers plus the appearance of Cold Chisel's Jimmy Barnes and a handful of rearranged blues classic suggest this was always a project in search of a song.
But that would be to reckon without Bonamassa'a ability to inject a wide range of material with real presence and guitar playing prowess, let alone his impressive phrasing ability. And as ever it's Kevin Shirley musical vision that provides the conduit between the past and refracted present, helping to imbue Wolf's 'Whose Been Talking' with the kind of hard hitting Zeppelin feel that is closely associative with Joe's style. This rock version might eschew the emotion of the original, but it delivers in terms of what Wolf's introductory rap calls 'bongo beat' However, the idea of contemporising old blues songs doesn't always work.
On the slide led, tempo changing version of 'Stones in My Passway', Joe revisits the muscularity of 'John Henry' right down to the phrasing, but it's probably an ambitious arrangement too far.
The album as whole still works well though in the context of another successful return to the late 60's blues-rock era that has served Joe so well thus far.
And Joe serves up further notice of his ambitious intent with two of his very best songs. 'Dislocated Boy' is everything that marks him out as special, opening with a bubbled up organ, some bone crunching riffs and autobiographical lyrics, while the piano led, radio friendly, drifting rock ballad title track is an album highlight and possibly a career best.
It's a perfectly paced, beautifully sung slow building rocker that delivers lines such as; 'Who was wrong and who was right and, do we even know why we're fighting', as well as 'rusty strings on my old guitar, speaks volumes of who you are'. The lyrics are underpinned by pile driving riffs and lead to a hammered out chorus as the song makes its point and quietly comes to rest.
This album cleverly circumvents the stylistic pitfalls that beset the likes of Jeff Healey and Kenny Wayne Sheppard, who having made a dramatic splash quietly blanded out. Bonamassa and producer Shirley carefully chart their course and retain the essential blues feel while excitingly exploring other commercial possibilities.
So while the Zeppelin style reading of 'Who's Been Talking' sacrifices the emotional pull of the original song for cock rock riffery and Bonham senior style bombast, it still works on its own terms. It may be an anathema to blues fans, but it is surely a must for all lovers of the Brit blues boom
'Driving Towards Daylight' is business as usual, but features great playing and clever ideas, as Joe delivers an incisive vocal line and shuffles his way through Willie Dixon's 'I Got All You Need'. But the album dips slightly with a Bernie Marsden penned, Gary Moore style blues, 'A Place In My Heart' which is frankly grist to Bonamassa's mill.
It's a decent track in its own right, but it's a step back for Joe, repeating most of what he's done before, on a slow building ballad with an obvious horn arrangement. The saving grace to the inevitable guitar resolution is the way Joe adds an unexpected meandering guitar and organ ending. But much like the closing Jimmy Barnes rehash of his own hit 'Too Much Ain't Enough Love', it momentarily finds Joe teetering on the precipice of the formulaic rather than the inspirational.
The choice of Bill Withers' 'Lonely Town, Lonely Street' makes more sense, bringing a riff heavy arrangement to bear on Withers' original lightness of touch and closes with some bristling guitar and organ interplay.
Joe's phrasing is again impressive on 'Heavenly Soul' which has a nice flow and makes the most of a mandolin led, layered melody line and adds a dazzling solo to lift the song. There's also a Uriah Heep meets Procol Harum style organ intro and some soaring guitar on Tom Waits's 'Coat of Paint' , which is another successful exercise in light and shade. The final Bonamassa penned track 'Somewhere Trouble Don't Go', is a slide propelled, motorvatin' stomp and sing-along triumph.
'Driving Towards The Daylight' boasts a stellar line-up including 4 guitarists, but its Joe's imprint that makes it more than simply the sum of its considerable parts.
****
Review by Pete Feenstra
---