Just witnessed your best live gig?.. send us a review!
ESOTERIC ANTENNA Showcase
Camden Underworld, London 14 April 2012
Esoteric Antenna is the new "frontline" label from the well respected Cherry Red label "Esoteric Recordings", and to promote the new label, four of the label's recent melodic/prog rock signings were gathered together for this showcase event at a dark, dank, and typically disgusting and filthy Underworld in Camden.

Because this was a showcase event, all the bands were given plenty of stage time to show off their abilities, which meant an unusually early 5.30pm start for the first band, The Reasoning.
We all should know by now the recent trials and tribulations of the band, with lead guitarist Owain Roberts mysteriously disappearing a little over a month ago, and the reception they got from the 150 or so in the audience when they went on stage was both heartfelt and genuinely supportive.
It can't be easy for a band to perform when as influential a member as Owain is not only missing from the line up, but from their lives too, with little certainty he'll ever be seen again. That his place was ably and almost un-noticeably taken by Dave Foster says much for Dave's abilities and the professionalism of the rest of the band.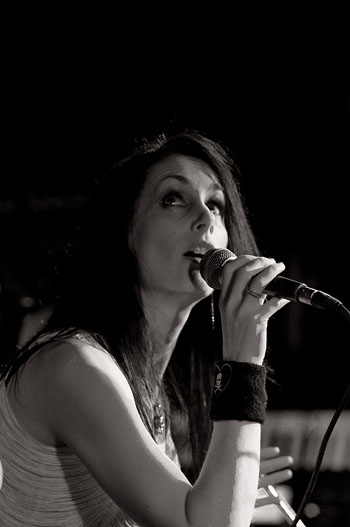 Starting off with a short instrumental intro, the band really kicked off their set with the hauntingly beautiful 'Dark Angel' from the 2008 album of the same name followed by 14 from the 2010 album 'Adverse Camber'.
Rachel Cohen's vocals nicely offset by Dave Foster's guitar licks and Matt Cohen's steady bass. Two newer songs then followed; the quietly melodic 'One by One' from the recent 'And Another Thing... EP' and the darker anthem against the evils of social media 'No Friend of Mine' which saw some intricate interplay between vocalist Rachel Cohen and keyboardist Tony Turrell.
The set ended with two songs from the band's first album, the eponymous 'Awakening' and 'Aching Hunger'. For those who like a symphonic metal element to their prog, there can be few better bands than The Reasoning. We can all only hope that Owain is returned to his rightful place in the band and that they march forward to the great success they so richly deserve.

Set List: Intro, Dark Angel, 14, One by One, No Friend of Mine, Awakening & Aching Hunger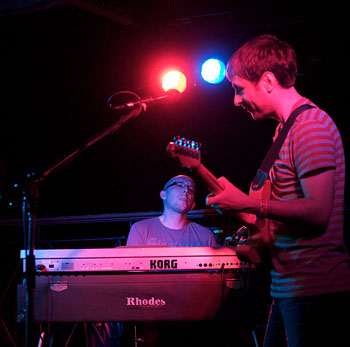 With The Reasoning's set over, the crown thinned out from around 150 to barely two dozen for the next band, Sanguine Hum. Given their album 'Diving Bell' was the first to be issued by the new label the entire set consisted of songs from the album, including some not found on the original download only release.
Rising phoenix-like from the ashes of The Jeff Winks Band and the Antique Seeking Nuns, Sanguine Hum are a mix of Zappa meets Porcupine Tree.
Complex instrumentals fuse with off the wall lyrics to create a whole that cannot be easily categorized. Very much a "marmite" band, the fact that so few people hung around to listen very long to their set is perhaps testament that maybe they were a touch too psychedelic for this audience.
However it should be noted that all four musicians (Joff Winks on guitar and vocals, Matt Baber on keyboards, Brad Waissmann on bass and drummer Paul Mallyon) as well as being at the top of their game, are also moving away from the Canterbury sound, with Matt and Brad now strongly involved in the writing and production of the new material.

Set List: The Trial, The Ladder, It's Pissing Don?, Dark Ages, Nothing Between Us, Circus for a Dying Race, Diving Bell and Coast of Nebraska
Third band of the evening was the ever popular Panic Room, fronted by award winning vocalist Anne-Marie Helder (also of Mostly Autumn) and ably assisted by Paul Davies on guitars, Yatim Halimi on bass, Jonathan Edwards on keyboards and Gavin John Griffiths on drums.
Just out of the recording studio and with the new album, SKIN, due in early summer, the set kicked off with one of the new album's songs that had been heavily trailed and well received in late 2011 gigs the band had played around the country, 'Song for Tomorrow'.
This was followed by 'Freedom to Breathe', a crowd favourite from the 2010 album 'Satellite'. Another well trailed new song, 'Promises', followed, which showed off Yatim's funky bass playing and Gavin John's drumming to great effect, the two in effect duetting midway through the song as the others took a step back.
This was followed by the now almost obligatory cover of ELP's 'Bitches Crystal' which, as always, went down well with the heaving crowd. A quieter, more relaxed flavour followed, in the shape of 'Exodus', from Anne Marie's 2004 solo EP "The Contact" and 'Hiding', before finishing off with the uplifting 'Satellite' from the eponymous 2010 album.

Set List: Song for Tomorrow, Freedom to Breathe, Promises, Bitches Crystal, Exodus, Hiding and Satellite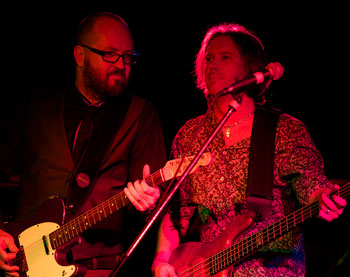 The final band of a long evening/night were Tin Spirits, featuring former XTC guitarist Dave Gregory.
Starting life as a covers band, they soon discovered the need to write their own material, and the result was 'Wired to Earth', played in its entirety and in order here tonight.
With a nod to their past history, the Genesis (Lamb Lies Down on Broadway) song 'Back in NYC' makes the album, sandwiched between their own compositions. Once 'Wired to Earth' had been played, we had a couple of covers including a reworking of Yes' 'Roundabout' before finishing off with a flurry... XTC's 'Towers of London'.
'Wired To Earth' is heavily influenced by 1970s prog, especially Genesis and Yes, and the interplay between Dave Gregory and Daniel Steinhardt is at times mesmerising, especially so during the second part of the second song (of which more later).
Yet don't think this is just a case of travelling back in time 40 years. Gregory's guitar playing is a heady mix of 60s psychedelic rock and 80s "new wave" choppiness brought up to date to create a compelling sound that is very "now".

The three part 'And Go' changes midway from a happy-go-lucky melody to a grittier, edgier power guitar tune, with Douggie Mussard's drumming sounding like thunder in the background. Dave Gregory and Daniel Steinhardt almost sound as if they are duelling before Mark Kilminster's vocals soar above them, bringing back the jauntier, sparkling guitar work from the first movement.
And so the set goes on in this vein; superb individual guitar licks, crashing drum beats, duels between the guitarists and soaring vocals bringing the whole together. If you haven't bought the album, you should, and don't delay seeing this band live, either.

Set List: Glimmer, And Go, Back in NYC, Broken, Breathe Shallow, Old Hands, Roundabout and Towers of London


Review and photos by Bob Singleton
You can use the direction keys on your keyboard to navigate easily through the photo gallery
---