CORALSPIN - Honey And Lava Altrospire (2012)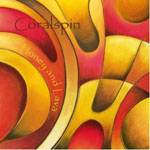 There's plenty of lava, but not so much honey in evidence on this debut release from female fronted melodic proggers Coralspin.
The album is heavily keyboard/guitar dominated with both vocalist Ellie Blyth and main man Blake McQueen playing keyboards. Guitar virtuso Jake Simmons completes the core line up, with bass and drums on the album being supplied by Steve Knightly and David English.
Together, they ably combine elements of modern bands like Muse with those of prog forefathers Genesis and Yes, but while the aim is to use the vocal prowess of classicality trained opera singer Ellie (who graduated as a voice major soloist alongside Opera Babe Karen England) as a centrepiece, it's on this level that Honey And Lava falls well short of the mark.
Ellie's vocals sound as if they've been recorded in a padded cell. She flutters her wings and attempts to fly, but she's never allowed to soar in the way the material demands. What's called for is some symphonic rock vocals, without the symphony, but they never come even close.
One suspects this may be a shortcoming of what is very evidently a 'home made' recording. It was recorded in Blake's self made soundproofed studio and recorded on computers he built and, whatever the reason, the result is a flat production, and an album that, while it's clearly been lovingly stitched together, fails to sonically grab the listener.
The nub of the matter is that Honey And Lava sounds far more like a demo than the finished article. There's pots of potential in evidence - in the concept, the material and playing but, for now, file under 'work in progress'.
**½
Review by Pete Whalley
---
| | |
| --- | --- |
| | Print this page in printer-friendly format |
| | |