Just witnessed your best live gig?.. send us a review!
BIG COUNTRY
Shepherds Bush Empire, London 11 February 2012
Photos by Noel Buckley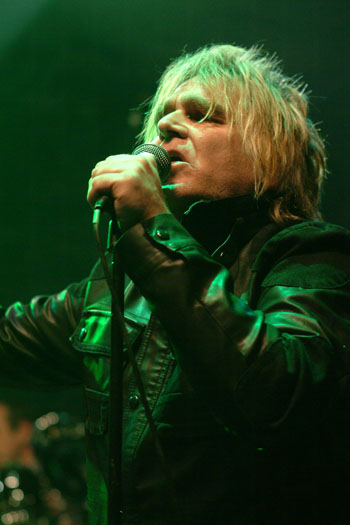 The last time I saw Gun was back in the Wheatsheaf in Stoke in the late 80's just as they were starting out. They called in a day in the late 90's only to resurface again in 2008 with Toby Jepson (Little Angels) on vocals.
Jepson left over a year ago and up stepped original bass player Dante Gizzi to the mic stand and he seems to revel in the frontman role, bar the odd bit of Bryan Ferry/dad dancing and a bizarre series of press-ups towards the end of their set.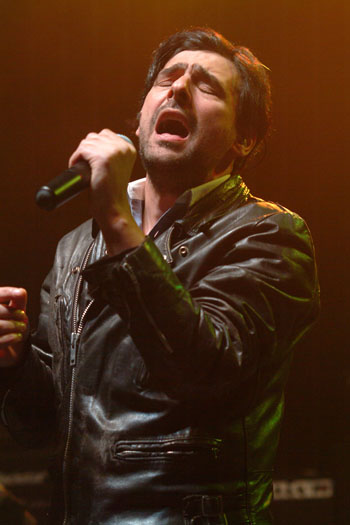 It is a hit friendly set with 'Better Days', the Cameo cover 'Word Up' (the biggest audience reception of the night) and closing with 'Steal Your Fire'.
A couple of new songs with 'Last Train' sounding particularly strong after just one listen. Based on this show and the brief peak of new songs Gun look set for another shot in the limelight.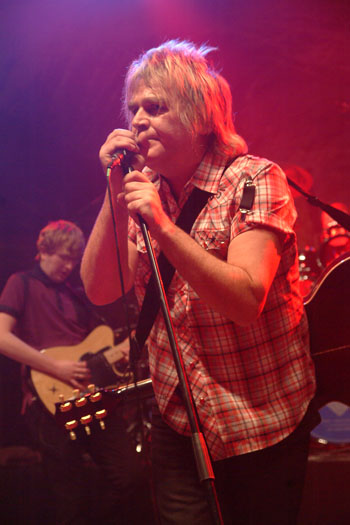 Big Country are like a band reborn and this gig tonight marked a transition for the band as they played all of their classic debut album 'The Crossing', plus with a new song 'Another Country', showing they are ready to move onto the next chapter of the band.
A real fans' setlist as the show started with some lesser played songs like 'Balcony' (which features on the recent double CD re-issue of 'The Crossing' album) plus the new song 'Another Country', which has the classic stirring Big Country vibe and a touch of the Mike Peters influence with its big, anthem chorus.
When the band start playing the album proper the audience goes wild, a veritable middle aged mosh pit for 'In A Big Country' and 'Fields Of Fire'.
For the moving 'Chance' again Mike Peters starts at the back of the audience to make his way slowly to the stage again. Peters along with Bruce Watsons' son, Jamie have added a spark into the band and it all bodes well for new songs from the band.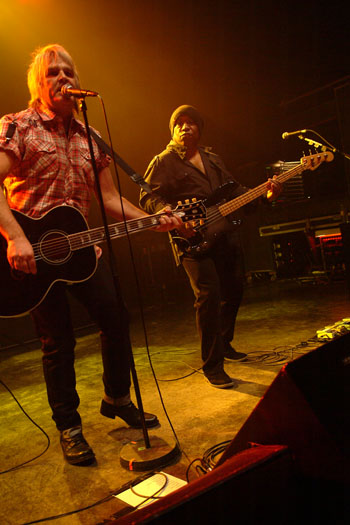 Encore time saw the band do a semi-acoustic version of the classic 'Tracks Of My Tears', one of Stuart Adamson's favourite songs.
'Look Away' and 'Wonderland' rounded off their set with the band visibly moved by the crowd's reaction to the gig. Excellent sound as well, maybe helped by the fact the show was being recorded for a future DVD release.
A real sense of a band moving on tonight, as they successfully paid tribute to the man who helped get them where they are today in Stuart Adamson and with a new song showed they still have good music in them. A cracking double bill and I for one can't wait to hear what musical routes Big Country will take in the future.
Andy Nathan adds: Gun's set was a reminder that they wrote some cracking songs in the 1990's and the new line up appear to have kept that knack. The sound also has more depth with two guitarists rather than one. It was frustrating that they had to be condensed into a 30 minute set and I look forward to some more live action in 2012.

I really enjoyed both Big Country shows I went to last year, but, helped by the excellent sound Jason mentions, the new line up has taken a huge step forward this time. Mike Peters seems more natural singing the songs, and has brought his heart on the sleeve passion to the group, but also a real sense of humility to the impossible job of filling the late Stuart Adamson's shoes.

I was also particularly impressed by the way Bruce Watson, who used to be in Stuart's shadows somewhat when I saw the original line-up in the 1990's, has stepped forward and I thought his lead guitar solos were brilliant throughout while Mark Brezicki's drum kit was absolutely huge and really added to the power of the sound.

As Jason says this was not just a reminder of Big Country's legacy but a declaration that exciting new times might lie ahead.


Review by Jason Ritchie
Photos by Noel Buckley
You can use the direction keys on your keyboard to navigate easily through the photo gallery
---