ACID EMPIRE Acid Empire (2011)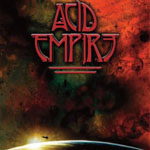 Acid Empire is a project founded in the UK by contemporary composer Mike Bridge and apparently is aimed as 'an expression of originality in song form, compositional style, instrumentation and lyrical content, trying to come up with something completely unique'.
Well, I don't know about that - much of the album sounds, to these ears anyway, largely derivative - but that's not to knock it. To come up with something truly original these days takes some doing, and Acid Empire at least have had a go - and deserve a few plaudits for doing so.
Two years in the making, the album is firmly based in the prog-metal genre with the emphasis on the metal - but throws up many surprises throughout its eleven tracks with acoustic and even classical interludes dispersed among the heavy riffing - to great effect.
The use of twin vocalists (male and female) works well, and the songs are well constructed and played, plus, mention must be made of the stellar playing of guitarist David Stanton who switches the music's emphasis from heavy rock to quiet contemplation and back again in the blink of an eye. And, just as a bonus, there's a track (Into The Void) featuring the vocal talents of one of prog's great singers, Damian Wilson (Landmarq, Headspace, Threshold).
If you like your progressive metal served with generous portions of quiet contemplation, as opposed to full-on face-ripping assault, this could well be the album to get your juices flowing. Thoroughly enjoyable, it will be interesting to see where they take it next.
****
Review by Alan Jones
Alan sequences "The Eclectic Mix" on the third Sunday of every month on Get Ready to ROCK! Radio, and usually manages to include some prog.
---
| | |
| --- | --- |
| | Print this page in printer-friendly format |
| | |