Just witnessed your best live gig?.. send us a review!
HAMMERFEST IV, Prestatyn, North Wales
16-17 March 2012
Hammerfest has always been a festival that has intrigued me. The thought of the metal masses invading Pontins for a weekend of fun and frolics sounded like a grand plan, but being a fair hike from Central Scotland I had never ventured forth. So it was decided that I would combine the festival with a family weekend away and, accommodation hastily arranged, we headed in convoy down the M6 on the Friday morning.
The intention was to get to Prestatyn in time to catch Irish rockers Trucker Diablo in the early afternoon, but traffic meant that we arrived at the site just as the guys were due to be striking their last chords which was a shame, hopefully I will catch up with them later in the year as their album 'The Devil Rhythm'is a cracker.
Day 2: Friday March 16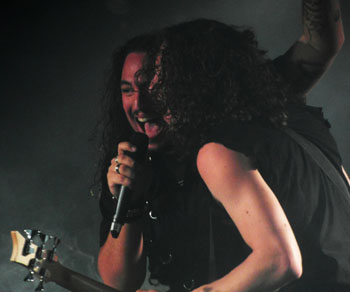 So once we were signed in and with wristbands in place we headed for the second stage and Italian thrash metallers Arthemis. The band had drawn a good crowd who were rewarded with a fantastic set.
Playing a mix of thrash and power metal the guys put on a powerful display. Frontman Fabio Dessi was in his element and played the crowd like a pro, well like Paul Stanley to be exact, and his enthusiasm was infectious.
Set highlights included opener 'Scars On Scars', a cover of Deep Purple's 'Burn' and a new song written in honour of their Hammerfest appearance entitled 'Metal Hammer', no sucking up there then ! This was a great performance, definitely a band to catch again in the future.

Following Arthemis we hot footed it around to catch Nottingham rockers Spirytus who play a blend of bass heavy funk rock, sounding like a mix of Korn and early Faith No More.
They put in a decent shift but weren't my cup of tea, so after a few numbers we headed off to regroup with the rest of the family and get booked in to our cheap and cheerful caravan, a top tip if you find the on site accommodation a bit pricey, there are plenty of cheap caravans available close by if you do a bit of web surfing.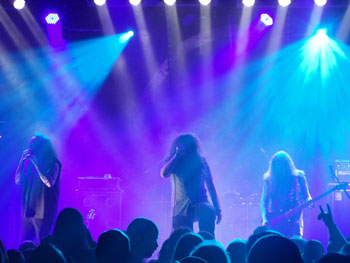 After settling in it was back for more metal. First up we had Irish Celtic heavyweights Waylander who were highly entertaining. They infuse death metal with celtic touches and are the only rock band I have encountered with a guy playing lead tin whistle.
The crowd was fairly sparse at the start, but grew as the set progressed and by the last number Waylander had proved themselves worthy of their main stage slot.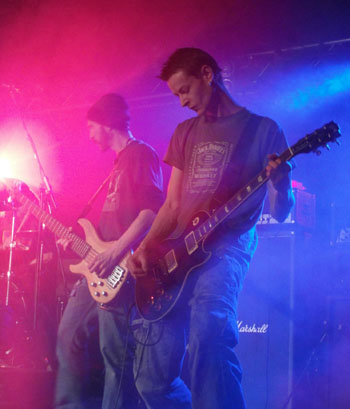 Next up were Slam Cartel who are gaining a lot of airplay with their current single 'Wishing Eye'. Playing on the second stage just before Chimaira hit the main stage probably wasn't the best of slots, but the guys put on a good show for those that ventured away from the main stage.
Highlight of the set was the aforementioned single, but the band proved to be more than a one trick pony putting in a strong set, but as stated they did suffer from the fact they clashed with Chimaira and that is where we headed next.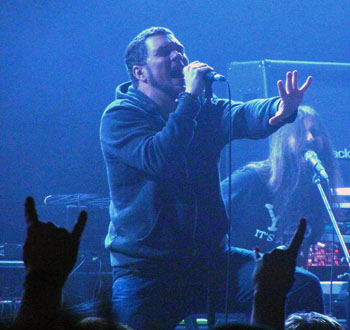 Chimaira attracted arguably the biggest crowd of the weekend, the hall was rammed by the time the band hit the stage and launched into 'Nothing Remains'.
Their hardcore metal went down an absolute storm with the crowd bouncing along throughout the set. There were highlights aplenty including 'Power Trip', 'The Flame'and set closer 'Resurrection' which rounded off a masterful display.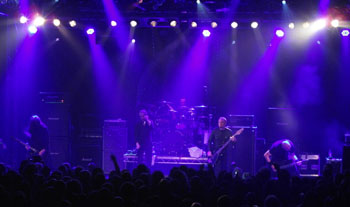 Zoom (Click large image to cancel)
It would be a brave band that followed Chimaira and that dubious honour fell to doom merchants Paradise Lost. By the time PL hit the stage we had managed to sneak into the VIP seating area as having been up from 6am we were starting to flag, unfortunately Paradise Lost almost sent me to the land of nod.
It's not that they are a bad band, just that they are a bit, well, boring after a while and sandwiched between Chimaria and Anthrax this became painfully obvious. They went down well though so maybe I am in the minority, each to their own.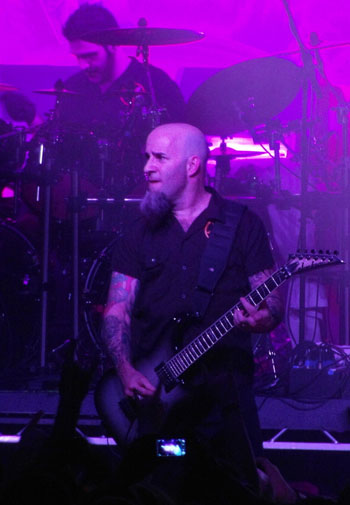 The band I was here to see though were the mighty Anthrax and they didn't disappoint. From the opening bars of 'Hell On Earth' to the closing strains of 'I Am The Law', this was a fantastic set.
Scott Ian was in great form, stomping around the stage pulling faces all the while and Joey Belladonna was in fine voice. The set consisted of both classic oldies including 'Indians', 'Madhouse' and 'Death Rider' coupled with tracks from their latest excellent album 'Worship Music'.

Zoom (Click large image to cancel)

The whole band put in an energetic shift, especially Frankie Bello who still looks the same as he did back in 1986! After the 'thrax set though, the early start really did kick in so we headed for the exit to rest and recuperate for Saturday's onslaught.

Day 3: Saturday 17 March

After a day spent sightseeing in nearby Conwy, my wife and I headed back to Stalag 13, sorry Pontins, for another evening of metal madness.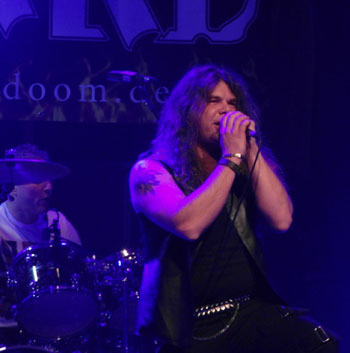 Just hitting the stage on arrival were German power metal outfit Wizard. The band's set was marred with a few technical problems, but they still managed to produce the goods, even if the guitarist had to sit down for a couple of numbers until his guitar issues got sorted out. Another good start to the night though.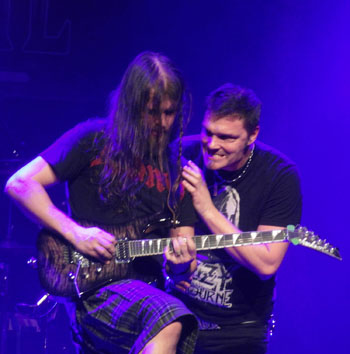 More power metal followed supplied by Swedish crew Dream Evil who played a blinder. DE provided a consummate display sounding not unlike a heavy version of The Scorpions in part.
Opening with 'Immortal' the crowd lapped up their brand of metal. Vocalist Niklas Isfeldt had a good rapport throughout including declaring at one point that the band are renowned for their stupid lyrics just before playing 'Fire! Battle! In Metal!', I couldn't argue with that.
The band even managed to get a few lighters in the air during 'The Chosen One' and by the time we reached the final number of the hour long set, 'The Book Of Heavy Metal', the crowd were singing along enthusiastically, bad lyrics or not.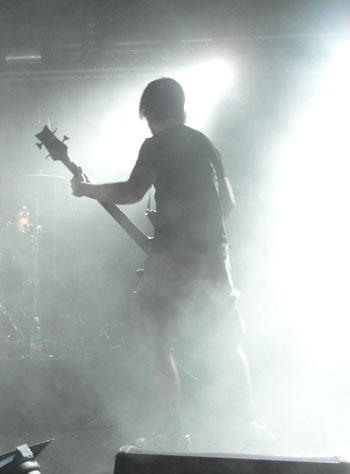 A quick jaunt to the second stage after this saw us catching a couple of numbers by Snakebite. They play a decent hardcore metal and were going down well with the small crowd. We though had a date in Valhalla, ok back at the main stage, with the mighty Amon Amarth.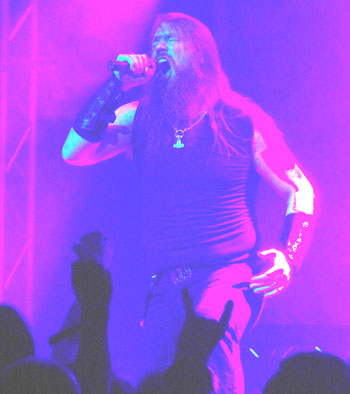 As the intro tape died and the guys launched into 'War Of The Gods' you could tell it was going to be a classic show.
This was my first live encounter with Amon Amarth and it certainly won't be the last. Johan Hegg stalked the stage like a rampaging viking warrior with a soundtrack to lay waste to all in his path. 'Destroyer Of The Universe', 'Death In Fire' and 'Twilight Of The Thunder God' make looting and pillaging seem tame in comparison. Rounding off with the saga of the 'Guardians Of Asgaard', Amon Amarth put in, what was for me, the set of the weekend which I didn't think I would be saying after witnessing Anthrax on the Friday. By Odin's beard, they were good!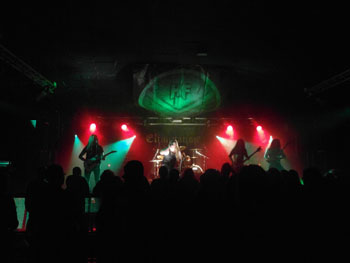 With time marching on once more we once again ventured back to the second stage and caught Elimination mid set. Thrash is the name of the game here and they were ok but nothing special so with Skindred due start their headline set we trailed back once more.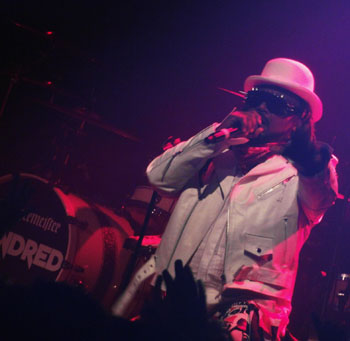 With the crowd suitably warmed up after Amon Amarth, anticipation was high as Skindred's 'Empire' intro tape rolled and as Benji and co kicked into 'Ratrace' the masses bounced for all they were worth, all except me that is.
I have listened to Skindred on several occasions, but they do nothing for me. They do put on an energetic show and Benji is an enigmatic frontman, but their reggae/metal crossover does nothing for me, I was most definitely in the minority though, so after a few numbers we headed for the exit whilst Amon Amarth was still fresh in the mind.

Hammerfest is a great event as I hoped it would be and was well worth the journey down. It proved to be a well organised affair with friendly and helpful staff throughout.
As I say, if you miss out on the on site accommodation or find it too pricey, then the local caravan parks make a good alternative, especially if - like us - you have under 18's in your party. As long weekends go, North Wales in March was a bit of a cracker, hell, even the sun shone.

Review and photos by David Wilson
---