Just witnessed your best live gig?.. send us a review!
GUILFEST 2012
Stoke Park, Guildford, Surrey
13-15 July 2012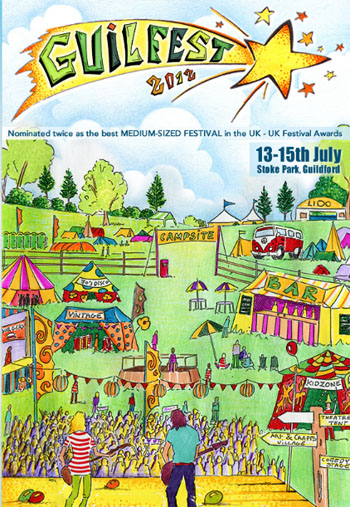 From it's early inception as the one day Guildford Folk & Blues Festival twenty one years ago, Guilfest, as it is now known, has grown into quite a major three day music festival. Glastonbury it may not be, in terms of size anyway, but in terms of variety of music and other entertainment, it's close to being a smaller version of the west-country event.
A large children's area with a raft of activities looked after the needs of the smallest, whilst a beach volley ball area provided amusement and a place to show off for some of the local teenage lads. As with any festival, there were stalls a plenty selling everything from much needed wellies and plastic sheets (as well as, optimistically, sunglasses) to food from every corner of the world.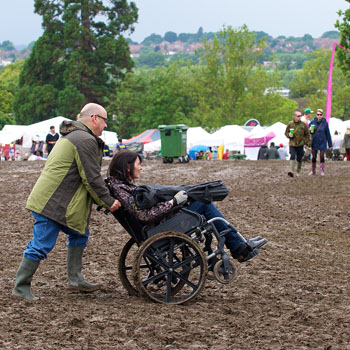 Some complain that Guilfest isn't as "rocky" as in the past, but with it's roots in Folk and Blues, the rock element of the festival was never more than a reflection of what could be sold to any given audience at any given time.
That nowadays the event encompasses pop acts aimed more at the pre-pubescent teenager is merely an economic necessity that allows the festival to continue. I have no problem with that, even if others do. I'd rather a Guilfest with a mix of music, some of which I may not care for, than no Guilfest at all.

As for this year, the variety of music and entertainment on offer was as varied as one could hope to find at a family festival. From current chart-toppers to their equivalents of yesteryear, via troubadours, comedians and novelty acts, up and coming bands and bands that well never "make it", Guilfest with its seven stages and a dance tent had something for everyone.
FRIDAY 13 JULY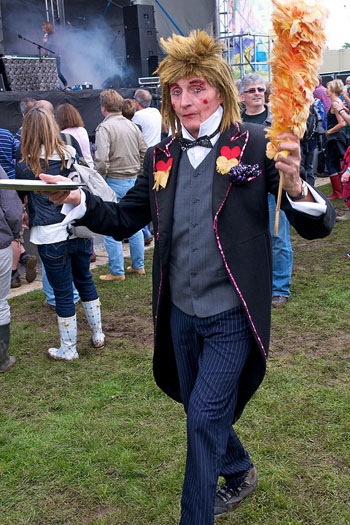 As early as Friday morning, even before most festival goers had arrived, the site was already turning into a muddy quagmire that would only get worse as more people and more rain arrived. Then again, it wouldn't be a proper festival without a bit of mud!
One thing that is true of almost every festival is that, unless you are a personal friend of the acts themselves, the first few sets on the lesser stages, are really not worth watching. There is rarely a gem to be discovered, and so it proved at Guilfest.

Having watched the first couple of acts on the Main and Good Time Guide stages, I wandered over to The Big Cheese Cave to see Electric River, a band I had seen at The Scala a few years ago as one of three supports to Die So Fluid. At the time I had found them mildly interesting and worthy of a second look should the chance occur. Two years on and not much seemed to have changed in terms of their abilities. Second act amongst twelve scheduled for the day is about their level and I can't see them ever rising much above that.
Later in the day I caught both Tomorrow is Ours (an alternative hardcore band who sounded just like all the other alternative hardcore bands I've seen) on the Vive Le Rock stage and Four Short of a Miracle (a rather shouty pseudo pop-punk band) in the Big Cheese Cave which further convinced me that there really was very little of worth to be seen on these stages until much later in the evening.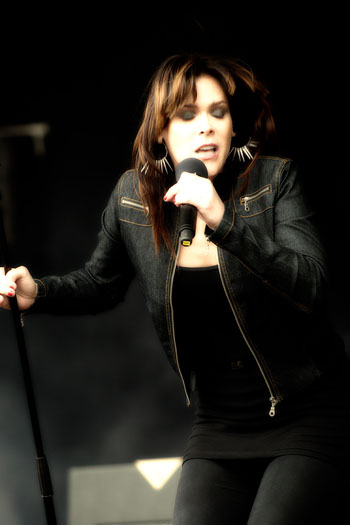 Even on the Main Stage, it really wasn't until Beth Hart went on at 5:15 that things properly started. Earlier local Guildford band Weyward Chile had offered us a pastiche on sleazy Southern rock, but they were more style than substance and the disparity in musicianship and stagecraft between them and Beth was as wide as the Atlantic that she had crossed to be here. Playing a mix of songs from her own albums along with some from her collaboration with Joe Bonamassa, Beth wowed a growing audience.
---
The festival has plenty of attractions away from the music including the Kids Zone, comedy zone, a vintage themed tent and cafe (I can highly recommend the lemon drizzle cake!) and the theatre tent. The latter is always a good place for a sit down and a breather whilst watching some entertaining shows from comedy sketches through to dance and quick plays. there seemed to be more stalls this year, although with Costa, Pizza Express and Gourmet Burger Kitchen all represented it seemed like a typical High Street at times. (Jason Ritchie)

---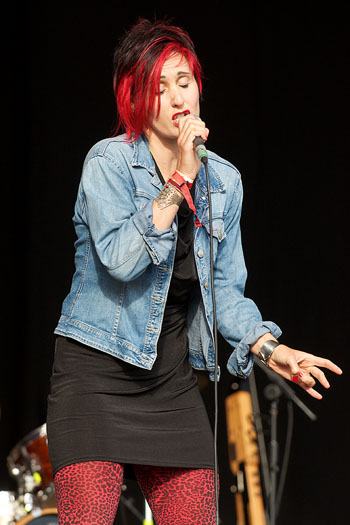 Following on from her on the main stage were The South featuring original Beautiful South members Dave Hemmingway, Alison Wheeler and Damon Butcher who proceeded to take us through the better bits of The Beautiful South back catalogue, including Song for Whoever, You Keep It All In, Don't Marry Her and Rotterdam. Maybe it's a Yorkshire thing, but given other artists had made an effort to dress up, it was disappointing to note that Dave Hemmingway had shuffled on stage looking more like a man out walking his dog who had somehow taken a wrong turn.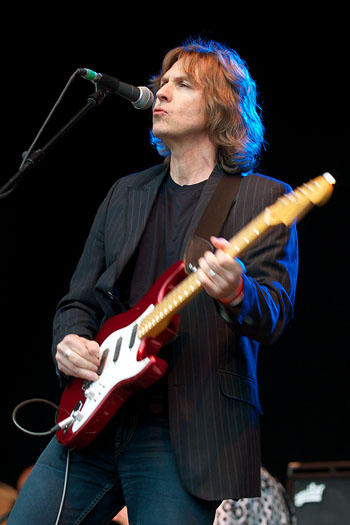 Continuing the theme of bands made up of members of former, bigger acts the penultimate act on the Main Stage on Friday were The Straits which comprised former Dire Straits members Alan Clark (keyboards) and Chris White (saxophone) playing all the best known of Mark Knopfler's songs... Tunnel of Love, Walk of Life, Money for Nothing, Romeo & Juliette and many others. It was a pleasant enough wander down memory lane and the sound was as close to the authentic original of the 80s as one could hope to expect without Mark Knopfler's own un ue guitar sound.

On The Good Time Guide stage, The Doors Alive had warmed up the audience there in readiness for Heaven 17 and headliners ABC while in the Big Cheese Cave Devil Sold His Soul, the Black Spiders and Kids in Glass Houses were raising the roof.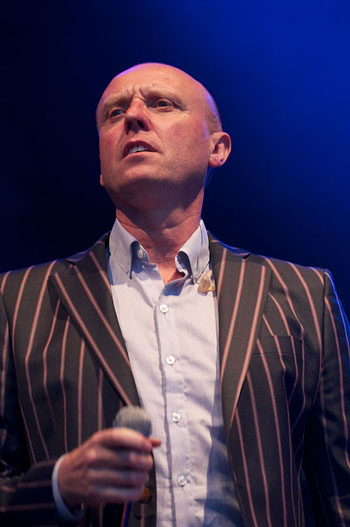 Jason Ritchie writes: Plenty of 80's bands on this weekend and I caught a little of Heaven 17's set. Looking more like accountants in casual mode nowadays, they drew a good sized crowd and a rousing 'Temptation' rounded off their set. My first foray into the Big Cheese tent was to see Black Spiders recommended by fellow GRTR! reviewer David Wilson.
They play no holds bar metal with a punk twist (bizarrely the band sprung out of a t-shirt making company!), which whilst nothing new is damn enjoyable live. Massive chugging riffs, plenty of OTT guitar solos and a drummer from hell - what's not to like?
They certainly work a crowd well including telling the audience to raise their middle finger and say 'F*** you Black Spiders', can't quite imagine many other bands doing this somehow... Do go and see them if you get the chance.
Bob Singleton continues:
Also raising the roof on the Vive Le Rock stage were The Skints and The Buzzcocks. Both these tents were full to overcrowding, partly because of the quality of the acts, but no doubt helped by the fact that the heavens had opened and the rain was lashing down. However, in spite of the weather, there was a large crowd braving the elements in front of the main stage where Jools Holland and his Rhythm & Blues Orchestra were bringing the first day to a close with a great mix of classic blues and R&B songs.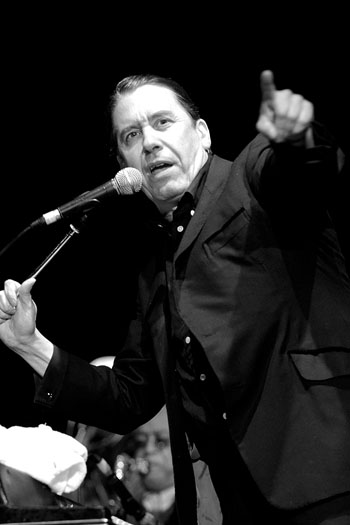 Jason Ritchie writes: By now the rain was in full swing and this drove a few people away, including me towards the end as the car park field was becoming dicey to get out off! Kicking off with some boogie woogie instrumentals, you can't help but enjoy a Jools Holland gig. The band are top draw as you'd expect and he had a couple of female vocalists come on to sing, including the song he recorded with George Harrison 'Horse To Water'. With the rain still falling my daughter and I bid farewell to Guilfest for the night.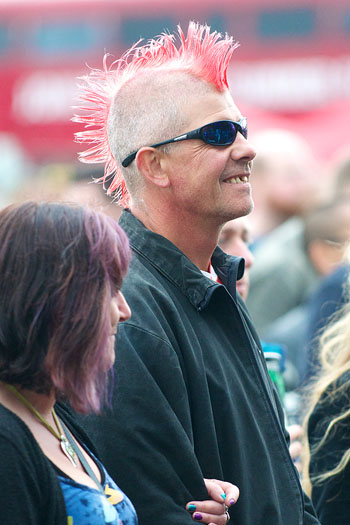 SATURDAY 14 JULY

Saturday was obviously a day aimed at attracting as many young people (along with their parents) as possible. The Main Stage line up was aimed squarely at the younger family audience... tribute acts that parents would like, parody acts the young would love, and current chart-toppers with strong links, in one way or another, to The X Factor.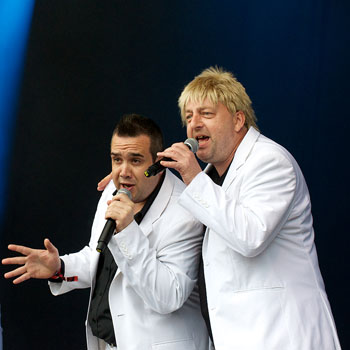 As with Friday, whilst music was being played on all the stages from about midday on, it wasn't until the late afternoon that things really started getting interesting. Mid afternoon had seen Bjorn Again (an ABBA tribute act that started in Australia but now seems to be a worldwide franchise operation) and Take Fat (a Take That parody featuring five fat blokes who happen to be able to sing... indeed sing rather better than some judges on certain TV talent shows!) but the proper music didn't really start until Republica took to the stage and played, amongst others, Ready to Go, Millennium and Drop Dead Gorgeous.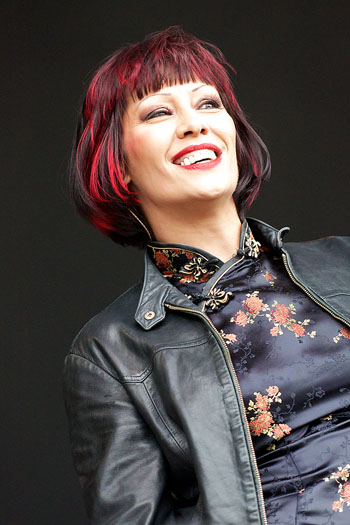 The Good Time Guide stage had earlier seen Simon Friend, Identity and Bastille play before an eagerly awaited set by Tim Minchin that combined all the humour and musicianship that could be expected of such a consummate performer.
Meanwhile on the Main Stage Cher Lloyd had gone down well with the younger audience gathering in readiness for the headline act, and to keep the parents happy Jimmy Cliff had put in a storming performance that had everyone jumping up and down, dancing and clapping and swaying in time to the calypso rhythms.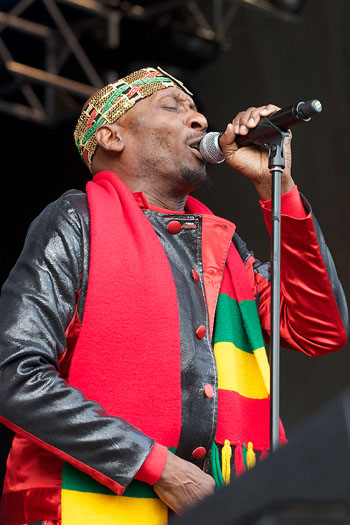 Then, as if the rain hadn't already dampened some spirits, came the news, only minutes before she was due on stage, that Tulissa was ill and had had to pull out. Those of us in the press tent knew full well that she had been partying in Ibiza the night before, and given none of her equipment had turned up, and the stage was completely empty (not even a banner at the back like all the other acts) it was clear to some of us that this was no last minute illness! One bottle too many, perchance?

From all accounts, in The Big Cheese Cave Feed The Rhino, Rolo Tomassi and Skindred had gone down well, whilst next door on the VLR stage The Glitter Band and The Beat had entertained everyone as only they could. Rumours are that The Glitter Band have been asked to come back next year. Nouvelle Vague put on a great show on the Good Time Guide stage shortly before Gary Numan woke up the whole of Surrey with a set that was as loud as it was sensational.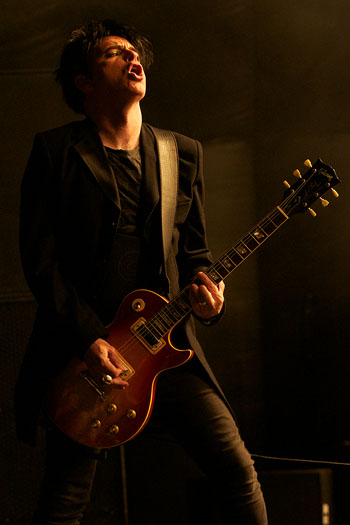 To make up for the disappointment of Tulissa cancelling, the crowd were treated to a second set from Take Fat. I'm not sure that silence wouldn't have been better. Still something or someone had to fill the void, so all credit to the lads for stepping into the breach.
The headline act on the Main Stage was Olly Murs who was greeted with screams so high that every dog for miles around must have been driven mad. I'll be honest and say I'm no great fan of The X Factor or any of the acts that have been spawned from the devil's own loins, but one thing that can't be held against Olly Murs is the energy he puts into his stage show. He never stopped dancing, running or bouncing around the stage, interacting with his fans, whilst singing. All you can ever ask of a live performance is that the artist puts there all into it and, for that, Mr Murs cannot be faulted.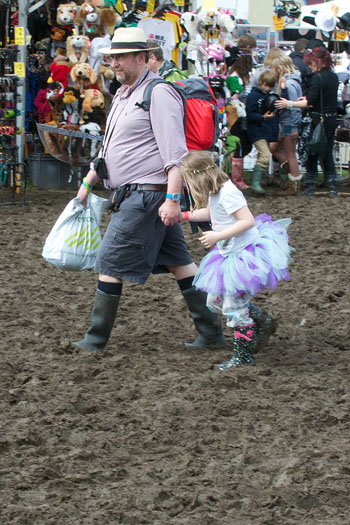 SUNDAY 15 JULY


Once Rock Choir and a glorified exercise class had been and gone, Sunday saw a lively enough start on the Main Stage thanks to Elvis & Friends a tribute to 50s rock 'n' roll that featured a Buddy Holly act who was rather good, as well as a passable Jerry Lee Lewis and others playing well known hits that had everyone dancing at lunchtime.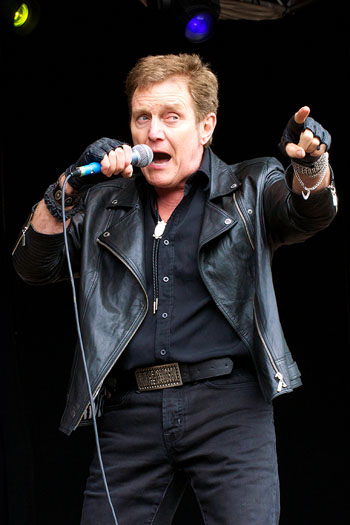 Continuing the rock 'n' roll theme, following them on stage was Alvin Stardust who was surprisingly more rock than cheese.
Jason Ritchie writes: Previous Guilfest act Alvin Stardust played a nice and heavy rock 'n' roll set kicking off with Queen's 'One Vision', swiftly followed by Tom Robinson's '2-4-6-8 Motorway'. Then we have one of his 70's hits 'Jealous Mind' before a whole host of rock 'n' roll standards including 'Shakin' All Over', 'Johnny B Goode' and Joan Jetts' 'I Love Rock 'N' Roll'. Alvin Stardust certainly knows how to work a crowd and is perfect for an afternoon slot.

Nipping over to the second stage to see singer/songwriter John Spillane. Not overly taken with his vocals and sadly he had a small crowd. Lyrically the songs were good but otherwise nothing really grabbed the attention.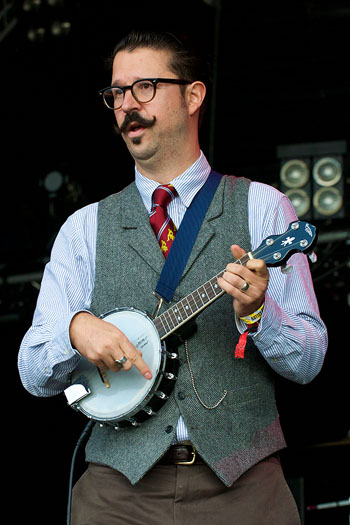 Still it was better than watching the new girl band Stooshe on the main stage. Nipping off site for some food fully intending to be back for the Wurzels I was a tad disappointed to have missed them as they took an earlier slot. But it did mean I got to see Mr B The Gentleman Rhymer who was an absolute delight and by the end of his set he had amassed a sizable following - a slot on the main stage surely beckons.
He is a posh chap who takes well known tunes and adapts them, plus adds in his own compositions which vary form songs on Tim Westwood and his poor use of English through to a tune about Surrey and cricket. He backs all these with his banjola playing and hearing songs by the Stone Roses, EMF and Run DMC done this way has to be heard to be believed. A very talented chap and perfect to see live plus he is a natural at getting the crowd going and having a good time.
Bob Singleton continues: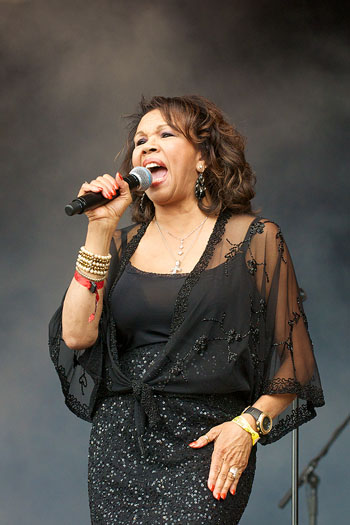 Elsewhere Hector's House and Black Iris were keeping their respective crowds happy before Candi Staton wowed the main stage audience. In spite of 60 years in the business, she still has a powerful voice and a superb back catalogue of songs on which to use it. Suspicious Minds, You Got The Love, Young Hearts and Stand By Your Man all made the set amongst others, and young and old couldn't help but be mesmerised by the lady.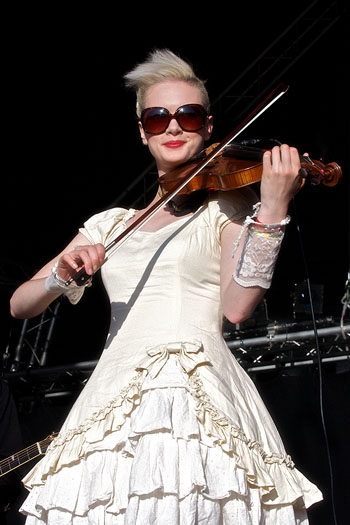 He was followed by Identity and then an acoustic set from two members of The Wonder Stuff, Miles Hunt and Erica Nockalls.
Jason Ritchie writes: The Wonder Stuff did a decent enough set, interspersed with 'Good Pub' guide approved recommendations of pubs and drinking by Miles Hunt. It would have been better maybe to have a the full band or at least a drummer as the set did start to sound samey quite quickly.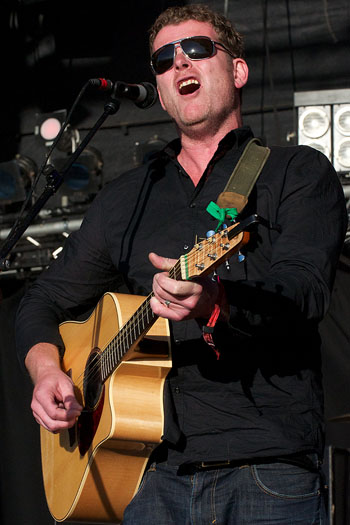 Another band around the same time were up next Dodgy. They had a hit album back in 1996 with 'Free Peace Suite' and have a new album 'Stand Upright In A Cool Place', which they played a couple of numbers off. It was great to hear 'Staying Out For The Summer' and 'Good Enough' - the three piece band provide blissful harmonies (they had a bass player join in for some songs when the singer took to acoustic guitar). Highly enjoyable set from these talented pop rockers.
Bob Singleton continues: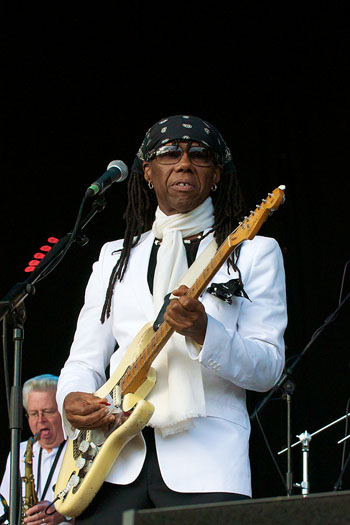 The penultimate act on the Main Stage was the incomparable Nile Rodgers and Chic. Singer-songwriter, guitarist, producer... the man had a huge repertoire on which to draw on for his set. All the major Chic hits made the set; Le Freak, I Want Your Love, Dance Dance Dance, Everybody Dance as well as songs he penned for others, including the Diana Ross hit Upside Down as well as Sister Sledge's We Are Family, for which they were joined by the younger members of the Street Vibes dance act.

My biggest regret of the whole 3 days was that all starting at 9.00pm were Bryan Ferry on the main stage, Ash on the Good Time Stage, Young Guns in The Big Cheese Cave and The Undertones on the VLR stage... it's as if someone thought, if they like this they won't want to see the others.
Luckily Bryan Ferry allowed we photographers to cover his whole set instead of the usual "3 songs no flash" rule, so I was at least able to see some of Ash's set before returning for the last few numbers of Bryan Ferry's set, which included all the favourites; The 'In' Crowd, Avalon, Jealous Guy, Let's Get Together, Dance Away, Tokyo Joe, Slave to Love and Love Is The Drug.

Overall this was a good Guilfest. Highlights for me included Beth Hart, Jools Holland, Jimmy Cliff, Nile Rodgers & Chic and Bryan Ferry on the main stage and Mr B, Tim Minchin, Nouvelle Vague, Gary Numan and Ash on the Good Time Guide stage.
Downsides, other than the rain and mud, were too many acts on the other stages clashing with each other which meant I wasn't able to see The Buzzcocks and The Undertones amongst others. Much as it pains me to say, even I can't be in five places at once. Roll on next year!
Jason Ritchie writes: Another enjoyable Guilfest - even the first time with mud couldn't take the shine of it. You do look at the line-up and think what real mish mash but it works. Each year I (and I am sure many others do as well) make a few new musical discoveries plus enjoy seeing bands I wouldn't necessarily go out of my way to see on their won but in a festival environment they fit perfectly.
Guilfest wins awards and rightly so...next year lets have Mr B on the main stage, Wig Wam (their glam metal would go down a storm I am sure), Beth Hart back, Status Quo (with Lancaster and Coughlin) and Ginger and/or the Wildhearts.

Review by Bob Singleton
Additional reporting: Jason Ritchie
Photos by Bob Singleton
You can use the direction keys on your keyboard to navigate easily through the photo gallery
---