Just witnessed your best live gig?.. send us a review!
GREAT BRITISH ALTERNATIVE MUSIC FESTIVAL
Butlins, Minehead 27-29 April 2012
Photo Gallery

(You can navigate easily from one photo to another using the direction keys on your keyboard)
Review and photos by Noel Buckley
Day 1: Friday 27 April
After attending the Rock & Blues festival in Butlins Skegness for the past three years, I jumped at the opportunity of heading west to Minehead in Somerset, for The Great British Alternative Music Festival.

On arrival I had the pleasure of bumping into Hazel O'Connor at check in, like us she had driven from Essex, where she was gigging the night before.
Our main topic of conversation was the driving conditions on the way down. Shall we just say we encountered a drop of rain. Rain or no rain, Miss O'Connor would end up being one of the highlights of the weekend.

After locating our 5 star accommodation (Pontins please take note) I was off to The Yacht Club for a top class meal, with a bottle of wine to liven us up, it was time to wander over to Centre Stage for the start of the weekends entertainment.

Like Skegness, Minehead has two main stages, Centre stage and Reds, both with excellent sound and lighting plus unobstructed views from any point.
These two venues would handle the night-time shows, whilst the vast Skyline Pavilion would look after the daytime shows.
Throw in Jaks bar for very late night drinkies, Butlins has everything one could need for a long hard weekend. One great thing about this festival was there was a 30 min gap between stages; this gave you a great chance to see all the bands.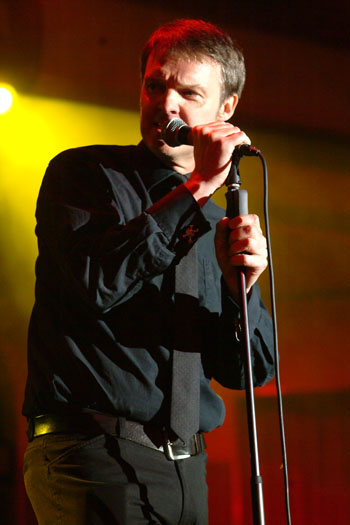 The dubious task of opening the festival fell to Department S, the band had there work cut out, to me the crowd seemed tired from the horrendous journey to Minehead.
A rousing rendition of their 1979 single, a cover of Alvin Stardust's, My Coo-Ca-Choo breathed life into the crowd…….and yes Vic is there…
A quick dash over to Reds, with bands like Anti Nowhere League, UK Subs and Sham 69, all strutting there stuff, tonight was Punk night.

---
Surely seeing the UK godfather of Punk, Charlie Harper, growing old disgracefully is what the Punk ethos is all about.

---
At this juncture, I must point out I got married in 1976, and by the time Punk was exploding I was busy making babies…so I must admit my knowledge of Punk is very limited. However speaking to Punks throughout the weekend, Punk is alive and kicking with a thriving community, which is all good. Surely seeing the UK godfather of Punk, Charlie Harper, growing old disgracefully is what the Punk ethos is all about.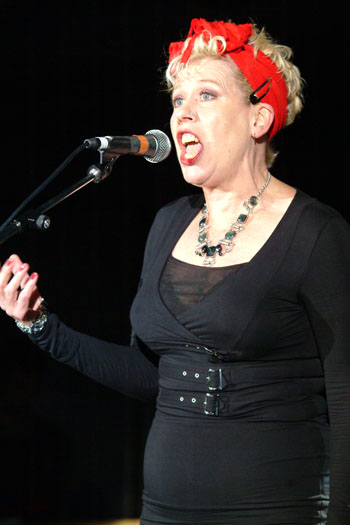 Two of the highlights of the weekend up next on centre stage Hazel O'Connor and Ex Simple Minds. There is no doubt it Hazel is a star, who deserves to perform on bigger stages, her persona lifted everyone. All the hits, like 'Eight Day', 'D-Days' and the classic 'Will You' were aired, but to me her version of Snow Patrols 'Chasing Cars' was simply sublime. If you get a chance, catch her live, you will not be disappointed.

A few of the bands this weekend consisted of original members, but not the original singer, and in all cases the new vocalist had massive shoes to step into.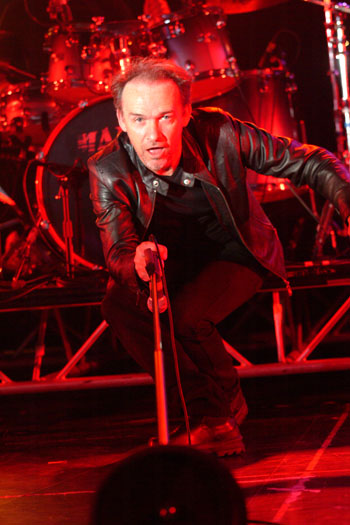 Derek Forbes on bass and drummer Brian McGee formed the rhythm, and driving force behind stadium rockers Simple Minds. These days they can be seen fronting Ex Simple Minds (XSM) Jim Kerr's boots are filled by McGee's brother Owen. Owen is perhaps best known for his 1986 hit 'My Favourite Waste Of Time'. With bands like this you forget just how many hits they had. A great performance to finish of a excellent night. A real class act.
Day 2: Saturday 28 April
There's something about sea air, but last night was one of the best nights sleep I have had in years…or was it the ale?

First task of the day is breakfast…and what a breakfast, you name it they had it. A breakfast to die for and I'm sure if I was here long enough it would take its toil.

A stroll into town is followed by my first visit of the weekend to Hotshots, Butlins sports bar, to watch in vain my beloved West Ham failing in a gallant attempt to reach the Premier League without the added stress of the play-offs. Alas Southampton scuttled any hope of that.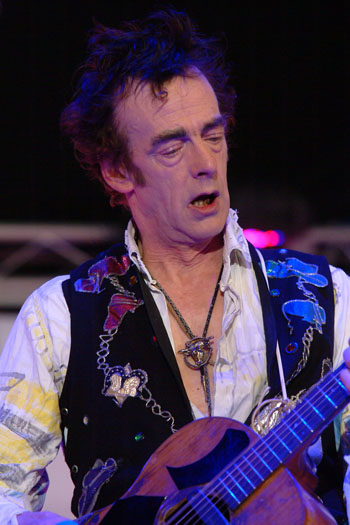 With tail firmly between my legs and carrying a heavy heart it was time for Ed Tudor Pole, the first act to appear in The Skyline. His punky, country style lifted my spirits, and stopped any thoughts I had of Throwing My Baby Out With The Bathwater. A perfect afternoon spot for Mr Pole…Wunderbar.

Fatigue from last nights excess's was beginning to take its revenge, and wanting to be in a fit condition for the night, I nipped back to our apartment for a couple of hours kip. The down side of this is I missed Steve Cradock, an act I was looking forward to seeing.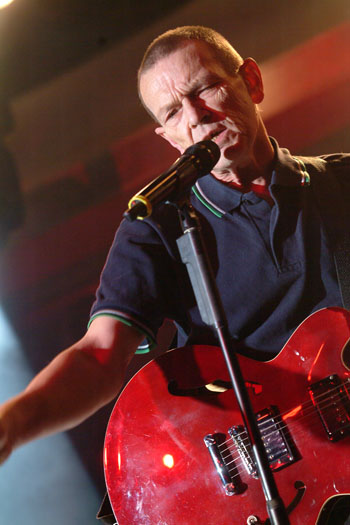 An excellent set from The Lambrettas opened tonight's procedures.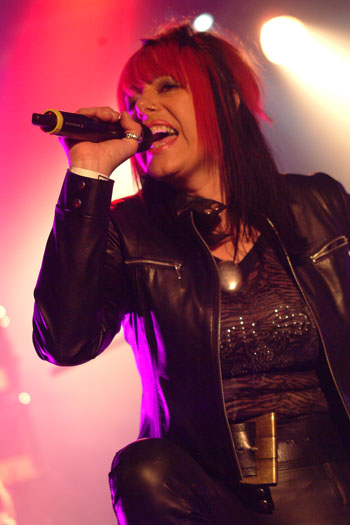 Always at a festival you come across someone you haven't heard of, and that somebody blows you away...Annie Marie Hurst fitted this category perfectly. Putting me in mind of Sioxsie Sioux, she was originally the vocalist with Skeletal Family, before co-founding Ghost Dance with Sisters Of Mercy man, Gary Marx.
Promoting her new album 'Day of all Days' Hurst delivered a blistering set. With live dates to follow in June, July and August, another act worth catching if you can.

It had to happen sooner or later, the dreaded clash. Who to watch? The plan was to see half an hour of The Beat on centre stage, and then nip next door to Reds for The Dammed.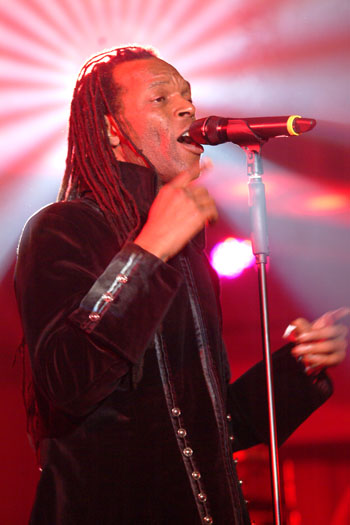 Well...please excuse the pun but The Beat was so Damned good, I stayed and watched the whole show. Still with originals Ranking Roger and drummer Everett Morton, The Beat played a greatest hits show.
With hits like 'Mirror in the Bathroom', 'Tears of a Clown' and 'Can't Get Used to Losing You' to name just three, they certainly have a back catalogue to plunder.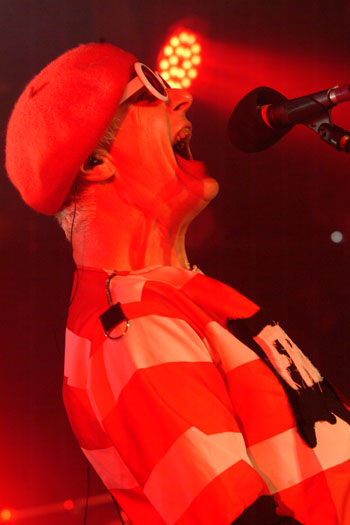 Unfortunately, I only caught a couple of songs from The Damned, but from what I did see the band looked awesome. Plus always good to see Dave Vanian and Captain Sensible on stage together.
---
I have to say of all the gigs I've seen over the years dating back to around 1972, this is right up there with the best I have ever witnessed.

---
At least 5,000 people must have jammed themselves into centre stage for the next act...From The Jam, featuring Bruce Foxton, Mark Brzezicki - of Big Country fame on drums - plus Russell Hastings who has the dubious task of following in the footsteps of Paul Weller.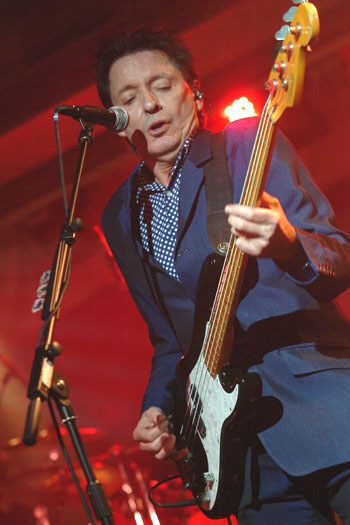 Dare I say, and without being controversial, but is Hastings better? Maybe only a Jam purist could answer that question.
But on the evidence of tonight, the crowd have certainly taking him to their hearts. There isn't enough superlatives to explain just how good this band was tonight.
Foxton's bass lines were earth moving, and in fact this is exactly what they did. Throughout the whole show, the floor literally moved.
I think we all know The Jam's hits, all were present tonight. I have to say of all the gigs I've seen over the years dating back to around 1972, this is right up there with the best I have ever witnessed. As a wag commented on the way out 'That's Entertainment!'
Day 3: Sunday 29 April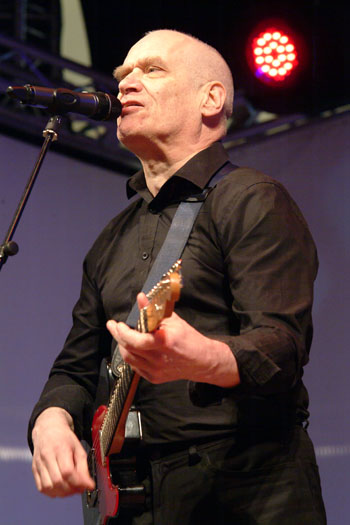 Waking up once again to the sound of rain and a driving wind coming in of The Bristol Channel, pleased to say this didn't deter me from a five mile run on the beaches of Bridgewater Bay, followed by a breakfast of fruit and lashings of tea…rock 'n' roll!

Spent half a hour watching Chelsea annihilate QPR, before going into the Skyline pavilion for a afternoon in the company of Wilko Johnson and Secret Affair.

The ex Dr Feelgood man was in cracking form, riding on a currant wave of popularity, due to recent high profile appearances in the film 'Oil City Confidential' plus a spot on The Jools Holland show, not to mention his autobiography 'Looking Back at Me' to be released on the 30th May.
Newer songs sat comfortably with some Feelgood classics, such as 'Back in The Night' 'Sneaking Suspicion' and 'Don't let your daddy know'. With the excellent Norman Watt-Roy on bass, this was a cracking way to spend a afternoon.
Glory Boys up next in the shape of Secret Affair. One of the leading lights in the mod revival of the late 70s-early 80s.The band still boast Ian Page and Dave Cairns from those Glory days. A full brass and horn section give the band a unique full sound. Good to see the bands new signing...ex Leafhound bass player Ed Pearson. Highlight for me was the band's first hit 'Time for Action' plus a great version of 'Judy in Disguise'.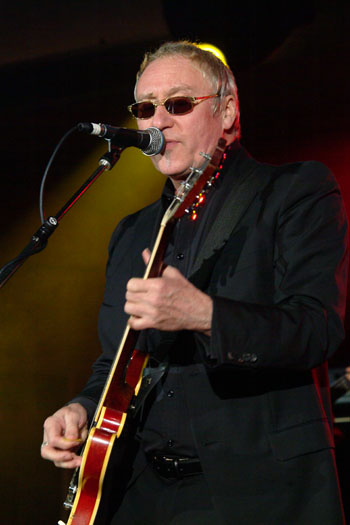 Unfortunately I only caught glimpes of the three bands on centre stage tonight. I was however reliably informed that 'The Vibrators', 'Nine Below Zero' and 'Dr Feelgood' all performed to their usual high standards.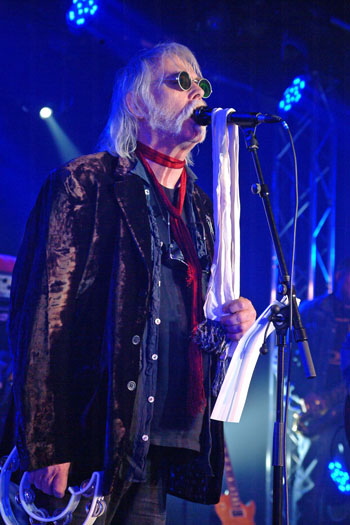 All my action tonight would focus on Reds. First up was The Blockheads who despite some sound problems were top class. There is something reassuringly eccentric and very English about The Blockheads, this can also be said about John Otway, who was to follow. Filling Ian Dury's boots is his friend and ex minder, Derek Hussey (aka Derek The Draw). Like Dury, Hussey is a larger than life character. With so many great sing-a-long tracks, The Blockheads are a perfect festival band.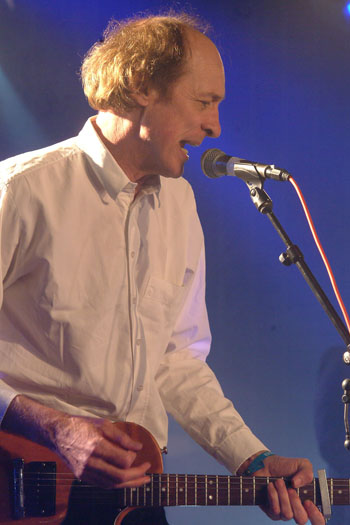 What can one say about John Otway, tonight the two hit wonder was backed by his full band. It must be at least 30 years ago, that rock & roll's greatest failure leapt to stardom-literally on the 'The Old Grey Whistle Test'.
This spawned his first hit 'Cor Baby Thats Really Free'. 10 years ago, to celebrate his 50th birthday, hit No 2 came along 'Bunsen Burner'.
The silver screen is John's target for his 60th later this year. Never to do things on a small scale 'Otway The Movie' will premier at London's Leicester Square Odeon. Like the Blockheads, John Otway is a perfect festival act, delivering just what the tin says.

It was now well past midnight and one more band to go. Popping out for a fag break it was pouring down, even Butlins were advising anyone thinking of going home tonight not to.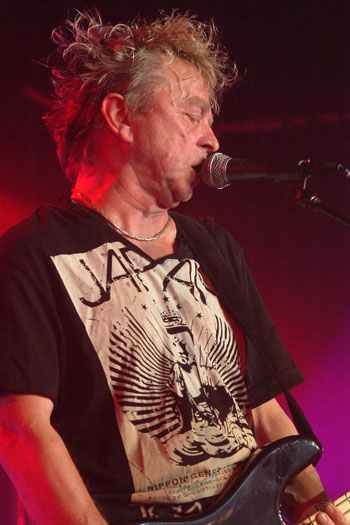 So the pleasure of closing the festival fell to the Boomtown Rats These days fronted by ex 'Hello' man Bob Bradbury, originals Garry Roberts on guitar and Simon Crowe on drums plus young newcomer Darren Beale on guitar.
As with other bands over the weekend all the hits were played. The Rats of 2012 are much heavier than the band I remember, and all the better for it.
It was now about 2 in the morning and only one song to go...in fact with the weather there could be only one song 'I Don't like Mondays'. A perfect finish to a perfect weekend.

Overall a first class weekend. Excellent apartment, excellent food, top class bands, and I have to say this was one of the friendliest festivals I have ever attended; Rock fans, punks, and mods all happily mingling together. 'Til next year...


Review and photos by Noel Buckley
---