STONEY CURTIS BAND Cosmic Connection Provogue PRD 7232 2 (2011)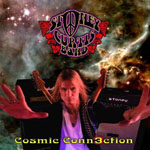 It's nearly six years since rock blues guitarist Stoney Curtis recorded the ground breaking album 'Acid Blues Experience'. Not since Hendrix's hey day and the refracted big toned efforts of Robin Trower had a guitarist captured the essence of psychedelic rock blues so thrillingly. The album excitingly lived up to its title and delivered bone crunching riffs, deeply honed guitar tones and drifting psychedelic rock played with a level of intensity that probably frazzled the studio speakers.
The following 'Raw and Real' was the difficult second album and in truth consolidated rather than enhanced his reputation. A few years on, and with a new rhythm section and a gradual change of image from basket ball kid to long hair stoner, Stoney Curtis has done it again, and recorded a killer album in the Acid Rock/Blues genre.
'Cosmic Connection' is that rare thing, a studio album full of pulverising psychedelic tinged rock blues The twelve tracks rarely waste a note as Stoney rocks out with a deeply ingrained intensity and makes his guitar talk through a mixture of wah wah inflected, whammy bar mangled notes that rarely lose sight of feel and personal expression.
But where the first two albums combined musical adventure with raw passion and an authentic early 70's feel, Mike Varney's intuitive production brings enough light and shade to focus on the grooves and highlight the myriad guitar parts in such a way that the albums flows brilliantly.
Stoney's songwriting is also back to its best on an album that opens with rock/blues bluster and works its way like an express train towards a concluding heartfelt love song 'The Letter'.
There's some rollicking slide playing and lead guitar on the anthemic 'Blues & Rock & Roll' and some tough soloing on another high intensity blues 'When The Sweet Turns To Sour'. Stoney's solos are raw and spontaneous but convey real feel, gut wrench emotion and always add to the narrative of the song.
On 'Heading For the City', he explores the beauty of a perfect power shuffle on which the rhythm section of Aaron Haggert and Steve Evans push him all the way and the result gives the album an extra dynamic sweep. It's a tightly sprung affair with a powerful sonic quality and only a sudden fade out detracts from a real highlight.
'Soul Flower' is effectively the stylistic anchor track of the album and comes drenched in a wah wah and whammy bar avalanche. Stoney's vocals are mixed back sufficiently far enough to emphasize the melody line, as he explores every possible nuance on his guitar and he even references the title track on another impressive slice of psychedelic rock.
And if 'Heading for the City' is an expansive shuffle, then 'Good Lovin' Done Right' is a stop-time, tightly wrapped exposition of the form, before Stoney unravels volleys of guitar, lightning flurries and repeated chords with Jesse Bradman adding a fat sounding organ. There's an integral flow to the record as the band kick into the hard rocking 'Big Beautiful Women', before a psychedelic crescendo leads them into 'Mary Jayne', a tough rocker on which Stoney soars like an angel. It's another example of the essence of a kick ass band captured live in the studio and given a coating of Duluxe by producer Mike Varney.
'Cosmic Connection' is top draw psychedelic rock blues played by a road tested live band who plug in and in the words of Michael Katon, 'rip it hard' until they reach their creative equilibrium.
There's a slightly longer gap between the restrained 'Infatuation Blues' and bone crunching rock of 'Before The Devil Knows You're Dead' and the jammed out bulldozer end section of 'Rise Up'. If this was a deliberate ploy to give added impetus to the explosive rock blues that follows, then it's a job well done.
'Cosmic Connection' is everything you would hope for from a psychedelic rock album. It's simply a great power trio rock record with added parts that make a mockery of so much over produced AOR.
If Hendrix brought adventure and a sense of the outrageous to the studio all those years ago, then Stoney doesn't so much try to emulate him as fashion some magical moments in his own way. He may even steal a Jimi intro on 'Rise Up' but 'Cosmic Connection' is a work all of his own, and like a stick of rock comes stamped with his name from beginning to end.
You should order or rush out and buy 'Cosmic Connection', crank up the volume, annoy the neighbours, and pretend you're 19 again and rejoice in psychedelic rock at its very best.
*****
Review by Pete Feenstra
---
| | |
| --- | --- |
| | Print this page in printer-friendly format |
| | |