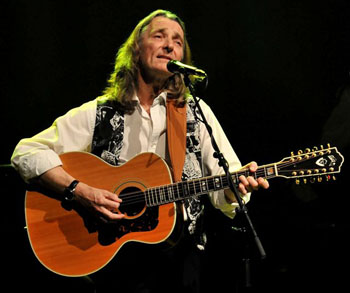 Zoom (Click large image to cancel)

As Roger doesn't get to these shores nearly as often as I would like I always have a huge sense of anticipation and joy when a tour is announced...This time was to be no exception and was to better my already high expectations
And this time round he had a band in tow instead of the multifunctional ever present Aaron MacDonald...This was going to be a special evening...

Roger walked onstage to huge applause and the show kicked off in style with 'Take The Long Way Home'. This was closely followed by 'School', 'In Jeopardy', and 'Hide In Your Shell'. Grown men were openly crying and we were only four songs into the show...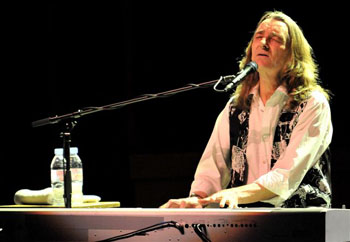 Roger is fortunate to have written so many superb songs over his career that he has an enormous wealth of material to draw from for his shows. We all have personal favourites and I'm so pleased to say he played all but one of mine and that was left out for a very special reason tonight.
Next up we were treated to many more tracks including the sublime 'Along Came Mary', 'Sister Moonshine', and 'Soapbox Opera'. Whilst I have seen and been mesmerised by his last three visits to this country, I was blown away by the rich, full sound that was flowing freely and easily from the stage.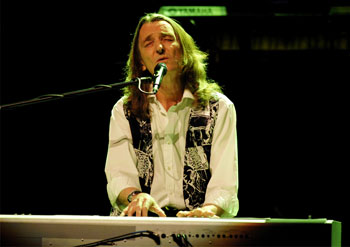 Zoom (Click large image to cancel)
Dare I say that what I heard was even better than the performances on the Supertramp live album Paris (and that's saying something)...The Logical Song closed the first set to huge applause and rambunctious shouting.

Roger opened the second set with 'Child Of Vision' and then came 'Lord Is It Mine' which I think just about every single person in the Hall sang along to and almost drowned him out with their sheer enthusiasm.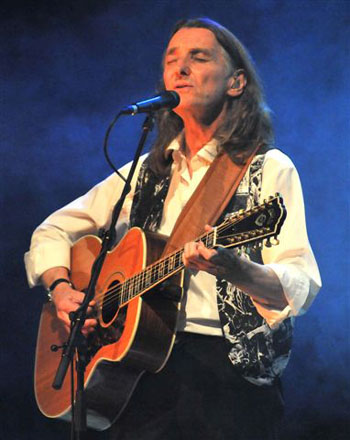 We were soon treated to a real gem...Roger announced that because of his love for The Beatles and in particular John Lennon that he would play 'Across The Universe' The place went nuts, you could feel the whole building shake with the noise being made by the partisan crowd...
Massive chants of "Roger is a Scouser" rang out at the end of the song and I think he was visibly touched by the outpouring of happiness and joy in the full house... 'Dreamer' and 'Fools Overture' closed the set to more thunderous applause.

He came back with a huge smile and sang 'Two Of Us' (this boy had a tear in his eye by now), 'Give A Little Bit' and 'It's Raining Again'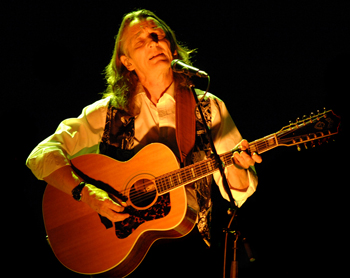 Photo: Steve Goudie

Roger Hodgson was taken to the heart of everyone in the place and every Man, Woman and child went home with a warm glow in their hearts knowing that they had been a part of something exceptional that evening...

Here's hoping Roger returns very, very soon.

Set list: Take The Long Way Home/ School/ In Jeopardy/ Hide in Your Shell/ Lovers in the Wind/ Easy Does It/ Sister Moonshine/ Breakfast in America/ Along Came Mary
Soapbox Opera/ The Logical Song

Child of Vision/ Lord is it Mine/ If Everyone Was Listening/ Across the Universe/ Know Who You Are/ Donít Leave Me Now/ Dreamer/ Foolís Overture

Encores: Two of Us/ Give a Little Bit/ Itís Raining Again

Review and photos by Lee Millward (except where indicated)

Leslie Linyard writes:

Royal Albert Hall 26 May 2011

Incredible as it seems, Roger Hodgson left Supertramp as long ago as 1983 following the release of the critically acclaimed (weren't they all!) Famous Last Words album. He turned his back on the band and devoted himself to a simple family life albeit with his own state of the art studio built on-site.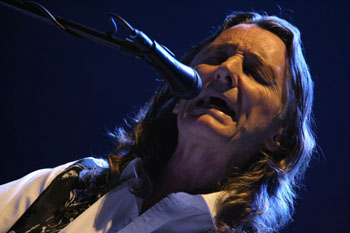 Photo: Leslie Linyard

Famous for his introspective grown-up lyrics set to beautiful and catchy melodies contrasting the sometimes heavier songs of Rick Davies (for the most part the two wrote separately though they shared writing credits a la the Beatles) Supertramp had amazing success in selling over 60 million albums, Breakfast in America selling over 20 million alone.

Ever since, Roger has released the occasional album (3 in total), normally to further critical plaudits and ventured out on the odd tour or two (mainly it has to be said since 2004 with his children fully grown).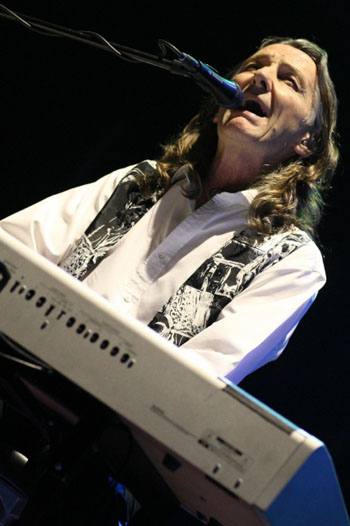 Photo: Leslie Linyard
This latest tour alongside his three Canadian, one American band members took in 4 English venues commencing in the stately surroundings of The Royal Albert Hall.
Finding himself preaching to the converted, Roger milked the occasion beautifully as his multi-cultural audience (there were people in from far too many countries to mention!) were held rapt in his eloquent presence for well over two hours.
In fact I don't remember ever witnessing a quieter more respectful audience during the playing of the songs. Roger of course, is too clever an individual to venture too far away from his Supertramp hey-days and 17 of the 21 songs were from those halcyon times.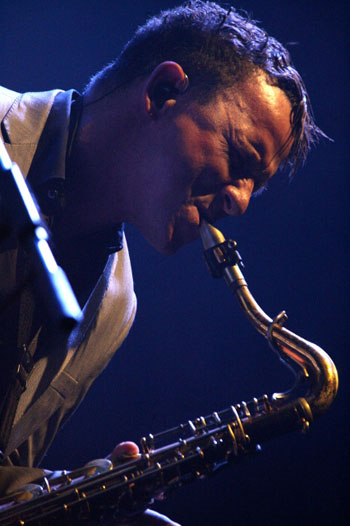 Photo: Leslie Linyard
Starting with the epic 'Take The Long Way Home', Roger switched regularly between acoustic guitar and piano, gently introducing some and blasting straight into others, the tunes rolled back the years underpinned by that still slightly vulnerable, yet almost teasing vocal and a sublime level of musicianship, particularly it has to be said from the saxophone of Aaron MacDonald (also keyboards and BVs), though none of Bryan Head (drums), Ian Stewart (bass) and Kevin Adamson (keyboards, BVs) are what you could describe as slouches.

You can't exactly fail with a collection of songs such as these popular classics and interspersed with his solo ventures of which 'The Awakening' and 'Along Came Mary' were rightly best received the classics were indeed rolled out Ė each one it has to be said with heartfelt passion by the band.
Of course there are favourites and 'Breakfast In America', the magnificent 'The Logical Song', 'Hide In Your Shell', 'Dreamer', 'Give A Little Bit' and the splendidly catchy closer 'It's Raining Again' will remain long in the memory as will the sense of occasion the evening instilled in those lucky enough to be present. Come back again soon...

Set List
Set One: 1. Take the Long Way Home/ 2. School/ 3. In Jeopardy/ 4. Hide In Your Shell/ 5. Easy Does It/ 6. Sister Moonshine/ 7. Breakfast In America/ 8. Along came Mary/ 9. A Soapbox Opera/ 10. The Logical Song
Set Two: 11. Child Of Vision/ 12. Lord Is It Mine/ 13. If Everyone Was Listening/ 14. Puppet Dance/ 15. The Awakening/ 16. Don't Leave Me Now/ 17. Dreamer/ 18. Fool's Overture
Encore: 19. Two Of Us/ 20. Give A Little Bit/ 21. It's Raining Again

---